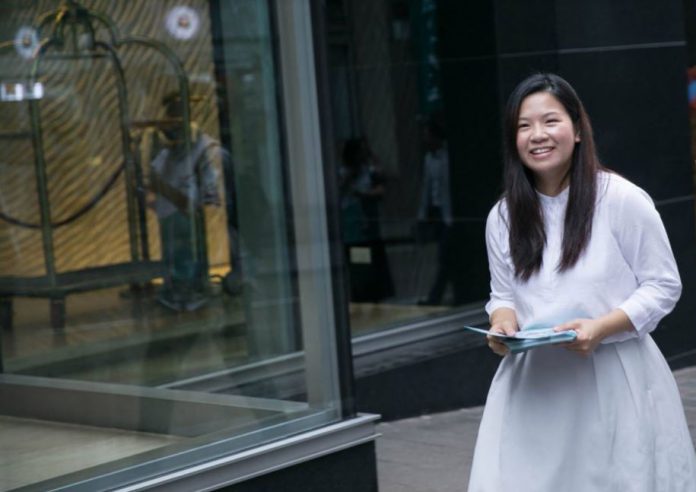 By Elaine Ng
The Democratic Party's Bonnie Ng Hoi-yan is playing down her chances of winning in the Central and Western District Council by-election for the Tung Wah constituency. Ng says she's under "attack from both sides" – the two sides being school principal Lui Kam-keung and administrator Olivia Lau Shu-yin.
Ng is the only acknowledged pan-democrat out of the three candidates vying for the seat left vacant by the DAB's Kathy Siu Ka-yi who was appointed political assistant to the Chief Secretary in August.
Both of her rivals claim to be independents but pan-democrats believe Lui is backed by the pro-establishment camp. As for Lau, she describes herself as a member of the "progressive democratic camp" in her campaign literature, but some pan-democrats suspect she is taking part in the race to 'split votes' from Ng. In last year's District Council Election, Lau is said to have snatched 148 votes from the pan-democratic camp in the Ma Hang Chung Constituency.
Ng did not wish to speculate on Lau's motives, but she accused Lau and Lui of being "pseudo-independent" and "pseudo-democratic".
Although the pro-establishment camp won the Tung Wah seat in 2011 and 2015, Ng says she's confident that voters are aware of her contributions in the largely middle-class Sheung Wan district and of her clear political stance. She adds she is the "only candidate who has promised to serve the community on a full-time basis".
Ng says that as a senior community development officer for the Democratic Party, she has been involved in District Council affairs over the past 11 years. She is also a co-opted member of the Central and Western District Council Transport and Traffic Committee.  
If elected, Ng says she hopes to review the appropriation and interest declaration systems currently adopted by the District Council so that the use of public funds can be better supervised.
*The other candidates in the by-election, Lui Kam-keung and Olivia Lau Shu-yin declined to be interviewed
Edited by Howard Yang