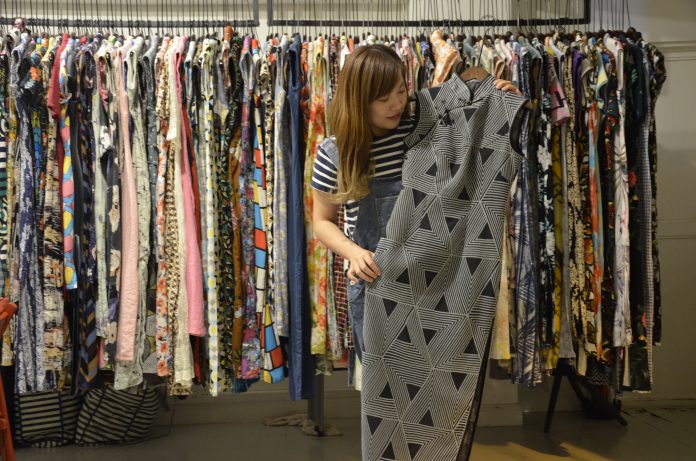 Rent a qipao for your personal photoshoot at Yan Shang Kee
By Marilyn Ma
Renting kimonos in Japan and hanboks in South Korea for photo sessions is a popular tourist activity, and now Yan Shang Kee in Sheung Wan is leasing the traditional Chinese qipao.
Yung Ting-ting is a fan of the qipao or cheongsam, the modern form of which is a tight-fitting one-piece dress that was developed in Shanghai and was popular among upper class women. The 28-year-old started Yan Shang Kee in March this year, and offers 180 to 200 different types of hand-made qipao for women as well as cheongsam for men.  Yung's qipao come in different sizes, lengths, patterns and number of buttons.
Few people in Hong Kong wear qipao because high quality ones cost from HK$6,000 to over HK$10,000. Many young girls also consider the qipao as old-fashioned and only worn during Chinese New Year or by waitresses in Chinese restaurants. Yung hopes that by injecting new elements into the qipao design and charging HK$250 to HK$380 for a full day's rental, she can make the qipao popular again.
For instance, Yung incorporates checked, dotted and geometric patterns to replace the traditional ink sprays, fish and lotus prints. She also uses alternative fabrics with different textures in place of the traditional silk. She flies to Japan regularly to buy different types of fabric and sends them to a tailor in Shanghai to produce more stylish qipao.
"A qipao is sexy but conservative at the same time," says Yung.  The qipao, she says, precisely fits a woman's body shape to show off her curves, and makes the wearer carry herself more elegantly.  "Traditions are not necessarily bad, but as time goes by you have to slightly modify them so that people accept them more easily," she says.
Interested customers have to first make a reservation and send in their measurements through Yan Shang Kee's website. Yung helps customers with the fitting when they arrive on the day.  The shop provides a hairstyling service and a selection of accessories like earrings and purses to spruce up the look. If you want more professional photos, the shop also offers a photography service.
Yung says more people are renting qipao from her, especially tourists from Taiwan, and some customers even want to buy her qipao for work after wearing them for the day.  Yung wants to start her own qipao brand, printing her own cloth patterns and designing original versions of the dress. Her goal is to integrate qipao into daily life, to make it a beautiful outfit that can be worn any day instead of just on special occasions.
"It's like the name of my shop, 'Yan' stands for beauty and happiness, while 'Shang' stands for beautiful qipao. I placed 'Yan' before 'Shang' because there is no point in wearing qipao if you are reluctant to wear it, even if it is beautiful," she says.
Yan Shang Kee is at Flat C, 1/F 16A Elgin Street, Central.  For more details, visit Yan Shang Kee's Facebook page.
Edited by Chloe Kwan