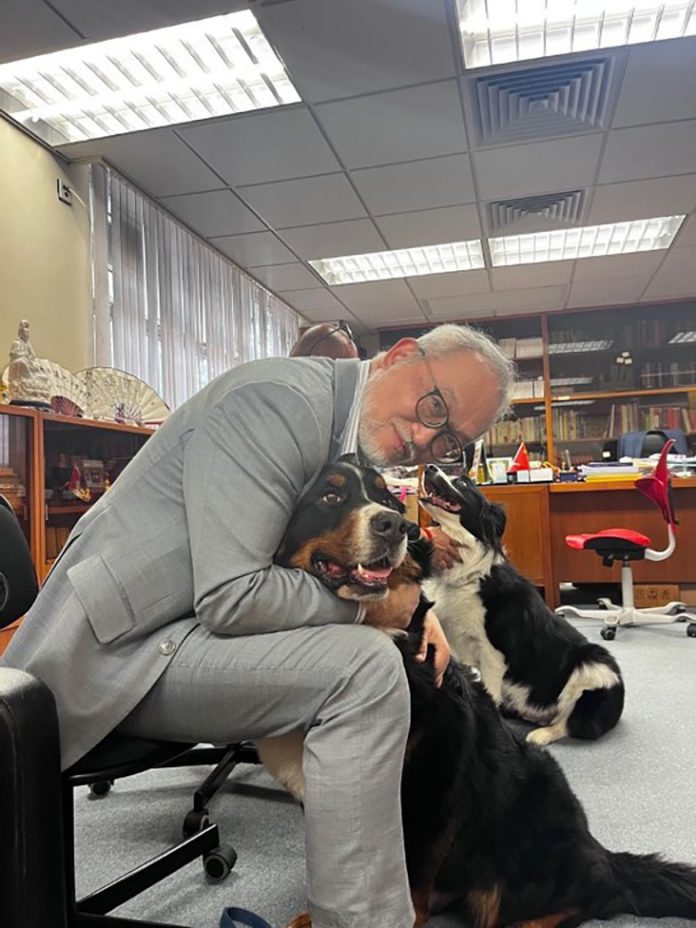 School principal Yuon Fuk-lung shares his education philosophy and future insights.
By Jasmine Lam
Secondary school principal Yuon Fuk-lung wakes up at 5 a.m. every morning, spends two hours commuting from Fo Tan to Tung Chung, then to Tai O to reach the Buddhist Fat Ho Memorial College at 7:30 a.m. to greet his students. 
"If I don't love them, how can I come back every single day at 7:30 a.m.? The driving force is love. Students are my sons and daughters," says Yuon, who has been teaching at the College for 13 years.
He also shares his love with two dogs, a Bernese Mountain called Big Ben, and a Border Collie called Panda. Yuon uses the dogs to teach students to be respectful.
"My education philosophy is respect. If students learn to be responsible, they will be responsible parents in the future. If they learn to respect animals, they will respect humans and nature," Yuon says.
"Before teaching students how to study, you need to help foster their love for school first," the principal adds.
To motivate students to go to school, Yuon placed pianos all over the campus and set up a gym that is open to all students.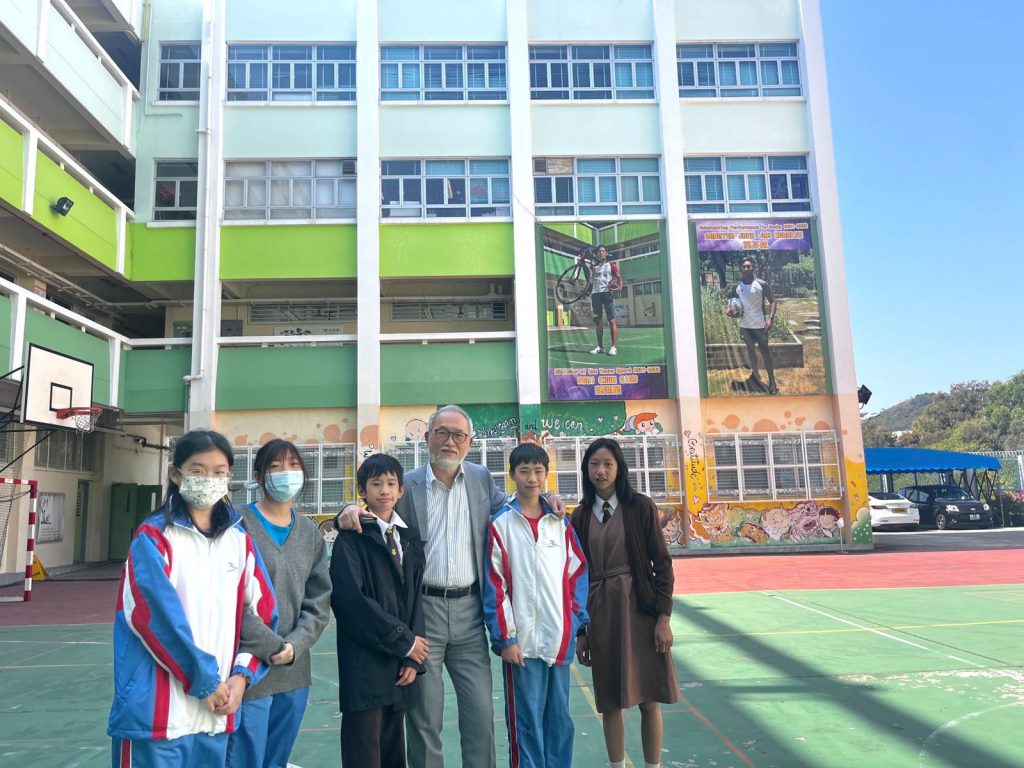 The principal is pleased to see students play the piano or do training at the school gym during his lunchtime strolls around the school.
Yuon wants to help students reach their full potential on top of academic development, hence he encourages students to develop their talents in other activities such as rugby, cycling, and hiking.
"Instead of being involved in the rat race in academic excellence against other top tier schools, we focus on excelling in niche sports and make it our strength," Yuon says.
His hard work paid off. A student won the 2021-2022 A.S. Watson Group in HK Students Sports Outstanding Performance Award in Rugby. Another student won the 2021-2022 Athletes of the Year Award.
In 2019, he cycled with four students and one teacher from Hong Kong to Beijing in 31 days to raise funds for orphans whose parents died of AIDS.
"My inner thigh kept bleeding during the trip," Yuon says. But the adventure strengthened his bonding with the students and cultivated their confidence.
"How successful we are is not determined by how capable we are, but how persistent we are. Many children scored well in the DSE exam, but only five students from Hong Kong stepped out and cycled to Beijing," he adds.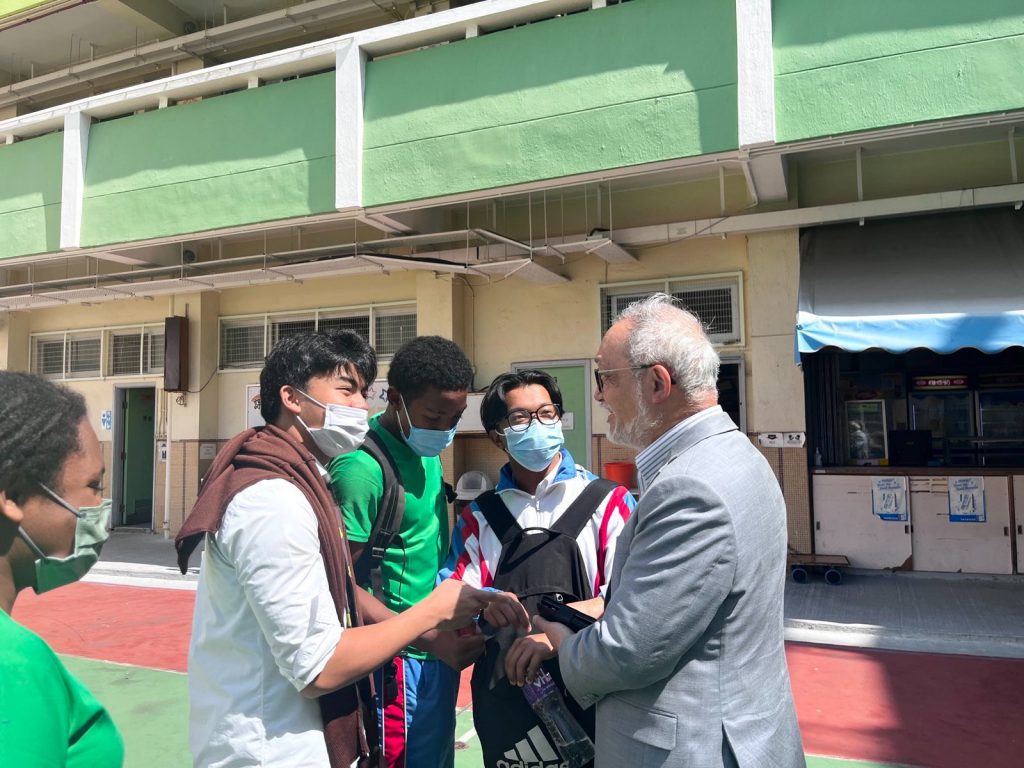 How He Got Started
Before he joined the school, Yuon was a professor teaching sociology at the University of Hong Kong, the Chinese University of Hong Kong, and the City University of Hong Kong for over 20 years in total.
He gave up his career as a university professor to serve as a secondary school principal in this rural district in 2009.
"I want to go to the lowest band school to help children," the principal says.
Yuon did not expect to work at the school for so long when he took the job. Commuting time was one of the main concerns. But he changed his mind after he saw the plight of the disadvantaged.
"My wife has been offered promising business opportunities. My son and daughter have excelled academically, so I can continue working at the secondary school without strain," Yuon says.
"I was a scholar sitting in the office, reading books and enjoying coffee. I hated sweating. But I realised I cannot help the students if I simply apply teaching methods I used at universities to this school," Yuon says.
He has been participating in Oxfam Trailwalker for over 10 years as he believes that sports and willpower can change students' learning attitudes.
"Man can be destroyed, but not defeated," he says.
His Future Plan
The principal plans to retire before turning 65 and is now looking for a successor to continue his education philosophy.
"Educators should focus on the students themselves more than the academic results and teach students in accordance with their aptitude," the school principal says.
After retiring, Yuon says he might pursue a Ph.D. degree, explore the field of Chinese medicine, or write a book. He also wants to spend more time with his family.
"Every kid is born talented and smart, just that they come from different social backgrounds and require different efforts to realise their potentials," he adds.
Sub-edited by Yap Ying Ye