Life as a Prostitute
By Penelope Yau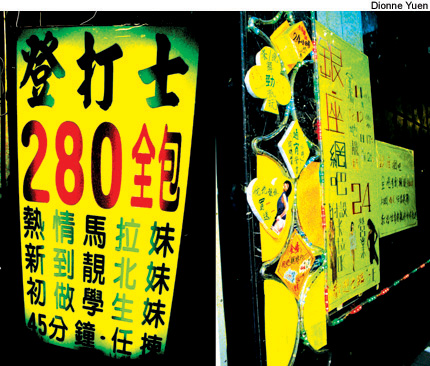 Brothels offer services from 'students' and a variety of ethnic women.
On a dimly lit street in Sham Shui Po, four young girls stood dutifully in a line. They were displayed like goods on a shelf waiting to be purchased. They looked nearly identical – heavy make-up, colorful, flashy clothes, mini-skirts.
In a low but clear voice, a middle-aged woman spoke. "Come and pick one sir. Good service guaranteed." She shifted side to side in front of the girls, like an amiable shopkeeper.
Around the corner on Fuk Wa Street, Susan (not her real name) stood alone in the cold.
She swung her flashy purse as it flickered with light from nearby neon signs. Her outfit was similar to those of the other girls.
"I stand here every night to wait for business," said Susan.
Susan just turned 27. She came from Shenzhen and has been working as a prostitute in the Sham Shui Po red light district for almost 2 years.
"I came to Hong Kong when I was 20. I met my husband in a pub in Shenzhen. He was a taxi driver. I married him three months after we met and followed him to Hong Kong."
Unfortunately, Susan's marriage did not last long.
"Our marriage lasted for only a year. I was too stupid to trust him. He ran away with another woman," Susan said in a calm voice.
"But anyway, that was a long time ago." Her voice descended.
"I guess he doesn't know I'm in this business.
"In fact, I hope he never does.
"Luckily, we didn't have any children. That makes life a lot less complicated."
As for many others, it is the lure of earning quick money that pushed her into the business.
"I have never liked my work. Sometimes it's disgusting to have sex with people you don't know. But I need the cash.
"It's the quickest way for women like me to earn money. I have no other skills or knowledge. There is little work I can do.
"I worked in restaurants and supermarkets. But they didn't pay well and just enough to make ends meet.
"I'm in debt and I've got other bills to pay, so I see this line of work as my only practical option," she continued.
"This job pays well. That's the reason I do it. I normally take $200 and something from each customer."
She said she works every night from 5 to 10 p.m.
"My customers are usually middle-aged men, mostly in their 40s, and some in their 30s. There are both married and unmarried men.
"Since I don't talk a lot during business, I don't really know a lot about them.
"I know people who have actually fallen in love with their customers.
"But I don't do that. I think it's silly to get your emotions involved.
"Even for regulars, I try to keep distant from them," she noted proudly.
"Business is business. They're just here for their physical needs, not for love."
As in other professions, Susan has her holidays, too.
"I try to give myself a break and rest for a week or so every several months. Like normal people, we need holidays, too.
"I usually stay at home and watch TV when I do not have to work. I live in a rented apartment with several friends in Sham Shui Po.
"Sometimes I go shopping with them. We buy things like clothes and cosmetics. But that's very rare, because I do not want to spend a lot of money," she said.
"We go to movies, but only very occasionally."
Despite the government's continuous efforts to crack down on illegal prostitution, the sex industry continues to prosper.
According to figures released by the Immigration Department, about 7,000 mainland Chinese were arrested for illegal prostitution in 2002, nearly twice the number of the previous year.
"I'm not scared of the police. They usually come here for the illegal immigrants. I have an I.D. card and they can't arrest me," Susan explained.
Another worry is venereal diseases.
This is a serious problem that sex workers face every day.
"I'm not stupid. I'm very careful about protecting myself.
"I don't want to put my life at risk. I make sure that my customers wear a condom every time," she said.
However, there are times when customers refuse.
"I was once slapped by a customer when I insisted that he had to wear a condom.
"But in most of the cases, they are agreeable. It's for their own sake as well."
Susan has had some unpleasant experiences with local residents.
"They call me names. They look at us scornfully.
"Sometimes they can insult a person with just their eyes.
"At first it hurt me. But I have gotten used to it.
"We have to learn to let go in this profession.
"I understand it. They think we are dirty. They think what we do is reprehensible.
"If I was born in a rich family, or if I were not what I am today, I might look at this profession differently ¾ perhaps the same way others look at us."
Susan stopped for a moment and continued.
"But, apart from what we do, we are just normal people.
"We have the same emotions. We all laugh when we are happy. We all weep when we are sad. Sometimes it's just unfair. . . ."
She smiles briefly.
When asked, Susan says she has no plans for the future.
"Be normal I guess," she laughs.
"I hope I can meet someone and remarry.
"But I know it's difficult. After all, who wants to marry a prostitute?"


Customers can choose prostitutes from various nationalities (left). Blatant signs direct customers to rooms rented by the hour (right).