Sharon Cheung
Good journalism is a tough job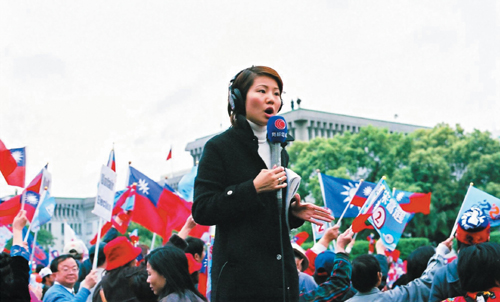 Sharon Cheung enjoys her job no matter how stressful and difficult it is. She is proud to be a journalist.(Courtesy of Sharon Cheung)
By Antony Tam
She has been criticized for being "too simple". She has been labeled "some-times naive". She has been publicly humiliated by former Chinese President Jiang Zemin in a room full of reporters.
And yet, Sharon Cheung is not backing off.
Instead, the responsible and intrepid TV reporter is even more fired up to provide viewers with truthful and intriguing news.
Sharon Cheung, 30, is a journalist and anchor at Cable Television News Channel. She covers mainly China's political news.
In October 2000, she covered a visit to Beijing by Hong Kong Chief Executive Tung Chee Hwa.
During Mr. Tung's visit, Mr. Jiang met with the mass media.
Initially, Mr. Jiang answered all questions and seemed to show respect for the gathered media representatives.
However, when Ms. Cheung asked if the central government had "secretly appointed" Tung Chee Hwa as Hong Kong's chief executive for a second term and if "an imperial order had been made", Mr. Jiang got upset.
"You media need to raise your general knowledge level, got it?" Mr. Jiang exclaimed. "But the questions you keep asking – too simple! Sometimes naive!"
Ms. Cheung later said, "I had no special feeling at the time because I did not realize that he was blaming me.
"I later met with obstacles in my subsequent interviews on the Mainland.
"But I don't think what I did was wrong. It was suitable to ask that question because people have the right to know."
Ms. Cheung's ambition to be a journalist developed after she watched televised scenes of the mass rally on 4 June 1989.
Ms. Cheung said, "I was impressed by the hero who stood in front of the tanks, bravely striving for democracy.
"The rigorous measures taken by the Chinese government concern me.
"I should do something to help people express their views and reveal the truth.
"Thus, I decided to pursue studies in journalism at a university."
She entered the Chinese University in 1993, and since then she has changed a lot. Once timid and shy, she grew to be more self-confident.
Said she: "As one of the members of the debating team, I learnt presentation skills and critical thinking techniques.
"I thus became more self-confident."
After graduation in 1995, Ms. Cheung became a staff writer for the political desk at the South China Morning Post.
In 1998, she was tired of newspapers and decided to change her working environment. She took a post covering political news at Cable TV.
With experience in both writing for print media and doing standups for broadcast media, she has concluded that it is more stressful being a TV reporter.
"In live reporting, I sometimes cannot find suitable Chinese words to express an English meaning.
"An anchor should avoid mixing languages, or the audience may find it hard to understand what I am reporting."
During major events, she sometimes has little opportunity to rest.
"During Taiwan's presidential election in March this year, I stayed at the piazza where Kuomingtang members gathered for nearly 20 hours a day.
"Because Cable TV offers 24-hour non-stop news broadcasting, I had to be well-prepared for live reporting at any time.
"I could only sleep for about 3 hours and eventually got a sore throat."
Despite the stress, Cable TV gives her valuable experience in gathering both soft and hard news.
Hard news generally refers to serious events like politics, economics and war, that should be reported instantly.
Soft news is normally human-interest stories that include entertainment and the arts.
Ms. Cheung especially likes a personality profile she did on leprosy patients at a Dongguan village.
Leprosy is a contagious disease that has been around since biblical times. It is characterized by skin lesions which can lead to nerve damage and the loss of use of hands and feet.
Said Ms. Cheung: "The interviews broadened my horizons.
"I never thought that China had leprosy patients.
"I felt sympathetic towards the patients."
In her line of work, Ms. Cheung's first principle is to make the audience feel what the news characters feel.
"A journalist should present the facts to the audience and hope they have resonance.
"In this story, I hoped the audience could feel how poor and miserable the patients were," said Ms. Cheung.
Her most unforgettable hard news experience was of Chinese President Hu Jintao's visit to Australia in 2003.
A number of Tibetans demonstrated and demanded independence for Tibet.
Said Ms. Cheung: "As soon as President Hu appeared, I placed the microphone in front of him and asked for his opinion about the demonstration.
"He didn't reply.
"I was later informed by the Ministry of Foreign Affairs that my act embarrassed President Hu.
"I've since learnt that I should ask the spokesperson instead of Mr. Hu when it comes to such sensitive questions.
"Dealing with prominent political figures in my motherland is not an easy task."
Another of Ms. Cheung's work principles is that what should be asked, has to be asked.
Said she: "Even if I anticipate that an interviewee may not answer my questions directly, I still take the chance by asking the question.
"This is the main duty of a journalist.
"A journalist should not engage in self-censorship and avoid asking sensitive questions."
Ms. Cheung said that, in China, censorship is not carried out by journalists, but by the government.
The news gathering environment in Hong Kong and China is completely different.
Talking about the media's role, Ms. Cheung said, "The mainland government sees the media as a propaganda tool, to promote its views.
"However, the Hong Kong government considers the media to be watchdogs that supervise what the government does.
"The mainland government thinks there is no reason for them to provide information to us.
"This is not the case in Hong Kong."
Ms. Cheung said it is important to change China's perception towards press freedom.
"Even though I was scolded for being 'too simple and sometimes naive', I will never give up revealing the truth of unfair events on the Mainland.
"Being a responsible journalist is not a simple task, but a tense and challenging job.
"I hope the central government will give more freedom to journalists. At the very least, the government should provide chances for us to gather news involving prominent figures," said Ms. Cheung.
She added that gathering news in China is difficult because the procedures are complicated and "the mainland government is too bureaucratic".
"I have to contact the Central People's Government Liaison Office each time I want to interview organizations on the Mainland. This wastes a lot of time.
"In Hong Kong, once I send a fax requesting an interview, the organizations concerned often take an active role to reply within a few days. They are very cooperative."
To make the process of newsgathering smoother, many journalists maintain a close relationship with people from all walks of life.
Ms. Cheung is an exception.
"This is because these close relations may affect my objectivity and integrity in news reporting.
"In Hong Kong, I keep good contact with Financial Secretary Henry Tang and appreciate his attitude towards work. But I never use the relationship to obtain exclusive information."
To become a better journalist, Ms. Cheung intends to go overseas to gain more experience.
"I want to see how press freedom is exercised in different countries," said she.
Ms. Cheung is determined to continue pursuing a journalism career.
"I enjoy my job very much.
"I am proud to be a journalist," said Ms. Cheung.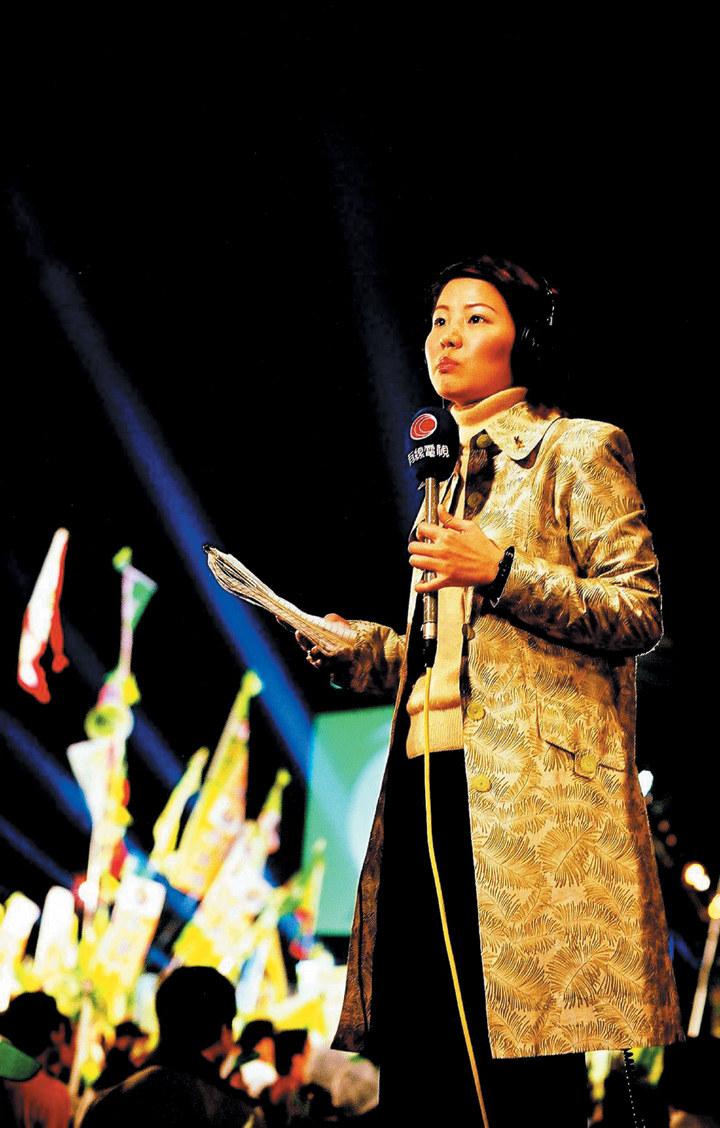 (
(Courtesy of Sharon Cheung)