Leslie George Santos does not hide his disappointment towards Hong Kong 's football sector, though he has been staying in the field for 25 years and has a soccer school named after him.
The 38-year-old retired footballer, now a coach, does not encourage anyone, even his students in the Santos Soccer School , to take football as a profession in Hong Kong .
¡§There is no room for newcomers and young players in Hong Kong ,¡¨ Mr Santos said.
The biggest problem of the sector is the lack of cultivation of the youth, he said. In the past, all first division teams had junior sections and preparation teams where young footballers were trained before they were good enough to be a first division player.
However, at present, there are no more junior sections and some big football teams also have troubles in finding financial support. Professional players may have to worry about whether their teams can find sponsors so that they can stay on to play, he said.
¡§Some kids do have potential in playing football. If they can be a member of a football team, they will definitely feel excited and do their best. Hong Kong football will then be boosted,¡¨ Mr Santos said.
The football star entered the sector by joining the junior section of the South China Athletic Association (SCAA) at the age of 13 and moved into the association's sportsmen dormitory a year later.
At the beginning, his father strongly opposed him to become a football player. His father was a staff of the Prisons Department, now known as the Correctional Services Department. The then department got its own football team participating in the first division league. Yet the team members played for fun, not for money, which was little in amount. His father did not want him to be a low-paid worker.
Despite his father's opposition, Mr Santos insisted to have a try in the field. He soon became an outstanding player in the SCAA junior section. He was a member of the preparation team at 16, a place for young talents before they could be a professional first division league player. He stayed there for one and a half years.
¡§I did not have much expectation when I was in the junior section. Playing football was just an interest. But when I became a member of the preparation team, I wanted to be the best one in Hong Kong ,¡¨ Mr Santos said.
Mr Santos was selected into the Hong Kong football team in 1986 and he had played for Hong Kong for nearly 14 years.
He was awarded Hong Kong Footballer of the Year in 1990 and 1991 and elected as the Coca-Cola Hong Kong Sports Star from 1990 to 1992. In 2000, he became one of the winners of Hong Kong Millennium Football Star.
In 1992, the then midfield player was invited to join a Belgian five-a-side football team, which he considered a stepping stone for joining other famous football teams in Europe. However, right before signing the contract, he broke his leg in a match and the plan was cancelled.
¡§That's a pity, really pity. But that's fate. That's life,¡¨ he said.
He stopped playing football for two years after the serious injury. Yet, he had no intention to quit. ¡§I never thought of giving up football. Never.¡¨
During the two years Mr Santos tried every means to recover. He eventually went to the Netherlands to have an operation. He then played football again until 2001 when he became a coach at 34, a relatively young age for a player to be a trainer.
He said he left the stage because he was frustrated by the circumstances of the sector.
Football is one of the most attractive sports in the world, but not many people like to watch Hong Kong football matches. ¡§Football field is supposed to be a stage for footballers to show off. Every player likes seeing supporters coming and cheering for him at matches. It is just not the case in Hong Kong ,¡¨ Mr Santos said.
¡§I remember in the golden age, we could not hear what teammates were shouting in the football court because it was too noisy. Now we do not talk because what we say can be clearly heard even outside the court.¡¨
Between the 1960s and the late 1990s, football matches were welcomed by spectators. People rushed to watch games and cheered for their favourite stars. However, there was a significant drop in the number of viewers in the late 1990s. Mr Santos was even named by his fans as ¡§the last football star in Hong Kong ¡¨.
The declining football standard in the territory makes fans turn to watch and support world-class football matches, Mr Santos said.
Local young generation footballers are often not willing to try their best, as their salaries are low. ¡§When they are paid $3,000, they will give a performance that is worth $3,000; when they are paid $10,000, they will give a performance that is worth $10,000.¡¨
On South China 's relegation, Mr Santos is unhappy and disappointed. Many fans see the demotion as the downfall of local football. But the former football star said the club had to take the responsibility. ¡§They should havebeen fighting for the first division survival at the very beginning, not at the last minute.¡¨
He considers that the team's decision on using mainland Chinese players only is not wise. ¡§They should find high standard foreign players. It is too late to say anything.¡¨
¡§I bet in the coming five years the sector will still suffer,¡¨ Mr Santos said. ¡§Unless there are reforms in the whole system - but the possibility of that is nearly zero.¡¨
Money is another reason for him to become a coach. ¡§I am getting old and staying in the business makes no money. I was once paid $50,000 a month and it was reduced to as low as $12,000. Every footballer has to stand the low pay nowadays. Being a coach now I can earn two to three times more than being a footballer.¡¨
Mr Santos coached in the Hong Kong Coerver Coaching Soccer Academy of Oggo Sports Promotion Limited for two years. He started considering about running his own school. ¡§I am quite well known in Hong Kong and I want to see my own students playing when I get old. Wu Qunli (a famous football star in mainland China ) also has a soccer school named after him in Guangzhou . I am not saying to enhance and glorify football, but at least that's what I love and know well,¡¨ Mr Santos said.
He asked his friends and former teammates to be assistants and tried to get financial support. The biggest obstacle was to find a suitable football pitch to hold regular classes. A temporary solution was booking a public man-made grass pitch every weekend.
¡§Aiming at making profit would be quite unrealistic. Paying for equipment, uniforms and booking the court, all the stuff¡Keverything needs money. It is until these few months we stop losing money and get things balanced,¡¨ he said.
His school was set up in last October and has 600 students aged between six and 15 living in Hong Kong and Macau .
Mr Santos now aims at getting more students so that there will be room for reduction of the fees, which in turn can attract more youths to join. His ultimate goal is to promote football as a sport.
He said he would try his best to run the school. ¡§I will keep the school running even if there is only one student.¡¨
Mr Santos has a tight schedule. He travels frequently between Hong Kong and Macau . ometimes he even has to travel between the two cities on the same day to teach the classes. The veteran player described his coach life as ¡§very hard but fun¡¨.
He also works as an assistant coach of Xiangxue Sun Hei, a leading team of Hong Kong 's first division league and where he rounded off his footballer career. He considers that teaching youngsters in his school and first division league players is different.
¡§It is very enjoyable to see those little kids playing football. However, thinking about what to teach in each lesson is difficult, especially when they are at different ages and different levels. And they are actually my bosses. Their parents pay the money and have expectation. So far, I am handling it well.
¡§On the other hand, the first division league players have their own thoughts. They seldom listen to you,¡¨ Mr Santos said.
Despite that, Mr Santos gets on well with his former teammates in Xiangxue Sun Hei. As a senior, he finds himself more like a friend than a coach to them. ¡§I always talk with them and tell them how to be a good sportsman,¡¨ he said.
Mr Santos has faced the discouraging circumstances and numerous challenges in his quarter of a century's career, but he is not giving up. ¡§It's all out of interest, love of football, and family support,¡¨ he said.
Family support is his strongest backing. ¡§My father often goes to watch my matches. Even when he is not going, he will call me and tell me to be careful. That's the best encouragement,¡¨ Mr Santos said. ¡§When I had my first operation, my mother waited outside the operation room for nine hours, from nine to six. They really love me a lot.¡¨

Leslie George Santos (right) has been staying in the field for 25 years.
Courtesy of Leslie George Santos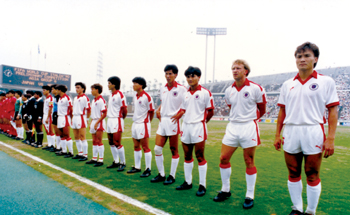 Mr Santos (seventh from the right) represented Hong Kong in the match against Japan in the World Cup qualifying round's Asian group in 1990.
Courtesy of Leslie George Santos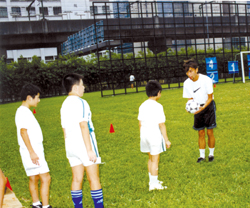 Mr Santos likes to see his students playing football.
Courtesy of Leslie George Santos