April 1998
Minority paradise
Chung King Mansion
By Fiona Lau
Known as a "minority paradise", Chung King Mansion is a 17-storey building situated in Tsim Sha Tsui.
The building was very famous when it was built in 1961 because it had the most advanced escalators and the largest shopping centre in Hong Kong. Its owner, Mr. Choi Po Tim, was a Chinese from the Philippines.
During the '70s, most of its residential units turned into guesthouses for poor tourists, mostly from Southeast Asia, because of the high profitability.
---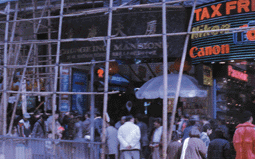 Photo by Fiona Lau
---
People today seem to have forgotten Chung King Mansion's glamorous history except for its accommodation of minority people. Today, it accommodates hundreds of Indians, Pakistanis, and Nepalese, not to mention travellers from other places.
Meanwhile, in the eyes of many local Chinese, Chung King Mansion is a place of mystery.
While some visitors find the building a confusing maze of corridors and stalls, others enjoy the atmosphere.
"Every passage in Chung King Mansion looks the same," said a 20-year-old student. "Walking inside is like walking in a maze. It made me feel unsafe," he added, conceding that he had been there only once.
But a Chinese resident in Chung King Mansion did not feel the same. Ms Pon Lai Fong has been living in Chung King Mansion 5 years.
Said she: "I have lived here since I got married. My father-in-law used to have a shop here.
"Living in Chung King Mansion is not as dangerous as people think."
Ms Pon said some of the residents cause trouble only within their social groups but rarely harm others.
She said she was not happy with Chung King Mansion because of the old lifts and fire danger.
Though many facilities in the building are old, it is still a paradise for minorities.
Mr. Mohammed, a 33-year-old Pakistani, has been living there 4 years. He said, "Chung King Mansion is a good place for new immigrants to stay. The rooms cost only $150 to 200 per night. In addition, people can meet their fellow countrymen here. This gives them a sense of familiarity."
Besides providing cheap accommodations, Chung King Mansion is also a place for various types of business.
Ms Salina Liu has had a shop selling Chinese embroidery there for 30 years.
Said she: "In the past, most of our customers were American. When there were no exports of embroideries to their country, they came and bought in bulk."
However, she has lost this big source of income and suffered from the economic recent downturn.
She said there were safety considerations to operating a business in Chung King Mansion. "Fighting and stealing take place almost every day.
"Fire is frequent. When I first came here, I was very afraid of the Africans. But I have got used to it now. Perhaps all these things make Chung King Mansion unique," said she.
Ms Lisa Kwok, an accessory shop owner in Chung King Mansion, agreed with Ms Liu. She said the reason they were there was to do business. Whatever other people did would not affect them.
---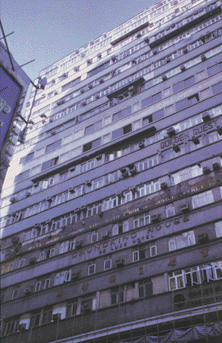 Photo by Fiona Lau
---
People usually associate Chung King Mansion with crime.
Mr. Tom Cheung, a 47-year-old Chinese, has had a guest house in Chung King Mansion for 18 years. He said there are security problems, but he attributed them the lack of security guards.
There are only 10 security guards because the administration fee for each unit is only $350 per month.
"The only thing strange to me is that there are no serious crimes like rape or murder. It seems that the residents are maintaining a balance between their own groups."
Dr. Chu Yiu Kong, a part-time lecturer in the Department of Sociology at The Chinese University of Hong Kong, had an explanation for this.
"On one side, there are gamblers, drug dealers and prostitutes, and on the other side, there are normal residents.
"People in Chung King Mansion are keeping an underground order.
"There is no serious crimes because they know otherwise police intervention would upset this internal balance," explained Dr. Chu.
A spokesperson of Chung King Mansion Administration Office admitted that the residents are keeping their own order and said the crimes committed there are trivial.
"Chung King Mansion is an international building. People have different backgrounds.
"We cannot eradicate all problems but can only minimize them," said the spokesman.
In the last 37 years Chung King Mansion has been transformed from an upper class residential building to a paradise for minority groups.
No matter what others think about Chung King Mansion — as a breeding ground for crime or as a temporary home for travellers — no one can deny that it is a place with a legendary reputation.

It is common to see people of different races gathering at Chung King Mansion.
---
[Culture & Recreation Section Menu]
---