February 2000
Points of embarkation
Silent witnesses of the growth of Hong Kong
Photo and text by Vien Wong and Tracy Chan
Piers have always been important in Hong Kong. They have witnessed the growth of the community from its early days as a fishing village. The piers not only facilitate the transport of people, but also help transport goods from overseas.
The pier in Kwai Chung is one of the busiest piers in the world. The number of cargo loadings per day ranked top in the world for many years.
The Star Ferry Pier at Tsim Sha Tsui is one of the busiest piers in Hong Kong. Before the Cross Harbour Tunnel was built, it served as the only way for people from Hong Kong Island to reach the Kowloon Peninsula. Thanks to a modern transport system, people can now choose to cross the harbour by bus, train or ferry. But crossing the harbour by ferry is still the cheapest means.
Renowned Victoria Harbour has facilities for the loading of cargo and containers and the mooring of large ships throughout the year. Piers in Wan Chai, Central and Tsim Sha Tsui have witnessed Hong Kong's transformation from a fishing village to a world-class commercial centre.
Other piers in Hong Kong have special characteristics. Many local people and tourists like to go to Sai Kung to eat seafood. Restaurants are built along the quay so that seafood can be cooked immediately after it is caught.
The Gold Coast in Tuen Mun is another place where people like to hang out on holidays.
Because Hong Kong has a lot of outlying islands, piers also play an important role for people who live on them.

TO NEXT PAGE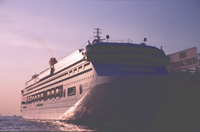 All through the year, large ships tie up at Victoria Harbour. (Tracy Chan)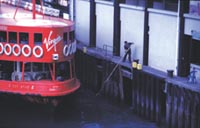 Star Ferry Pier is not only one of the busiest piers in Hong Kong, but also a major tourist spot. (Vien Wong)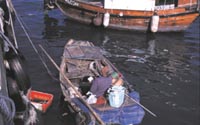 In the past, Hong Kong was a fishing village. The number of fishermen has decreased with the development of Hong Kong light industry and commercial activities. (Vien Wong)