Not 'extra'
Film extras talk about their jobs

By Belinda Chan



---
Being an extra is not as much fun and exciting as some people think.
Said Miss Jane Law, assistant director of Radio Television Hong Kong: "Extras are artists who are not on contract and have no main roles in film and movie productions."
The more professional the extras are, the higher the salaries and chances of exposure.
Miss Angela Lee, a part-time extra who has been in the field for about four months, said, "Sometimes only a close-up of my back is needed."
Mr. Ng Kai-kong, a 64-year-old professional extra with more than 10 years' experience, said, "The daily salary for more professional extras can reach $380 maximum, while that for ordinary extras is as low as $90 per day.
"Salaries from movie productions are higher, but the tasks are usually more difficult," he added. "I once had the experience of working three days without rest, but earning $2,000 a day."
Television stations and movie producers contact extras mainly by two means. They can call on extras who have records in their files — or they contact agents. There are approximately 20 agents in Hong Kong with about 200 extras each.
However, some agents disguise the recruitment of extras to cheat people for money, telling them to pay for various courses.
Miss Angel Wong Kit-bing, director of Sun Fai Production Company, who has been working with extras for about 10 years, said those companies usually target youngsters who dream of becoming famous.
She said, "We never collect money from our extras, since we get commissions from their work directly."
Besides being classified on the basis of experience, extras can be classified as full-time or part-time.
Full-time extras sign contracts with their agents and receive basic salaries.
Miss Kwan Hoi-yan, a 17-year-old full-time extra at Sun Fai, said, "My basic salary is $3,500 per month. I also receive free lunches and invitations to company functions like Christmas parties."
Sun Fai's Miss Wong said, "Full-time extras cannot refuse their orders unless they have serious illness or school examinations."
Part-time extras are paid by time rate according to the nature of the films. They are free to choose whether to accept the orders.
Many extras enter the field through introductions by friends. Some are attracted by the agents' advertisements.
Miss Angel Lee, an 18-year-old student who has been working as an extra since the age of 6, said, "I was attracted to becoming an extra because I wanted to have fun and meet more people during the summer holidays."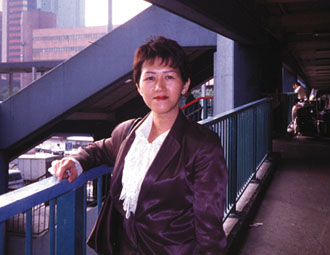 Miss Rita Luk thinks that extras
can meet a lot of interesting people.

Miss Rita Luk, a 34-year-old housewife, shared this view. She said, "This job helps me to overcome boredom."

Some prominent people have worked as extras in the past.

Mr. Paul Tsui, film producer and producer of the Miss Hong Kong Pageant by Television Broadcasts Limited, said, "I know more about stage setup and movie production after being an extra for 4 years."

However, Miss Losa Lam May-yee, 32, is sceptical about the "star system".

She said, "My greatest return was realizing that the superstars are nobody special." Aside from the job satisfaction, extras have complaints about their jobs. The most common one concerns low wages.

Mr. Ng, who recently took part in the production of Food of Love at Television Broadcasts Limited, said, "The daily wage was around $100 10 years ago; however, it is around $120 now."

Besides, Miss Luk said, "The unpredictable quitting time troubles me most. But it teaches me to be more patient."

Many people regard being an extra as a stepping stone to stardom. However, very few extras become superstars, unlike their counterparts in the West.

"There have been efforts in the past to promote extras with higher potential to become superstars," said Mr. Ng. "Senior officers like directors at different television stations used the excuse of promotion to get unethical returns from the extras. Female extras were the ones who suffered most at that time."

When talking about career prospects, a professional extra who calls himself Wa Tung said, "We are going to lose our job with the coming of 1997."

Hong Kong extras will likely be substituted by their Mainland counterparts due to the lower wage rates.

"We are losing business," said Miss Wong of Sun Fai Production Company. "We are not as busy as before. The transition in 1997 surely has influenced our business."
---
January 1997
Return to contents