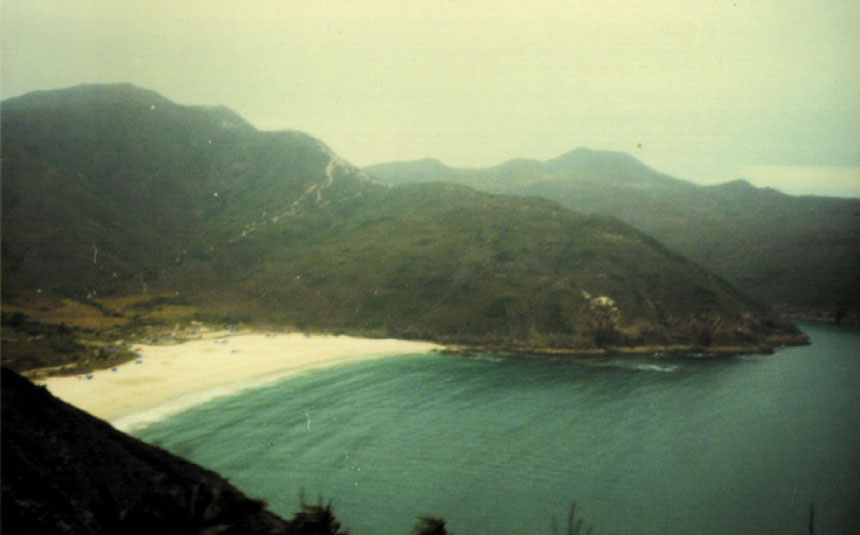 Wild experience
Campers find pleasure in
the adventuresome outdoors

By Chloe Chan



---

For those who are tired of their pressurized urban lives, wild camping is always a solution, at least for a few hardy souls.
A sailor in the Royal Navy stationed in the Territory, 22-year-old Mr. Francis Chan Ho-ming has been a devotee of wild camping since he was a boy scout in secondary school.
Said he: "Living in a crowded city with polluted air, city dwellers are usually fed up with work or study. Camping releases me from pressure and enables me to have a quiet life in nature."
Mr. Aaron Chan Ho-pong, 23, another camping fan, agreed. He views fresh air and beautiful scenery as an essential part of his life.
Wild camping is a challenge to 20-year-old Mr. Kenneth Lee Koon-ho, the internal vice-president of the Knapsack Group at The Chinese University of Hong Kong.
"Apart from the pleasure in getting closer to the nature, it gives me satisfaction when we can for instance, reach our destination on time," he said.
The main activities in the countryside are cooking, chatting and singing with friends around the campfire, gazing at stars from the seashore and fishing.
They are simply fascinating, said Mr. Lee.
Outdoor cooking is an indispensable activity which brings a lot of fun.
Said Mr. Lee: "I seldom cook at home, but it is fun to cook with some simple tools in the wild.
"Once we prepared a dessert with a hot pot, and we were so satisfied."
"Outdoor cooking occupies almost half of the time of camping. We have to prepare everything from the food to the utensils," said Mr. Francis Chan. "Fun comes from preparing a meal with friends in the countryside."
Wild camping is not only a leisure sport, but also an activity developing one's qualities like interpersonal skills, self-reliance, initiative and the ability to plan and work as a team.
Said Mr. Francis Chan: "At home, we are looked after by family members.
"While at school, teachers always help us. Camping gives us a chance to perform our own duties and to take care of ourselves and others.
"We learn how to cooperate with other people when we have to face difficulties," he added.
"Wild camping can also raise the awareness of the importance of conserving the natural environment."
Mr. Aaron Chan went camping with several people to Tai Mo Shan a few years ago. It was an extremely cold day with frost all around. Bars of chocolate were cooked but they turned to solid again after four minutes.
"We had to stay in the tent the whole night and dared not go out. It was freezing outside," he said.
Mr. Francis Chan pointed out that careful planning is important for a safe and happy camping experience.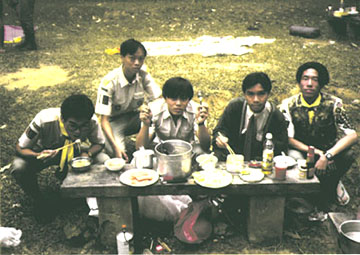 "Once I went hiking with my scout team. As our scout leader did not check things beforehand, the trip was poorly organized. The path was so rugged and narrow, with long grass along it.
"Some of my teammates kicked a bees' nest and the bees attacked them.
"I tried to help but I was also attacked. I needed to go to the hospital," he added.
"It was a horrible memory and I have been afraid of bees since then."
Besides the negative ones, there are always some enjoyable experiences in wild camping.
Said Mr. Francis Chan: "I remember the first time we went to Hoi Ha, I was impressed when many sea animals like starfish, mussels, cuttlefish and squids passed by us.
"However, with increasing pollution in Hoi Ha, some of the beautiful scenery has been destroyed," he added.
Wild camping is fun, but it may not suit everyone.
"It is a time-consuming activity to those who have little free time. For instance, you have to plan the trip and prepare the necessary equipment before you go," said Mr. Aaron Chan.
"Camping equipment is quite expensive if it is frequently used."
It requires great physical strength, according to Mr. Francis Chan. One has to carry a heavy pack all the way from home to the campsite. The pack usually includes personal belongings, a tent, cooking utensils, food and a radio.
"Campsites with excellent scenery are usually located somewhere with no public transport, for example Man Cheung Po.
"One has to carry his pack walking for more than two hours to a campsite," said Mr. Francis Chan.
"We are often annoyed by insects like mosquitoes, bees and flies. Pure water is a luxury to us," he added.
"We always find leaves or insects in the water.
"Weather is a main factor that can spoil a well-planned trip. Rain water will usually go into our tent and make it all wet. Changes in outdoor activities have to be made when it rains.
"On the other hand, hot sunny days are also not welcomed since we may get sunburnt," said Mr. Francis Chan.
Campers should inform their family members of their campsite location, according to Mr. Lee. A list of emergency phone numbers is also crucial to campers when accidents occur.
"It is very important to check for water supply and the location of an emergency station nearest to a campsite," said Mr. Francis Chan.
Mr. Aaron Chan said, "Extreme care of fire should be taken at all times, especially when the humidity is low. And campers should never ignite fires inside their tents." The three outdoorsmen all agreed that precautions are extremely important and must be taken before and during the camping experience.
Planning the trip carefully is the key to success.
---
Don't forget to bring along. . .

Clothing
raincoat
extra pants
windbreaker

First aid kit
adhesive tape
insect repellent
sunscreen lotion

Others
pen and paper
pocket-sized torch
whistle
These campsites are highly recommended. . .
Nam Shan at Lantau Island (South) Country Park
Take a bus from Mui Wo to Pui O; walk for 15 minutes.

Hoi Ha at Sai Kung (West) Country Park
Take bus No. 42 from Sai Kung to Wong Shek Pier; walk along Hoi Ha Road.

Tsuen Kam at Tai Lam Chung Country Park
Take bus No. 51 from Tai Kok Tsui Pier to Au Liu Village.
---
January 1997
Return to contents