To and fro between dream and reality
- Joey Leung Wing Chung

By Chloe Chan


"It's not only a sense of fulfilment and achievement. Drama also enables me to understand myself and the meaning of life, and how 'I myself' mentally work."
After graduating from the Academy for Performing Arts in 1988, Mr. Joey Leung Wing Chung wanted to be an actor in the Hong Kong Repertory Theatre.
However, his application was unsuccessful. He joined Television Broadcasting Company Limited, and his career began.

Chloe Chan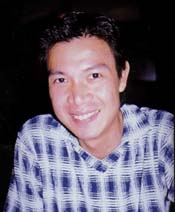 "I am just an ordinary person; I never see myself as a star."
In the past 10 years, Joey has been the presenter of a music show and has acted in many series. Every series he acted in has won praise and approval from the audience.
Joey said that he was not interested in acting when he was in secondary school.
"I was even had my arm twisted to join the drama club," he joked.
"When I was a child, I saw many cartoons about spacemen. So I wanted to be an astronaut travelling to other planets in a spaceship."
Said he: "Later, when I grow up a little bit, I realised my dream would not be fulfilled. I then wanted to be a lawyer.
"Maybe, if I could return to the past, I would study hard to reach this goal."
Though his dreams did not come true, he nevertheless has chances to realise them all by playing different characters in dramas.
Joey entered the APA because of his desire to study rather than an interest in drama.
Said he: "Actually at that time, I didn't have any so-called great ambition. I did not plan to be an actor.
"As my public examination results were not satisfactory, I was not admitted to any of the universities.
"But I understood that a less educated person would have a rather long and tough way to go.
"By getting a diploma, I could find a better job. Therefore, the very first thing I thought of was to further my studies.
"I knew I was not talented enough for academic studies, so the APA was my only choice," said he.
In the APA, Joey found that acting was far from what he had expected.
His interest in drama gradually developed.
The person who inspired him the most was Mr. Fredric Mao Chun Fai, the head of acting of the drama school at the APA.
"I learnt the charm of the stage at that time. I was very interested in acting and wanted it to be my future career."
Joey said that acting became less enjoyable when it became a career.
"Showbiz is not a place for the creation of art," explained he.
"Many people just want to please the audience and to get commercial benefits, though there are some exceptions," he added.
Joey said he loved acting on the stage more, compared with acting for television or movies.
There were times he even travelled to London to see musicals and operas.
"The charm of the stage is its continuity from the beginning until the end," he said.

"But for movies and television series, shots are taken scene by scene.
"If a director doesn't like your acting, he can cut them all."
He said, "For television, there might be 30 to 40 scenes in one day, and actors might have to work from 6 a.m. until 4 a.m. the next day.
"It is so harsh that there must be times when we can't do our best.
"On the contrary, we might take three months to rehearse only two scenes of a stage play."

Courtesy of Joey Leung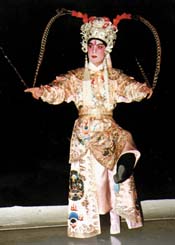 "I can play different characters whom I can't be in reality."
Though Joey was so engaged in stage plays, he was not fully devoted to the theatre due to a very practical reason.
"There should be a compromise or balance between reality and ideals," he said.
"To achieve the ideal, one has to satisfy basic needs first.
"Hence, on average, I act once for the theatre nearly every two years.
"I see it as a refresher for me and as the battery recharger, providing me energy. It is a chance to take a rest.
"In November, I'll act in My Fair Lady."
In most of his TV series, he is a comedian.
He loves comedy as well as drama.
But he said that there were many limitations for comedy to succeed.
"A comedy is collectively difficult to succeed. It should have a personal style, like the widely welcomed comedy San Sing Bou Hei. Mr. Michael Hui Koon Man was the actor and the director, as well as the producer.
"Besides, a successful comedy should not be restricted by geographical location or the time dimension, like those comedies by Charlie Chaplin.
"Seeing comedies, even people of different nations today should find them humorous."
"It is fortunate that all the elements of Lek Yahn San Sai Gei, such as the director, the producer, actors, timing and rhythm were well coordinated, contributing to its success."
He admitted that making friends in showbiz is difficult.
"Basically, everyone has jealousies. When it comes to conflicts of interest, it is difficult to be good friends."
Luckily, he has a few. Joey described Mr. Wong Yat Shan and Mr. To Tai Yu as trustful and reliable.
His intimate friends are mostly known at the APA.
In the near future, he will concentrate on being an actor.
Joey may work behind the screen when he thinks he has acquired enough skill and experience.
His unfulfilled dream is to devote himself to drama or film production.
He said, "A good director should possess a wide horizon.
"Though he need not to be brilliant at everything, he must know how to rally the best elements together to present the idea of a story," he said.
"I think I am still not yet qualified. What I need is to learn more and gain more experience.
"There is a long road ahead for me. . . ,10 years, perhaps."

---
November 1997
[Editorial]
[Letters]
[Answer]
[News]
[Social]
[Photo]
[Culture]
[Education]
[Channels]
[Science]
[Celebrity]
Comments
Editor-in-Chief
Electronic Editor