Magic is not
just a trick
Toying with the heart,
hoping for cheers

By Vivian To

The mysterious power of magic has fascinated millions of people, but this does not guarantee a successful career for magicians in Hong Kong.
The lack of opportunities and venues for magic performances has hindered the development of the industry.

Vivian To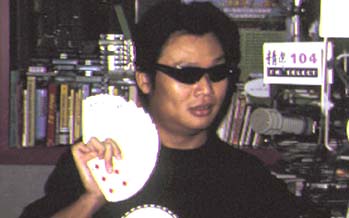 Disc jockey Harry Wong Ka-yee has a genuine zeal for both magic and music.
"It's difficult, if not impossible, to have Copperfield-style magic shows in a small place like Hong Kong," said Mr. Eddy Au, a magician for more than 20 years and the owner of a magic company in Hong Kong.
A local magician and a disc jockey at Metro Broadcasting, Mr. Harry Wong Ka-yee said, "In the past, magicians could work at nightclubs. But with changes in lifestyles, people prefer to go elsewhere now, such as karaoke clubs."
Both Harry and Eddy admitted that the market for magic performances is rather small in Hong Kong.
Although magicians are sometimes employed by some large companies as magic consultants or invited to perform at annual dinners and product launches, most of the time they just perform at children's parties or shopping centres.
The local magic industry is further affected by the common practices of imitating and copying others' routines.
This problem occurs when magicians begin to use magic as a tool to make money, rather than a leisure pursuit.
"Magicians dare not create brand new tricks, as they fear they will be unmasked, so they simply copy ideas that have worked well in the past.
"This really upsets the innovators and brings disgrace to the profession," said Harry.
Eddy provided another explanation for this practice.
Said he: "Hong Kong is a commercial city. People look for immediate satisfaction and reward, giving limited room for creativity and improvement.
"Such an attitude has restricted magicians since the very beginning.
"It explains why we do not have magic in our own styles, even though our skills are no worse than those of our counterparts overseas," added he.

Despite the same skilfulness, magicians in Hong Kong are less fortunate. It is not easy for magicians to earn a living here in Hong Kong.
"We have no regular customers, not to mention a stable income," said Mr. Alvin Au, a magician who also owns a magic company that provides services for parties.
He added, "Unlike people overseas, people in Hong Kong normally will not spend much money to hire a magician."

Vivian To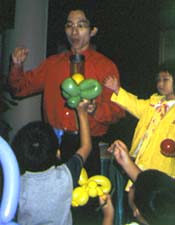 Young party-goers are amazed by the charm of Mr. Alvin Au.
Alvin can only charge $1,600 for a one-hour performance in functions such as a birthday party, which also includes special services like twisting balloons and a clown show.
With little security, many magicians in Hong Kong have to take up a second job such as being a clown or a master of ceremonies. Some even stress quantity instead of quality as their selling point.
"Some magicians try to earn more by prolonging their shows," said Harry, "but this only reduces the entertainment value and bores the audience."
Harry believes he is among the luckiest in the profession in Hong Kong in terms of his access to famous people.
He has been given lots of opportunities to perform and has been hired by the Walt Disney Company and celebrities like Dickson Poon and Chris Patten.
"In Hong Kong, very few magicians can be defined as professional — only about five," he said, "but not all of them can be considered successful.
"Many magicians don't know the proper way of presentation," he said. "This can be attributed to their low level of general education, as well as insufficient knowledge in magic as an entertaining skill.
"Besides natural talent and frequent practice, the key to success in this profession is the genuine down-to-earth dedication to magic," said Harry.
However, Harry still holds an optimistic view about prospects for the industry in Hong Kong.
Said he: "Years ago, some devoted local magicians founded the Hong Kong Magicians' Association to unite people who were interested in magic."
This association has close connections with some prominent organizations like the International Brotherhood of Magicians and the Society of American Magicians.
"It provides us a place to share experiences and exchange views," said he, adding that the number of members is on the rise.
However, Harry grumbled that the government, when it comes to public funds, treats magic as a form of entertainment rather than an art, which downgrades its status.
"But magic is indeed an art," he emphasized. "It is an art to deliver an act."
Eddy has a more positive attitude. "To gain support from the government, we have to provide evidences to show that magic is good," he said.
Several years ago, Eddy's company strongly recommended courses in magic to the former Urban and Regional Councils. The courses were so popular that the government continued to run them every summer holiday.

Vivian To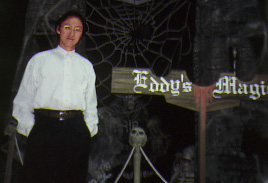 Magic courses are offered at Mr. Au's studio in Fo Tan.
He also made some efforts in schools and hospitals, as well as in charities.
Some people still view magic as a deceitful trick or a fraud.
"It's our duty to correct this wrong concept," said Eddy.
To let people know what magic really is, Eddy's company organizes regular training courses in magic at its own studio in Fo Tan.
Moreover, a Magic Club comprised of professional, semiprofessional and amateur magicians was also established.
"People from all walks of life come to learn magic, mainly out of curiosity and enthusiasm for magic.
"Young children, white collar workers, blue collar workers, executives, doctors. . . , we welcome everyone," said Eddy.
Eddy's students are given opportunities to apply what they have learnt.
Said Eddy: "We once arranged our students to perform in Po Leung Kuk."
The company also designs and produces magic tools for its members, as the supply is rather limited in Hong Kong.
When asked of his future plans, Eddy said that he wants a more comfortable environment in the studio and a library of magic, so that more people will join.
According to Eddy, there are many advantages to learning magic.
He believes that magic is a useful tool to build one's personality.
Said he: "After learning magic, most people become more outgoing and confident."
On the other hand, magic can develop one's mind, flexibility and potential. "It's a comprehensive training," Eddy said.
Harry also encourages people to learn magic as a hobby, because magic, like music, can bring about happiness and friendship.
"But I would not suggest that everyone who knows a little magic should become a professional magician," said he. "The road is too hard and arduous."

---

Beauty and the gains
---
November 1997
[Editorial]
[Letters]
[Answer]
[News]
[Social]
[Photo]
[Culture]
[Education]
[Channels]
[Science]
[Celebrity]
Comments
Editor-in-Chief
Electronic Editor