Many people think that student unions of universities should not only be concerned with school welfare, but also social and political affairs.
The Student Unions of the University of Hong Kong and the Chinese University of Hong Kong are two of them.
Mr. Wong Chun-sing, head of the Student Union of the University of Hong Kong, said it has undergone great changes during its long existence.
"The Hong Kong University Union, the former name of the Student Union, was founded in 1912.
"At first it emphasized providing recreational activities,
Billy Lam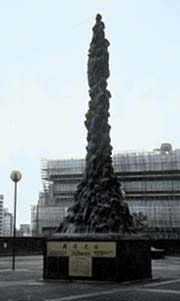 HKU Students insisted on erecting the Pillar of Shame.
like sports competitions and balls," Mr. Wong said.
In 1949, it was registered and renamed as "The Student Union of the University of Hong Kong".
Since the Cultural Revolution in mainland China, students in the University have become more and more interested in Chinese politics.
Their awareness spread to local politics. Therefore, the Student Union started to pay more attention to external affairs, both political and social.
Mr. Wong said, "Now the Student Union is working in three areas: student welfare, school politics, and our response to social issues.
"If resources are limited, we put school welfare on the first place."
Miss Yung Hiu-kuen, head of the Student Union at the Chinese University, said that the Union is working in similar areas.
It was founded in 1971.
"The '70s were a time of injustice, both socially and politically," explained Miss Yung.
"The power of individuals was too weak and not enough to fight against injustice. As a result, people had to join together. Students at the Chinese University thus formed the Union."
Miss Yung said that the democratic movement in Beijing in 1989 carried the Union into a new phase.
After rounds of discussions, the Union concluded that maintenance of a mass movement depends on support from the public.
As a result, the Student Union began to work on the masses.
"The Union joined many social movements in order to oppose injustice to the lower classes," Miss Yung said.
Although, the two unions work hard on what they believe in, some people do not appreciate their work very much.
The Student Union of the University of Hong Kong has been criticized for its actions as too radical.
On the night of 4 June 1997, the Union tried to erect Pillar of Shame on the campus.
Security guards at the University forbade the movement. Scuffles broke out when students tried to stop the security guards from closing the gates.
Their actions were reported by the mass media. The students came to be regarded as too radical.
Mr. Wong said that the Union had done its best to control the situation.
He claimed that the mass media had exaggerated the incident.
Mr. Lui Kok-fai, a philosophy major at The Chinese University of Hong Kong, said that the Student Union should represent opinions from the majority instead of minorities.
However, Miss Yung said that such criticism is due to the lack of student participation in current affairs.
She said, "Those who do not participate would never be able to understand the situation we are now facing.
"Most students are not interested in political and social affairs. Therefore, they view those concerned with current affairs as radical."
She said that the Union had been doing it best to express its views peacefully.
"However, the media are inclined to report crises instead of our peaceful efforts to express our views," she said.
Besides being criticized as "radical", the two Unions have to face other problems.
Mr. Wong said that one of the them is the lack of new participants.
He said, "Pressure from the authorities does not worry me. However, I do worry that in the following years, we will not have enough participants to form a new student union."
He said the union will work more on promotions to solve the problem.
Miss Yung said she is afraid that pro-Communist forces might dominate the Student Union and forbid voices opposing the power structure.
Miss Yung said, "I think there is little we can do to resist this force. It has got so many supporters and resources."
Nevertheless, the two student union chiefs are still doing their best to reach their goals.
In Miss Yung's words, "It is the responsibility of a citizen to care about his or her society."