Money
Investors crazy for
the stock market

By Candice Ma


The shares market had its ups and downs in the first half of 1997. Therefore, many people now find it too risky to invest there.
One Ngau Tau Kok housewife said she has never thought of buying stocks.
"Once you buy stocks, you should treat it as a loss and never expect to get it back with interest," said she.
"Besides, I do not have much spare time because my sons need great care."

Candice Ma

A 22-year-old administrative clerk agrees. No matter how much her family and colleagues encourage her to buy stocks, she stands firm.
"It is totally a bet!" she says. She dares not bear the loss owing to the doubts and uncertainties in the game.
During office hours, her colleagues read newspapers and use pagers every hour to get the latest news on the stock market. She thinks that stock-investing affects one's work.
It is after all not easy money. Investors have to be devoted to the activity and have to do a lot of preparation.
Eric Chan, a Year 3 business administration student at The Chinese University of Hong Kong, has been bitten by the investments bug.
"I took a course on finance in Year 2. So I decided to put my learning into practice. You need to have some in-depth knowledge about the stock market," said Mr. Chan. Sometimes, his investing experience induces his friends to ask more about stock investment.
Eric says that he spends about one hour on stock information every day. When he targets a stock, he will keep an eye on every change in the price and price-earnings ratio of that stock.
"It is very convenient to get the latest news of the stock market through the Internet and pagers as well as on television," said he.

Candice Ma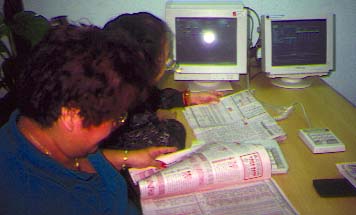 Investors in security company checking out information.
One Kwun Tong woman said she has participated in the stocks game for three years.
"I am always in the highest state of alert and keep track of the price movements," said she.
"Every day I read the newspaper early in the morning and then go to a securities firm to have a glimpse at the market. When I get back home, I switch on the stocks channel on television."
She said she started her "business" because her husband does not want her to work outside. He wants to her to take care of the family.
"Investing in stocks is the most effective way to spend my spare time and ease my boredom. Days fly when the stock market is in operation.
"I can do the household work and check my daughter's homework as well.
"Most importantly, I can make profits to enhance the finance of the family," said she.
Another stock market enthusiast who spends her 9 to 5 in a securities firm started investing because of unemployment.
She blames the employers for age discrimination.
"I cannot find a job as I am in my 30s. I learned to invest in stocks to earn money for my family.
"If I were offered a job, I would probably go out and work."
On the other hand, she shares her happiness and worries with her friends at the securities firm.
"The atmosphere is quite uniform inside the company.
"When it is a bull market, everyone becomes excited and gets ready to sell their stocks.
"However, when there are uncertainties or when the market is at the bottom, tense and cool faces are everywhere. We laugh together and cry together in the battle," she said.

---

Tourism
'Can you help?'
---
November 1997
[Editorial]
[Letters]
[Answer]
[News]
[Social]
[Photo]
[Culture]
[Education]
[Channels]
[Science]
[Celebrity]
Comments
Editor-in-Chief
Electronic Editor