February 1999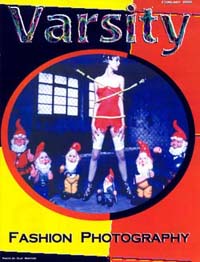 Contents
From the editor
Women

Graffiti

In Valentine's Town...

Answerman

"Which song do you like most and why?"
Features

Clashing Roles - Dilemma between studying and organizing activities
While university students are busy joining interests clubs, many halt steps in front of student unions. Is being a member of SU that demanding and tough? Click here and listen to the experiences of some SU members, and the clues to why student movements are recessing these years.
Tonics in winter - Do they help?
Besides spreading your hands with Vitamin E cream, eating tonics like snakes can nourish yourself in winter time. Click here and take a look at how Western and Eastern medical practitioners view tonics.
Social Issues

Metaphysics on Campus
Paying visits to fortune-tellers may look superstitious. Yet members of the Metaphysical Study Society do not think so. Choy Wai Kei, the chairman, said metaphysics is a kind of specific knowledge which has its own values supported by evidence.
Hong Kong in their eyes
What makes a foreigner leave their countries for HK? Money? A better career? Or a taste of another life experience? Click inside and check how our HK looks.
Shelter for rethinking life
Like an ambulance, the Youth Outreach reaches hands in the dark and offers a shelter for the runaways. Look inside and see how the unloved are supported by these volunteers.
Education
Gymnastics and Hockey: Feminine Vs. Masculine?!
Just when you thought things are getting equal between the two sexes, physical programmes at CUHK tells you not. Varsity tells you the differences between gymnastics and hockey.
Cheers! U Pub at CU
Imagine a British-style pub built at United College at the Chinese University, will there be anymore troubles thinking of where to enjoy your supper?
Photo Features

Bands of Youngsters
Singing in pubs are not the sole rights of pop singers. To encourage youngsters to explore and develop their potentials in music, some pubs hold band shows for them. Click here to see how band sound rocks!
Rave the rhythm!
Welcome to the photo album of the Amoeba's Night on December the 5th, 1998! Get into the rave party that brings together rock music, pop dance and fashionable makeup. Go inside and get trendy!
Culture

Fashion Photography
Have you ever thought that fashion photography can be an art? When fashion photography does, they capture more then the others. The exhibition called 'Zeitgeist Becomes Form' depicted how women were portrayed from the '40s to the '90s. See how fashion photographs speak!
Leisure

Wild camping can be easy and safe
To go camping with a big knapsack may worry many campers. If you are one of those, take a look at Leisure Club's wild camp programme, which saves your shoulders much troubles.
Clues to Fate - Fortune-telling drops you a hint about life
People from all over the world share the same curiosity about fate. Different ways of fortelling the future had emerged from different cultures to provide clues to this mystery. See if you want to try any of them.
Sports

Sports Amphibians
Sports amphibians are the rare ones that do well in more than one sport. And some of them exist in Hong Kong. Listen to the stories of Malina Ngai, Ng Ka Lok and Holly Tau, who are vivid demonstrators of persistence.
Personality

Outstanding warrior of regeneration - "Medical Encyclopedia"
Rheumatiod arthritis, von Willebrand's Disease, pituitary adenoma, diabetes insipidus, Empty Sella Syndrome, and Left Eye Optic Nerves Atrophied. When a person contracts all these strange diseases and YET smiles at God, you call her an 'Outstanding warrior of regeneration'.
Celebrity Corner

Hong Kong Squash Queen - Rebecca Chiu Wing Yin
Stories behind victories are equally interesting and surprising as the matches. Click here and Varsity will bring you into the stream of consciousness of Rebecca Chiu Wing Yin. A 20-year-old who won the ladies' squash silver medal in the 13th Asian Games.
---
---