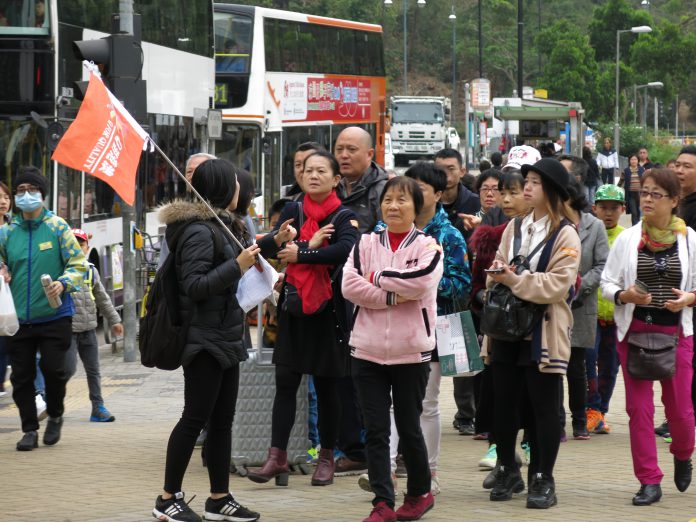 Swarms of tourists cause nuisance in local neighbourhoods in Tung Chung, To Kwa Wan and Choi Hung
By Kelly Chan & Tiffany Chong
Nuisance in Tung Chung
Long queue for tables in restaurants, crowds, trash, and influx of tourists, are upsetting the quiet and cozy Tung Chung. Tourists have flooded the distant town recently and many residents are annoyed and frustrated.

Christina Ho, a Tung Chung resident, complains the influx of tourists has caused disturbance to her daily life. "We have to endure much longer queueing time for restaurants," she says. "Worse still, there is rubbish everywhere," her sister Adelaide Ho adds.
Hong Kong is one of the most popular travel destinations in the world. In the past five years, the city of 7.5 million residents has received an annual average of 60 million visitors, with a record-high of 65 million in 2018.
Despite the enormous economic benefits brought to the city, nuisance caused by tourists has become a headache for residents. Conflicts between residents and tourists arose in Tung Chung after the opening of Hong Kong-Zhuhai-Macao Bridge (HZMB) last year, which attracted hundreds of flag-wielding one-day tour groups flocking to Tung Chung, the closest residential zone to the port facility.
Mainland tourists who came on public transport swarmed into the town and caused disturbance, leading to a series of protests.
In the wake of the situation, the Transport Department introduced a new measure in November last year, requiring tour agencies and group organizers to purchase shuttle bus tickets through a pre-booking system to regulate traffic flow for some specific days.
Lau Wing-yin, chairman of Tung Chung Concern Group, says police's scrutiny on tourists' activities has improved after residents' protests were widely reported in the media. "Police check tour guides' identity cards and license whenever they suspect unauthorized tour guides." But Lau says the new measure which only cracks down Mainland tourist groups that are suspected of violating regulations only brings them temporary peace. No prosecution has been made so far.
Lau believes poor town planning should be partly blamed for the residents' discontent, as there are mostly chain stores and outlets inside Tung Chung's shopping malls, which transform the residential zone into a shopping attraction. "The residents will not be that disgruntled if the government encourages more small shop tenants to set foot in the district to serve residents' needs," says Lau.
Lau suggests the government sets a daily quota on a number of cross-border coaches to put a halt on the influx of tourists and advise the Mainland authority and travel agencies to remind tourists to behave themselves.

To Kwa Wan – Hell's Kitchen
Similar problems also are observed in To Kwa Wan where crowds of tourists flood the district every day. Although the district is not a major tourist and dining attraction, half of the city's registered souvenir shops locate in the residential areas and more restaurants are opening its doors to embrace Mainland package tours.
"No locals dine here. Most of our customers are Mainland tourists," says Ah Chiu, a chef of a Chinese restaurant in To Kwa Wan. He admits the restaurant only accommodates Mainland group tours, even though it is situated in a local residential area.
Mr. Cheng, a resident who has been living in To Kwa Wan for 30 years, says many restaurants only serve mainland tourist groups in a shopping mall. "This is a vicious cycle. The residents do not visit the mall, more shops will serve tourists," says Cheng.
Cheng also worries these package tours may ruin the reputation of the city. "Some Chinese tourists wrote on commentary websites reflecting the food served in these restaurants are mostly refrigerated and reheated," says Cheng.
Nette Tsang Wing-tung, spokesperson of a concern group, Synergy Kowloon, says long queue of travel coaches places significant traffic burden on To Kwa Wan. She has seen police officers putting barriers in crossroads to manage crowds of tourists to queue outside a restaurant, forcing students on a school bus to get off in the middle of the road.
Tsang says even if a tourist breaks a law and receives a penalty ticket, they can still leave Hong Kong without paying a fine. "I once saw a tourist throwing a stub to a potted plant outside a store. The owner yelled and asked him to pick up the cigarette bud and demanded an apology, but the tourist just ran back to a coach," says Tsang.
To alleviate nuisance brought by inbound tour groups, the Kowloon City District Council has launched a pilot project to recruit tourism ambassadors to station in the district since 2016. The ambassadors are responsible for keeping the environment clean and advising coach drivers not to pick up, drop off or park illegally at popular gathering spots. They can also call upon law enforcement agencies to take follow-up actions on-site.
However, Tsang doubts the effectiveness of the project, as there are reports about some ambassadors failing to do their duties due to lack of supervision from the authority.
She suggests that the government should collects tourist tax and requires souvenir shops to obtain operation permissions after a thorough assessment and public consultation.
When the Instagrammable Choi Hung Estate sparks privacy concern
Apart from buying souvenirs, tourists enjoy visiting local photo spots. Choi Hung Estate has become a hotspot. Renowned for its colourful and vividly painted housing blocks, a picture taken in the estate won the Sony World Photography Awards in 2016.

Shenzhen tourist, surnamed Chen, says she learned about this photographic gem from Xiao Hung Shu (小紅書), a Chinese social media platform. She says it is a widely recommended picture-perfect place, but she does not find the spot very special.
Chen says some residents of other public housing estates do not welcome tourists to take pictures. "There is a reminder from Xiao Hung Shu asking us not to disturb the residents," she adds.
Lorraine Lee, who has lived in the estate for five years, thinks it is fine for tourists to take pictures inside the estate. "To me, the most disturbing thing is when visitors ask me for directions. But I think this is also a good way for tourists to learn about public housing estates in Hong Kong," says Lee.
The internet fame of the 56-year-old public housing estate also comes along with public nuisance and privacy concerns. "The court is always packed with visitors on weekends and there is no space for residents to play basketball. A basketball player once broke a tourist's camera and conflict just erupted," says Wu Chi Kin, a district councillor of Wong Tai Sin.
Wu says the use of drones equipped with aerial cameras make residents feel worried, as bathrooms are near the balcony side. In the wake of the situation, the Housing Authority provides a guideline to prohibit the use of drones. But Wu believes the effect is minimal and stresses the authority has no right to forbid tourists from visiting the estate. "We want to respect their freedom of photo-shooting, but they should also avoid causing disturbances to the residents," says Wu.
Wu says all he could do is to ask security guards to remind visitors to behave during peak hours. He hopes online media will stop promoting the estate as a tourist spot.

Edited by Daphne Li