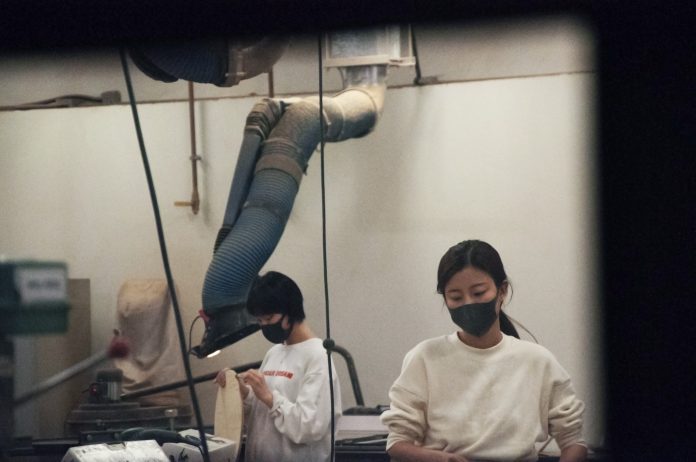 Art graduates struggle to become full-time artists
By Ariel Lai & Sarah Ryou
"You can't survive simply by selling art creations, unless you were born in a rich family," says Jay Lau Ka-chun, a Year Four fine arts student of the Chinese University of Hong Kong(CUHK). Lau thinks it isvery difficult to make a living as a full-time artist in Hong Kong because of unstable income and keen competition. Making art in Hong Kong is also very costly.
A struggle to survive
"It's not cheap to rent a studio in Hong Kong. Art supplies are also very expensive," Lau says. "We often need to take up other jobs to make more money in order to strike a balance between our income and expenditure."
Lau also says it is hard for full-time artists to make ends meet if they lack the necessary connections in the art industry such as gallery owners or curators. He says artists have to work day and night to build their career.
Another final year fine arts student of CUHK, Thomas Fung Yee-tin, says he wants to be a full-time artist after his graduation. He says some of the artists try to create commercial artworks that are welcomed by the market for more stable income. He specialises in Chinese painting now, an art genre that is relatively popular in Hong Kong.

Fung says that a Chinese painting can be sold for about HK$40,000 to HK$50,000 in an exhibition. But the income is unstable, as they can only afford to hold one or two exhibitions with around 30 paintings in each event every year. There is no guarantee that the sales will be good in every exhibition. "If the sales of artwork is good in an exhibition, the artist can earn HK$300,000 to HK$400,000, but he or she has to share the earnings with the gallery in a 50:50 or 40:60 ratio," Fung says.
Fung now takes up a part-time job as an event campaigner for more income. He adds that he needs to spend around HK$10,000 to HK$12,000 for renting a studio, purchasing materials for his artworks and daily expenses.
Fierce competition
Currently, publicly-funded fine arts or visual arts programmes are only available at the CUHK, the Hong Kong Baptist University (HKBU) and the Education University of Hong Kong (EduHK). Only 19 out of the 1,675 applicants were admitted to the fine arts programme at CUHK in 2018. The visual arts programme offered by HKBU admitted 51 students from 2,827 applications, and a similar program at EduHK only took 10 students out of 2,134 applications in 2018, according to the Joint University Programmes Admissions System (JUPAS) admission results.
Despite the small intake of fine arts students at the three universities, there is no guarantee that the labour market can accommodate all 200 to 300 graduates each year.
Zhang Jiayu, a Year Four CUHK student, who changed her major from cultural management to fine arts, aspires to be a full-time artist after graduation. "As a fine arts student, I hope that my [future] job will be related to my interest", she says.

However, Zhang reckons that chances are slim. She says career support for fine arts graduates from her school is insufficient. Even though her school has introduced a summer internship course this year, Zhang says other parts of the curriculum are note practical enough to help them develop future career in the field.
"It's difficult to ask for more support after we graduate. The university can provide more support to help us better understand the dynamics of the art field when we are still in school. That will help us build connection with people in the [art] circle," Zhang says.
Professor Ho Siu-kee, Director of M.A. Programme and Associate Professor at the Department of Fine Arts at CUHK, believes that universities are not for vocational training. Nevertheless, they have the responsibility to provide support to help students build their career. He says universities should train students to put classroom knowledge into practice.
He adds that CUHK and other schools have included a course "professional practice", in which different people from the art field, such as gallery owners, local artists and museum managers, are invited to share their experience with students. Students can learn the dynamics and updates of the art industry by talking to them.
Ho says the Department of Fine Arts at CUHK also tries to do as much as it can to offer practical training to help students gain exposure. Students are invited to work as helpers for some foreign artists and at some art events. But he says a better way to let students learn more about the work of artists is to allow them to get involved in art projects at schools.
"Most of the teachers are also full-time local artists. Students can better understand the work of professional artists if they can take part in some art projects led by their teachers," Ho says.
More government support needed
In the year 2018/19, the Grant for Emerging Artists, offered by the Hong Kong Arts Development Council (HKADC), has received 52 applications with a success rate of 62 per cent. HKADC also provides overseas and local internship opportunities, and operates an online platform providing job market information – though most of the posts are not related to art creations.
Ho thinks the government should also provide more financial support for students to join university-wide exchange programmes in which they can meet and build more connections with foreign artists around the world. He also says a government fund should be set up to support non-mainstream artists whose works are yet to be accepted by the commercial market. He says such a move can help diversify development of the local art
field.
"Cultural, art and creative industry is the new driving force of society," Ho stresses.
Edited by Tommy Yuen