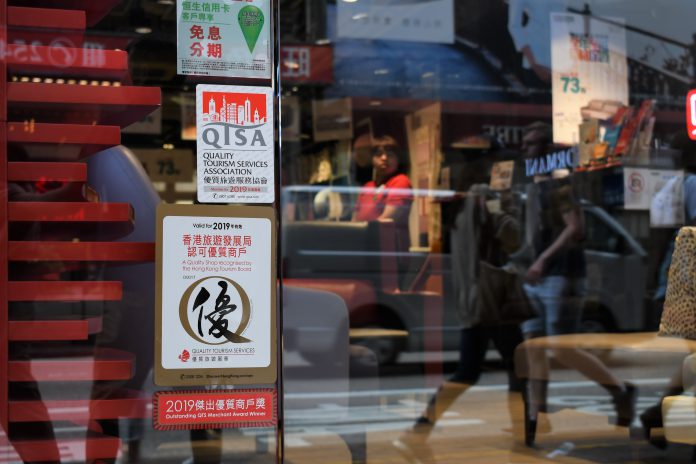 Tourists voice their frustration over Hong Kong's poor customer service quality, while workers complain of low wages and long working hours

By Regina Chen & Charleen Chen
Wang Jiying, a 20-year-old Chinese student, who studies in the United Kingdom, travelled to Hong Kong earlier this year. High expectation of her Hong Kong visit turned out to be very disappointing.

"The service quality in Hong Kong is terrible," Wang complains after visiting a restaurant. "No one came to serve when my friend and I entered a dessert restaurant, so we had no choice but to hail the waitress. Shockingly, she responded by throwing a menu on the table," she vividly recalls.

Wang's bad experience about service quality of restaurants in the city was not an isolated case. Lin Shih-hsiung, a Taiwanese tourist who visited Hong Kong two years ago, had similar experience at a chain restaurant. He says a waiter was very impatient and unfriendly when he tried to order his food.

"Once I entered the restaurant, the waiter told me to step aside if I was not ready to make an order," Lin says. He was shocked and felt unwelcomed. "It seemed like he did not care about losing a customer," he says.

Both Wang and Lin vow they will never visit Hong Kong again.

Service without a smile
The government launched a campaign featuring pop star Andy Lau to promote and encourage quality customer service in Hong Kong in 2002. The tag line in the advertisement, "Service like this just isn't good enough in today's business environment", has become proverbial to every Hongkonger. However, after nearly two decades since the advertisement was first aired, the city still fails to serve tourists with a friendly smile.

Hong Kong ranks the fourth lowest in the 2019 Smiling Report, a survey which was compiled based on assessments of mystery shoppers in 29 countries and regions. The smile score, from 0 to 100, grades quality of customer service. Hong Kong's smile score was only 56, 10 points lower than its record last year and way below the global average of 80.

Meanwhile, the Consumer Council told Varsity that the number of complaints from Mainland tourists surged by 93 per cent in 2018. Among the more than 4,000 complaints from Mainland visitors, over 300 were complaints about "Quality of Services". In a survey conducted by PTT, the biggest online forum in Taiwan, netizens voted Hong Kong as their most hated city in the world. Taiwanese visitors who joined the poll were upset with shop assistants and waiters' attitude, accusing them of lacking courtesy and patience.

Where have all the smiles gone?
While visitors say poor customer service is casting shadows over Hong Kong's image, workers in service industries say intense pressure at work is hindering them from delivering quality service. Established in 2015, "The Beggar in the Restaurant" (乞客) is a Facebook page which has been posting creative cartoons inspired by common grievances shared by restaurant workers. Page administrator who named herself as Mary Little Two has been working in the catering industry for more than a decade. She says restaurant workers are under huge pressure, as they often have to put up with customers' disrespectful behaviour and unreasonable demands. Most of them are also frustrated by their heavy workload.
"Restaurant workers in Hong Kong are often considered as 'Supermen' considering the amount of work they are loaded with. For example, I often have to take care of a full house of 75 guests with only three other co-workers," she says.

Tsoi Chung-kin, chairman of the Retail and Wholesale Trades Employees Association, agrees that overwhelming workload has adverse impact on service quality.
"Nowadays, manpower shortage is a common problem for restaurants. A waiter now is responsible for taking care of 10 tables of customers, compared with three to four before. Sometimes when a customer hails a waiter, the waiter might be busy serving others," he says.

Hong Kong is infamous for long working hours and that could be another reason behind poor customer service in the city. Tsoi says some workers in the service industry may have to work 12 hours a day, from 10 a.m. to 11p.m., without any break. "The working hour is long, and it requires workers to stand for a long time. These affect workers' attitude and performance," he says.

Tsoi says sales assistants at shops or boutiques in tourist areas are prone to long working hours, making it even more difficult for employers to recruit and retain talents.
"Working in the retail industry means low wage and heavy workload. Employees are put under enormous pressure… Young people cannot stand it, so fewer people are willing to join this industry," Tsoi says.

Help Hong Kong smile again
In a bid to recruit more new blood, Tsoi says shop owners should consider giving workers a pay rise. He says a wage increase is the most effective way to improve the high turnover rate of the retail industry.

Tsoi also says employers should step up effort to improve working conditions in the retail industry. He says arranging resting time for employees is particularly important to let them recharge themselves. In 2003, the Labour Department issued a guideline encouraging employers to make suitable rest break arrangement with their employees through negotiation. But Tsoi says it is far from enough, as the guideline is not mandatory.

"After standing for two or three hours, retail workers should be allowed to rest for ten to fifteen minutes. Or they should be given chairs to sit for a while," says Tsoi. "The government should legislate to make it mandatory for employers to let workers take a rest after working for two to three hours."
Tsoi adds that shoppers, especially tourists, have a higher expectation of service quality nowadays. They do research about products they want to purchase and ask for information from shop assistants. He reminds employers to deploy more resources to offer training for their employees.

"When employees were new to a company, the company used to teach them skills about how to treat customers, how to smile, and how to deal with customers' complaints…This kind of training is quite rare now," he says.

Cheung Lai-ha, General Secretary of the Retail, Commerce and Clothing Industries General Union, says retail workers should be given more time and resources to enrich themselves by acquiring new knowledge about their work.
"The government should offer more support to employees in the retail industry to upgrade their skills and equip them with more knowledge about the trade. If they have no time to learn, it's not good for the future development of the industry and their own development," she says.
Edited by Iris Yeung