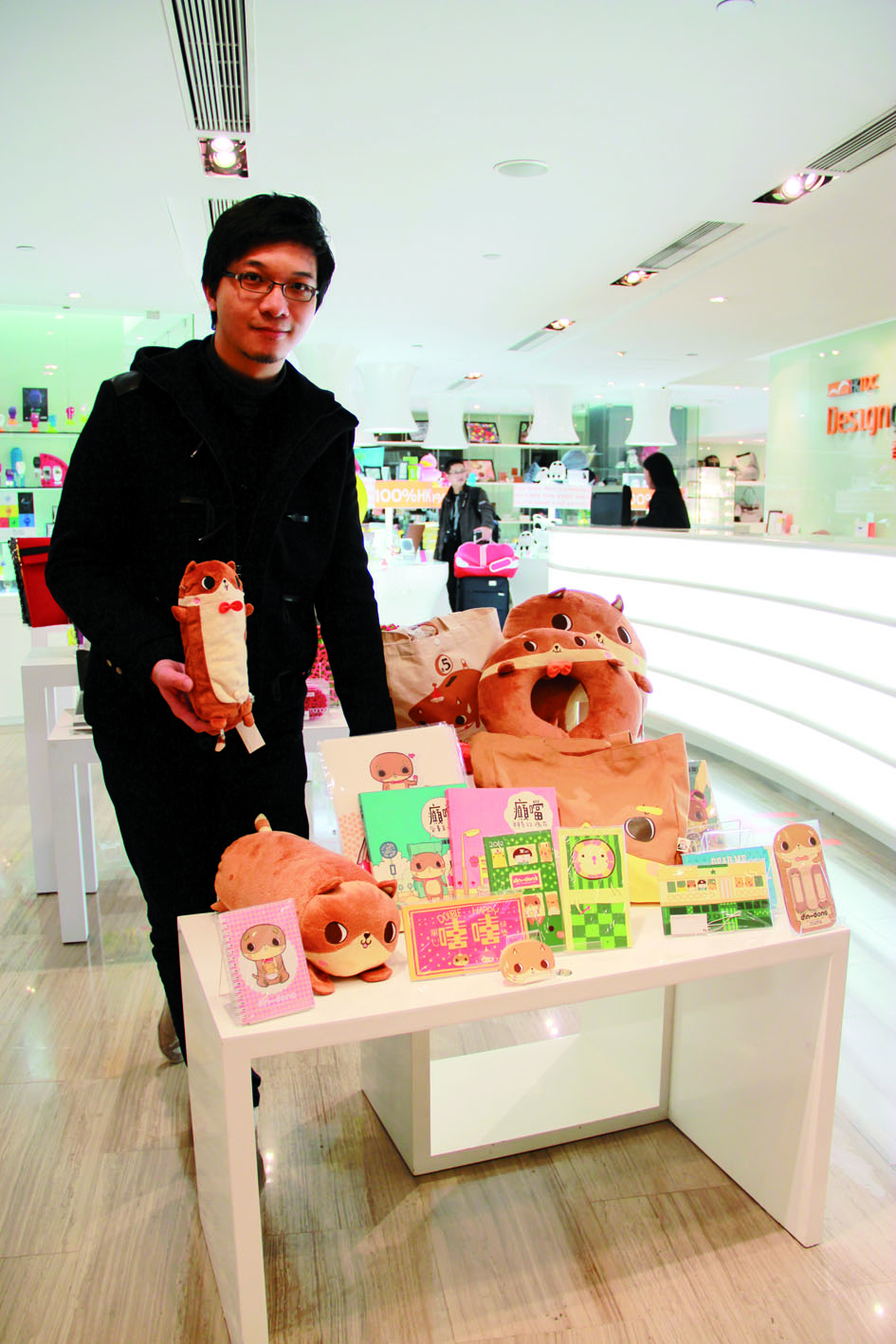 John Chan Yu-fung creates tales to warm Hong Kong hearts
Reporter: Vivian Ng
A slim, bespectacled young man carefully arranges a display featuring soft toys and other products based on cartoon characters at the Design Gallery at the Hong Kong Convention and Exhibition Centre. What shoppers do not know is the man is actually an acclaimed animator and the creator of the Din-Dong character that the products are based on.
The attention to detail which he shows in arranging the products for a photo-shoot provide a clue to his training as an illustrator.
John Chan Yu-fung has won numerous local animation awards and is the first Chinese to win the grand prize in the TBS DigiCon6 Awards. But the 34-year-old prefers to call himself a "storyteller" rather than an animator.
Chan's twin passions for storytelling and animation were planted in childhood when his parents took him to the cinema to watch an animated feature film, Laputa: Castle in the Sky.
The film, by prominent Japanese animator Hayao Miyazaki, tells the story of a boy who helps a girl with a flying gem from Laputa, a castle in the sky, to save the world.
Chan was hooked. "I realised that the scenes in a cartoon could also touch some of the audience members," says Chan. "Then I started to think if I could do something similar in the future."
After that, Chan's enthusiasm for drawing blossomed. He excitedly recalls how he drew different cartoon characters in his primary school textbooks. This interest in drawing continued into his teenage years.
Chan learnt the basic skills of drawing in secondary school and continued to sketch but these skills did not help in his ambition to be a storyteller.
The turning point arrived when Chan's secondary school art teacher told him a story about a colour-blind artist. The teacher inspired Chan by telling him how the artist used colours differently because of his disability, but created artworks with a strong personality.
The story gave Chan an insight into the process of creation. It helped him to think creatively and independently. "Those of us engaged in creation, we sometimes need to use things outside the normal confines, we have to use things other people haven't thought of before," Chan says.
After graduation, Chan worked as an illustrator at a company where he drew very detailed sketches. However, he soon left this job and, persuaded by a friend, he travelled to Australia in 1995.
Chan spent two years Down Under, taking drawing and language courses and travelling around the country. However, he learned most from his daily experience of life in Australia rather than the classes.
Chan found mixing with other international students an interesting experience. "You could see everyone had a distinct personality!" he says.
He particularly appreciated the humility the Japanese students showed towards learning. At the time, Chan had sometimes thought he was superior to others as a Hongkonger. He soon realised he was wrong.
"I discovered that if I continued with such an attitude, I would never learn anything," says Chan. "But the Japanese could because they were humble enough to learn."