Mainland Chinese girls pay to date other girls dressed up like virtual boyfriends in mobile games.
By Cynthia Hu
University student Yu Xiao wants to meet up with her virtual boyfriend Even Lu Chen (陸沉), who is an online game character, so much that she has paid ¥300 (US $41.04) for a date with a female cosplayer dressing up like him.
"We call this activity the Cos Commission. It means finding cosplayers in real life to play the role of online game characters and having physical dates with them as lovers," the 20-year-old student says.
" The cosplayer is the soul carrier of my virtual lover, bringing my favourite online game character into life. Lu Chen really came to my world for one day when I hired a cosplayer to act like him," Xiao says.
"I like Lu Chen because he is gentle and powerful. In the game, he often encourages me by saying: 'I believe my little girl will definitely achieve her goals.' He gives me a lot of strength and makes me become more confident," Xiao adds.
Xiao held hands, hugged and chatted with her "lover" when they went out for a date.
"We spent a day together like couples. We took a lot of photos together. I tried on a wedding dress and the cosplayer gave me a marriage proposal ceremony," Xiao recalls.
Xiao paid ¥300 (US $41.04) for a date which lasted for seven hours.
"I think it's very worthwhile, and I think this price is much lower than the average price," Xiao adds.
Xiao tends to find a female to cosplay Lu Chen.
"There is a significant difference in thinking between men and women. I would find it difficult to approach him if a man cosplayed Lu Chen. I don't think men can understand what we want to get from Lu Chen and fully interpret his role," she says.
Xiao's dream lover, Lu Chen, 26, is one of the male characters featured in an online game "Light and Night" – an interactive role-playing mobile game which allows players to date five male characters. Lu plays the role of an heir of a prominent family and serves as the CEO of Wanzhen Company, running a fashion design business.
In the game, Lu has brown hair and often appears as a gentleman, wearing a stylish suit and glasses. Portrayed as a refined, mature and successful businessman, Lu is popular among young female game players in China.
The online game character "Light and Night Lu Chen" has 1.282 million followers on Weibo, which is one of the most popular social media platforms in China.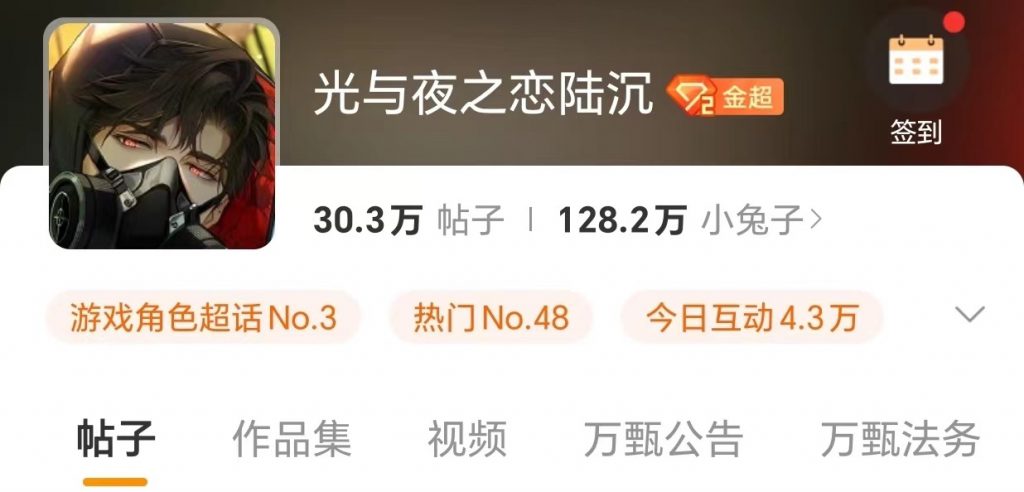 Fans of Lu Chen post their thoughts and feelings towards the character in a fans community. They also recreate and publish stories on Weibo, fantasising themselves flirting and dating with the online game character.
The hashtag related to Cos Commission has 200 million views on another Chinese social media platform Xiaohongshu, which has 1.08 billion downloads. Girls who have dated cosplayers role-playing their favourite game characters, discuss their experiences and share interesting stories. Similarly, cosplayers post their own photos and pricing for dating services.
During a search on XiaoHongshu, the reporter discovered that the dating service costs between RMB ¥20 (US $2.75) and RMB ¥150(US $13.75) per hour. Consumers cover all expenses during the appointment.
While Xiao spends money looking for cosplayers, some make money by dressing up as online game characters and having dates with girls.
With a tall built figure of 168 cm and weighing 48 kg, Yu Zhi, 20, from Shanxi Province, has been doing cosplay and offering dating services for more than four months.
"I use heightening insoles to make myself taller, say up to 175-178 cm. Apart from this, my body shape is similar to the characters I play. I spend half an hour doing makeup and dressing up before a date," she says.
"I now charge RMB ¥300 (US $41.04) a day. Considering the time for makeup and transportation, I work approximately 10-12 hours for one date. I think this price is affordable for girls who want to date their dream lover by having me dressing up as their boyfriends. The pay is good for me too," the undergraduate student, who did her first paid date in July 2023, says.
Yu usually checks her wig, clothing, and cosmetic contact lenses a day before 'dating' to make sure all props are in perfect condition.
"I cosplay different kinds of characters. They all have their unique clothing, different colors of eyes and hair, so I need to prepare," Yu says.
"I usually spend more time on eye makeup to better fit the character," Yu adds.
Yu only dates girls who live in her own city to save commuting time.
"Due to time concerns, I only consider dating requests from girls who live in my city, "she says.
Yu believes that she can play a perfect role to satisfy her customers.
"I have had a boyfriend before, so I know better what the girls need and what to do as a 'boyfriend' in a romantic relationship. I know which details girls are more likely to be moved by, and how to provide emotional value to them, such as praising their clothing and hair," she says.
"As a girl, I know how to respond to them to make them feel better. I will hug them for a long time at the beginning and end of the date," she adds.
Professor Hui Chin-ming from the Psychology Department at the Chinese University of Hong Kong points out that people cannot buy a relationship.
"This relationship is unhealthy if people think they can buy it. While people fall in love with virtual lovers, it may mean they are lonely and lack friends. That is why they develop relationships with virtual lovers," he says.
Hui points out that the Cos Commission may affect young people's views on how they pick companions in the future.
"People have to be accountable for their partner and take responsibility in a relationship. If they form the concept of not being responsible for their partner's needs, it will be difficult for them to establish relationships with others in the future."
He also pointed out that staying single is a growing trend.
"With the increasing cost of living and the comfort they can get from social media, people become more self-centred and only care more about themselves, but not others. It reflects the trend of individualism," he says.
"But for those who are single and unhappy, we need to take care of them and provide support to them. Virtual relationships may demotivate them from building a real relationship. So we should encourage them to reach out and meet more people in real life," he adds.
Edited by Tessa Yau
Sub-edited by Christine Tang