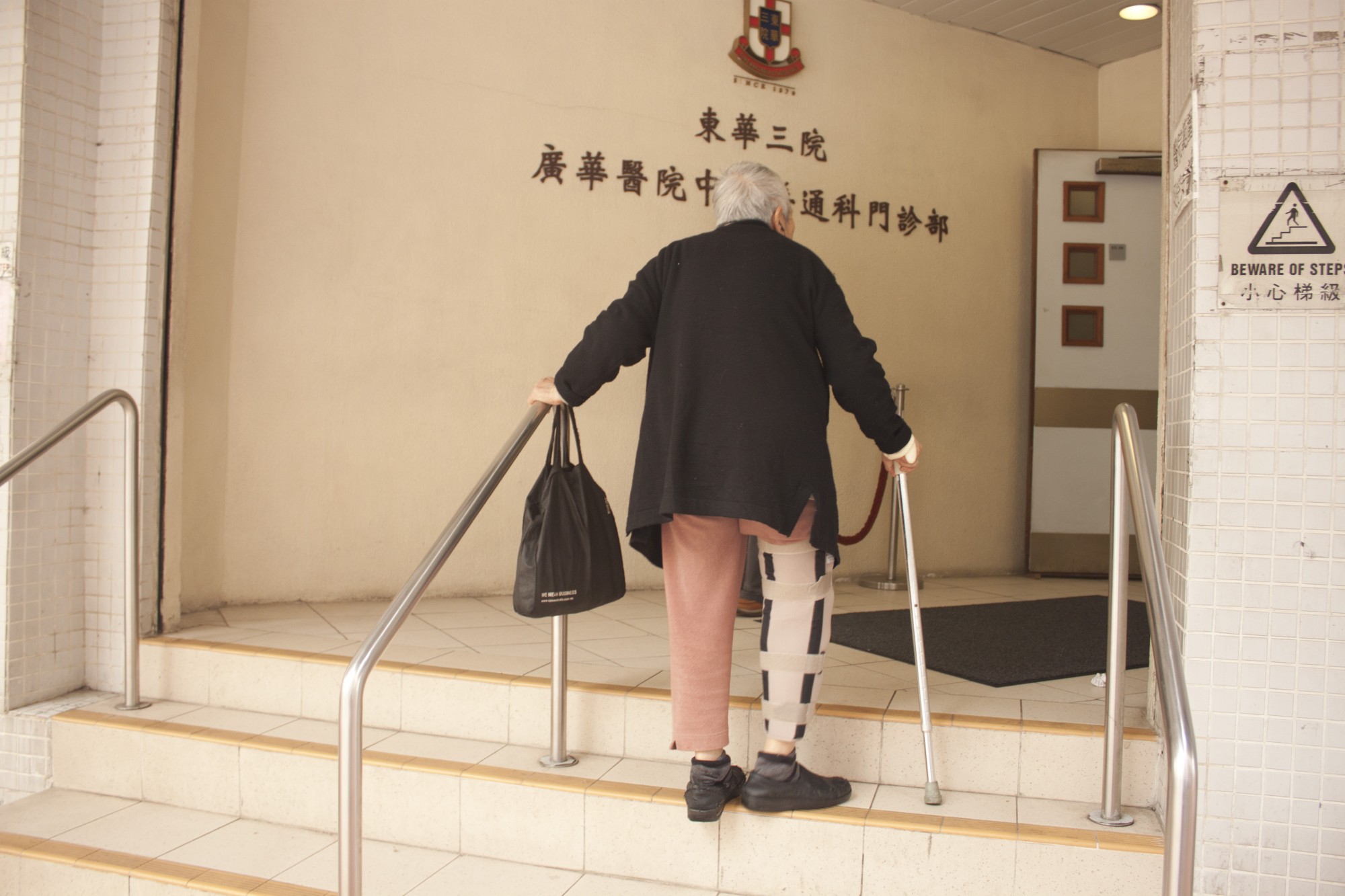 Reporter: Derek Li and Thee Lui
Dozens of elderly patients sit silently on benches in the lobby of Kwong Wah Hospital. The only sounds to be heard are the announcements calling for patients. Ms Lee, in her 70s, keeps an eye on the numbers flashing up on the screen and carefully checks them against the number on her chit. She knows she faces another hour of waiting.
Despite the frequent long waiting times in Hong Kong's public hospitals, many elderly accept they have to wait since they are enjoying either free medical care or paying far lower fees than they would pay at private hospitals or clinics.
This is particularly true for those with chronic diseases like Lee. She has to go to the hospital for regular kidney check-ups every month and kidney dialysis costs her more than $10,000 every month.
Lee relies on a government subsidy of a few thousand dollars a month to pay for her medical expenses. Her son and daughter, who each have their own families to support, foot the rest of the bill.
Lee lives in a private elderly home which adds to their financial burden. She is waiting for a place in a government-subsidised elderly home that would cost $2,000 to $3,000 a month, a tenth of the cost of private elderly homes.
Like Lee, most of Hong Kong's elderly population depend on government medical services. As highlighted in the latest Policy Address, Hong Kong's aging population presents a huge challenge for its public health system. The number of people aged 65 or above is expected to rise from the current 0.9 million to 2.1 million in 2013, which represents a quarter of the total population.
The recurrent government expenditure on medical and health services in 2012 will be $45 billion, an increase of 8 per cent on the previous year and 17 per cent of total government expenditure.
In an attempt to relieve the increasing pressure on public medical services, the government introduced the Health Care Pilot Scheme in 2009 to encourage the elderly to use private health care services. Under the scheme, non-means tested medical vouchers were issued to people aged 70 or above. Each person was given five $50 vouchers, that is, a total of $250 to spend on private primary health care services.
Two years after it was launched, the Hospital Authority reviewed the scheme last year. Of just over 1,000 elderly people who were interviewed, only around a third said they used private primary care services more than they had before. The others did not change their behaviour and 26 per cent of these respondents said the reason was because they were used to seeing public doctors; a similar percentage said the subsidy amount was too small.
Although the total value of medical vouchers was increased from $250 to $500 following the review, many believe it is still far from satisfactory.
Tang Kam-ying, 79, visits clinics several times a month. He had already used three of his 10 vouchers for the year by February and thinks that even after the increase, the vouchers cannot meet the needs of the elderly.
Each time Tang visits a private clinic, it costs him two vouchers. So, when he chooses to see private doctors, he opts for those that charge the lowest fees.