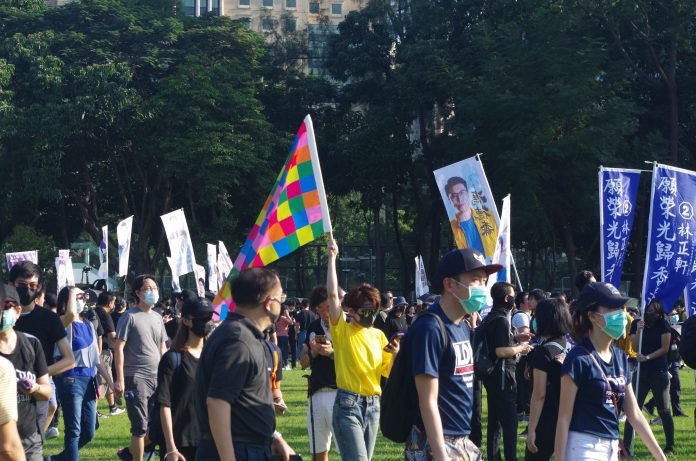 By Howard Li
The 2019 Hong Kong District Council elections are approaching. This year's elections have seen a lot of young faces emerge. Some of them are former student activists who led the 2014 Umbrella Movement. Five years on, after experiencing the depressing ending of the campaign which failed to achieve any concessions from the government and witnessing Beijing's tightening grip on the city's freedoms, especially the disqualifications of young opposition lawmakers, will the Umbrella Generation still regard the elections as an opportunity to make a difference?
Varsity talks to two former student activists who run for the coming District Council elections, Tiffany Yuen Ka-wai and Lester Shum Ngo-fai, to learn about their perspectives and visions.
"A choice for Tin Wan"
Tiffany Yuen Ka-wai, former Vice Chairperson of pro-democracy Demosisto party, is contesting the seat in Southern District Council for Tin Wan constituency. She is now serving as an assistant to legislator Au Nok-hin.
Standing next to her campaign banner bearing a slogan, "A choice for Tin Wan", Yuen says Tin Wan constituency has been a stronghold of the pro-establishment camp for many years and she wants to give residents one more option in the upcoming election. "I like Tin Wan because I enjoy warmness and friendliness of residents here," she adds.
There are various problems in Tin Wan that remain unsolved. This year, Wycombe Abbey International School has rented space at Tin Wan Shopping Centres, the district's only shopping centre which has been left idle for more than two years after Link REIT sold it to a mainland-based company in 2015. As a result, the mall cannot be fully utilised to meet residents' needs.
Traffic congestion is another concern. "Early on, there were many tour groups visiting Tin Wan, which led to increasing burden on the public transport," Yuen says.
If elected, Yuen pledges to press the government for policies which could improve the living conditions of Tin Wan's residents.
"Although I may seem too young and inexperienced to be a district councillor in the eyes of many residents, I think having the passion for serving the community is more important," says the 26-year-old. "I make every effort to listen to the residents and spend much time in dealing with community affairs to win confidence from them."
Yuen says her decision of running for the election is not facilitated by the ongoing anti-government protests, but she adds that the protests may have politicised the elections which typically centre on community matters and prompt voters to be inclined towards the pro-democracy camp.
"Still, we will focus on fundamental livelihood issues without adding political spice into them. But at the same time, we shall explain our stances and current political situation to the residents instead of shying away from doing this for fear of being labelled as 'radicals' or 'troublemakers' by them," says Yuen.
Speaking of the series of strikes, class boycotts and shutdown of shops, Yuen says they are important in exerting political pressure on the government to respond to protesters' demands. She thinks Hong Kong people should strive together to sustain the pressure.
As a former student activist who actively took part in the 2014 Occupy movement, Yuen says the movement has equipped her with stronger communication skills which help her better convey political views to the residents in her community.
She stresses that the Occupy movement does have an impact on the current pro-democracy protests as this civil disobedience campaign which happened half a decade ago has gone down in Hong Kong's history as an important lesson in civic engagement and will continue to serve as a mirror to future social movements.
Determination to change
The significance of the Occupy movement also finds an echo in Lester Shum Ngo-fai's political career. Shum, former deputy secretary-general of the Hong Kong Federation of Students and one of the key student leaders of the 79-day occupation, is now campaigning to win Hoi Bun constituency seat of Tsuen Wan District Council. He currently serves as an assistant to lawmaker Eddie Chu Hoi-dick.
"On the positive side, the movement encourages more people to pay attention to politics. On the other hand, people are frustrated as their efforts hasn't paid off. The political divide gets deeper and deeper in the aftermath of the movement. But it is an experience in the past which won't be written off," Shum comments on the Umbrella movement he once played a leading role in but ultimately faltered.
The 26-year-old decided to throw his hat in the ring for district councillor this April. At the time, he considered the election as a way to change the status quo given the society's lack of confidence in starting another large-scale social movement since the Occupy Central campaign ended in failure.
Should he be elected, Shum says he will help improve the recycling mechanism in his district.
The three-coloured waste separation bins placed in the communities do not perform very well in sorting out different kinds of waste materials. Shum says it is also very discouraging to see the endeavour made by residents to clean up bottles for convenience of reclamation is in vain since all the waste is eventually ended up in the landfill.
He is told by the residents that setting up a reclamation depot could resolve the problems above, but he hasn't outlined any concrete plan yet. Shum explains, "Waste management concerns many parties, including management companies, cleaning companies and so on. It also takes a long time to negotiate with different parties and reach the consensus to look for solutions. The first step is to get elected."
Following the months-long protests in the city, Shum becomes more determined to win the election. "Every pan-democracy candidate is fighting against Beijing and trying to secure as many seats as possible. If I lose the election, I will feel that I fail my supporters as well as the people who have devoted themselves into the social movement," says Shum. He adds that his reputation established in the Umbrella movement allows him to gain trust from voters easily.
As for the 2020 Legislative Council election, both Shum and Yuen say they haven't decided whether to stand in it or not.
The other candidate for Tin Wan constituency is Chan Fu-ming. The other candidates for Hoi Bun constituency are Mok Yuen-kwan, Timmy Chow Ping-tim and Leo Chan Yue-hai.
Edited by Gloria Li