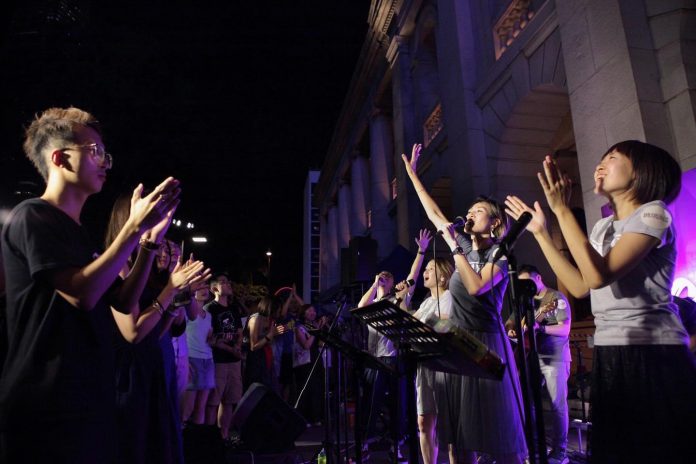 Christians are integrating into today's society with their "Made in Hong Kong" worship songs.
By Kajal Aidasani
Gabby Yeung is a musician of a Christian group, Sea of Glass Worship, which composes Christian music in Hong Kong's context.
Her group held a prayer and worship meeting in front of the Court of Final Appeal with over a thousand participants on August 30, 2019 when there was a continuation of protests throughout Hong Kong.
One of their original songs about justice (願祢公義降臨), has more than 900,000 views on YouTube. Christians have brought this song to protest sites and it was once again sung in the rally that night.
"In times of social movement, many Christians struggled to find what they could do for the city they love. They had demands and harboured anger and frustrations that needed to be channelled. And those were the objectives of the rally: to pray, to cry out for the city and to encourage one another not to lose hope," the 35-year-old vocal teacher says.
"Some participants were non-Christians. They felt powerless against the city's gloomy future and wanted to be present in our rally, providing us with an opportunity to bring them emotional healing through music," Yeung adds.
Yeung is happy to see Christian music being sung by Christians and non-Christians and that they can relate their desperation for justice with Christian music.
"I did not listen much to Cantonese worship songs in the past. They were directly translated by foreign missionaries, so I found it hard to relate to. There are more music productions from Hong Kong worship groups now, resulting in more contemporary and cooler Christian music," Yeung adds.
Another musician of a worship group Raw Harmony, Matthew Li, 35, composes and sings Christian songs. He also shares Yeung's thoughts about Christian music.
Li says he intends to address what is happening in Hong Kong with songs he writes. "It is impossible to neglect what is going on in the city and simply write about religion. Words like 'death', 'suppressed', 'diseases' came to my mind naturally and are used in my songs," he says.
Instead of writing lyrics about life in general, Li hopes to set his music apart from traditional Christian music and that his music can resonate with different classes in society.
Echoing Li, a musician of Milk&Honey Worship group, Matches Mak, agrees that having 'Made in Hong Kong' worship music is crucial.
"Most worship songs praise God and have positive meanings. These songs do not quite reflect the current social context in Hong Kong. That is why we have more songs that can address Hongkongers' fear and despair," the 31-year-old singer and composer says.
"These songs do not quite reflect the current social context in Hong Kong. That is why we have more songs that can address Hongkongers' fear and despair."
Citing a scene from the movie Titanic in which passengers were busy putting on lifejackets when musicians continued playing music, Mak says: "That is exactly what we want to do for our city." 
Sharing the belief that Christian music should keep up with today's society, Harold Chan founded the Hypersonic Lab, an online platform featuring a broad spectrum of Christian music ranging from classical, pop, R&B to electronic music in 2019. The platform has over 4000 followers on Facebook.
Apart from holding a Christian music award ceremony in December last year and introducing new Christian music monthly, The Lab also organised a Christian music festival on March 7 this year to promote more diversified Christian music.
"Because of the social movements, Hong Kong Christian music productions like songs written by Milk&Honey Worship have become more known to the public. That changes the public perception of Christian music. Our music can also be down-to-earth and have various genres," Chan says.
Through his platform, the 31-year-old passionate musician hopes to push the Christian music industry forward by subverting the stereotype of Christian music being off-note and old-school. He wants to prove Christian music can also be trendy as well.
One of the young worshippers, who enjoys singing these trendy Christian songs with a Hong Kong context, is Ariel Li Yuet.
"I believe there is more than echoing in worship music, there is hope, strength, and there is healing."
The 20-year-old journalism student from the Chinese University of Hong Kong sings songs produced by the three worship groups, Sea of Glass Worship, Raw Harmony and Milk&Honey Worship, at both campus and church.
"We Christians feel encouraged to see Christian music becoming more popular and known to the public after the social movements. I think these songs allow us to channel our troubled feelings and struggles in life to God," she says.
"I believe there is more than echoing in worship music, there is hope, strength, and there is healing," Li adds.
Enoch Lam Yee-lok, an adjunct lecturer in the music department at the Hong Kong Baptist University and Lumina College, shares that Christian music has a significant role to play in shifting people's perceptions on Christianity.
"Christians are no longer seen as detached, called names on the Internet, nor is their music only known to be old-fashioned," the scholar says.
Lam states that Christians started reflecting upon the purpose of worshipping during the Umbrella Movement in 2014, and in 2019 when bigger issues arose, Christians became more involved and brought the unofficial anthem Sing Hallelujah to the Lord to demonstration sites.
"At the end of the day, the value of our music is not measured by statistics. What matters most is being able to bless people by connecting with them," says the 43-year-old experienced church musician.
Edited by Kassandra Lai
Sub-edited by Patricia Ricafort