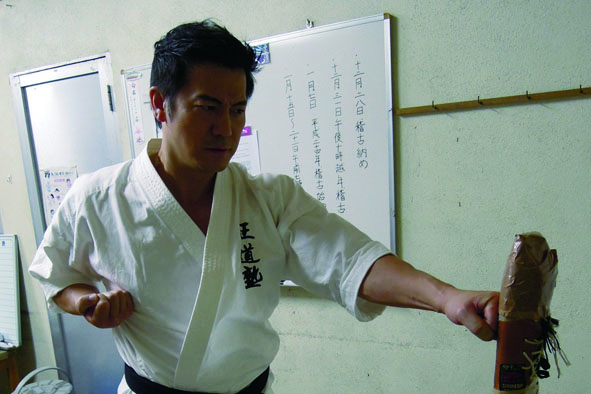 Musings Stephen Au Kam-tong: actor, presenter, playwright and man of many other parts
By Yannie Mak
For a man who was once notorious for his prickly temperament and explosive temper, today's Stephen Au Kam-tong is relaxed, candid and generous with his time. The 48-year-old actor looks dapper and boyish in a black T-shirt and a black jacket. Sitting in a Kowloon Tong coffee shop with a cup of gourmet tea in front of him, he shares his views on the current state of Hong Kong and stories from his life.
Au was unswerving in his public support for the anti-national-education protests earlier this year. He posted strong messages on his Facebook page, insisted on wearing black every day and spoke at a rally attended by tens of thousands of people at Tamar Park.
His outspokenness is all the more remarkable because he is a contracted artist with Television Broadcasts Limited (TVB). His friends were afraid there would be consequences, that it could hurt his career. But Au shrugs this off, "If we can't even have a discussion without constraining ourselves, spooking ourselves, then what is the meaning of life?" he says.
Au says he is constantly pondering existential questions. He wonders about why he was born where he was when he was, about why events that have taken place in Hong Kong occurred the way they did. He thinks Hong Kongers are too careful, too worried about just "living", which they equate with working at their jobs.
He wishes people could look at the bigger picture and see that Hong Kong, as a special administrative region, enjoys a lot of rights which are taken for granted. "If we can have the living conditions we do, the environment we have, if we can breathe the air of freedom, then we are wasting our lives if we don't speak out."
This urge to speak and act is not new for Au. When he was a secondary student, he protested against the depiction of the Sino-Japanese War during World War Two in Japanese history textbooks. He always identified himself as a Chinese.
History was Au's favourite subject. He recalls that during lessons when Hong Kong was still under British colonial rule, he learned about the history of the Kuomintang, the Communist Party of China, and even the shameful incidents of British history. Discussion between teachers and students encouraged him to think critically.
He wanted China to be strong. Au remembers telling his teacher, "If we want China to be powerful, we have to study hard; as long as we are knowledgeable, China's next generation will be good."