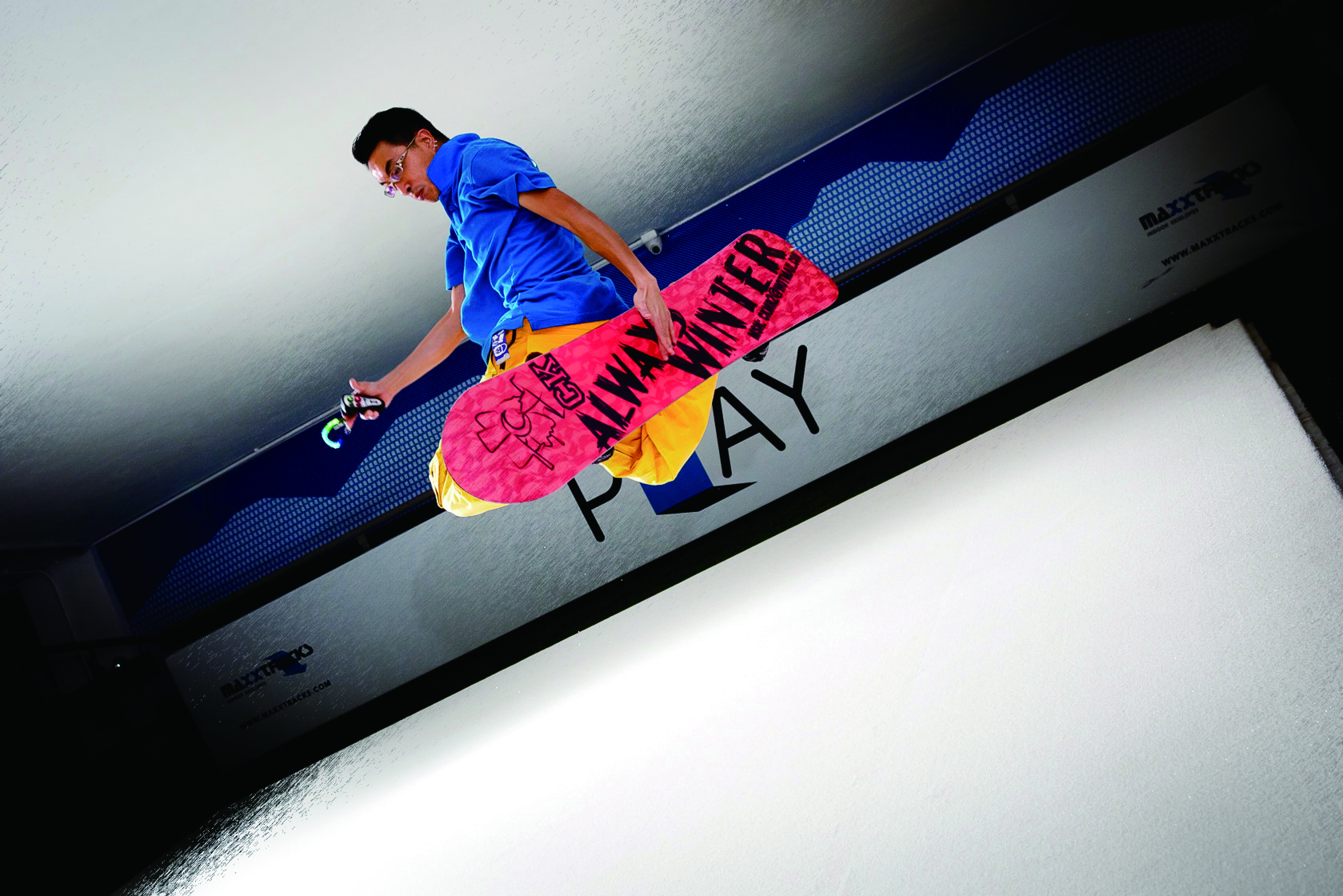 Ski, snowboard and play baseball indoors
by Tracy Cheung
If you want to go skiing or snowboarding, you might think you need to make a trip to Korea, Canada or other places with snow. If you want to play baseball or softball, you might think you need to join a club with a playing field.
But what if someone told you that none of these is necessary? All you need to do is take make your way to the premier indoor sports centre in Kwun Tong and have all the fun and exercise you want.
PLAY is a two-floor indoor sports centre equipped for skiing, snowboarding, baseball and softball. Founded in 2011, the centre's motto is 'Love Life, Love Sports' and its aim is to foster sports culture in Hong Kong, particularly among young people.
The ski and snowboard area is located on the first floor.  There, players can ski and snowboard any time of the year. "We would like to offer a year-round environment to the guests so that they can do the sports 24/7 all year without the restrictions of weather, seasons and transportation," Hailey Chan Chi-lam, the marketing and events manager of PLAY says.
There are three adjustable ski slopes and you can change the slopes' inclination and revolving speed to match your ability. The maximum slope incline can be adjusted up to 15 degrees and the revolving speed to over 20km/hr. Up to four players are allowed to ski or snowboard on the slope at the same time, so you can ski with your friends and family. The centre charges $1,200 for a group of 4 for trial.
Don't worry if you have never tried snow sports before. The centre provides lessons with professional instructors. A stationary slope is available for beginners to practise on. There are also more advanced courses for those with more experience.
Chan says most people come to PLAY to learn skiing and snowboard skills before they go on a ski trip. This helps to ensure that they can practise the sport safely and that they make the most of their snowy vacation.
On the second floor of the PLAY sports centre, you will find the baseball and softball lanes. This fully automated indoor batting area is the first in Hong Kong. Each lane is equipped with a baseball or softball machine imported from Japan that delivers the balls at different speeds.
In one of the lanes you can see a virtual pitcher on a screen as the balls are delivered. For $100 you get five tokens; with each token you get one round. For each round, you get 14 to 18 balls, depending on the lane you choose. As with the ski and snowboard section, lessons and equipment are available.
Besides the baseball lanes and the ski slopes, there is a café with snacks and Swiss gourmet coffee. You can also check out the latest snow sports equipment and accessories at the Ski 'n Board shop.
Apart from the sports facilities, PLAY provides venues for private parties where you can have live music and your own DJ. It is not only a good place for snow sports and baseball, it may also a good choice place for your birthday party too!
So what are you waiting for? Join PLAY and experience the fun today. For details on membership and prices, go to www.321play.com.hk.
Edited by Jeffrey Wong and Esther Leung