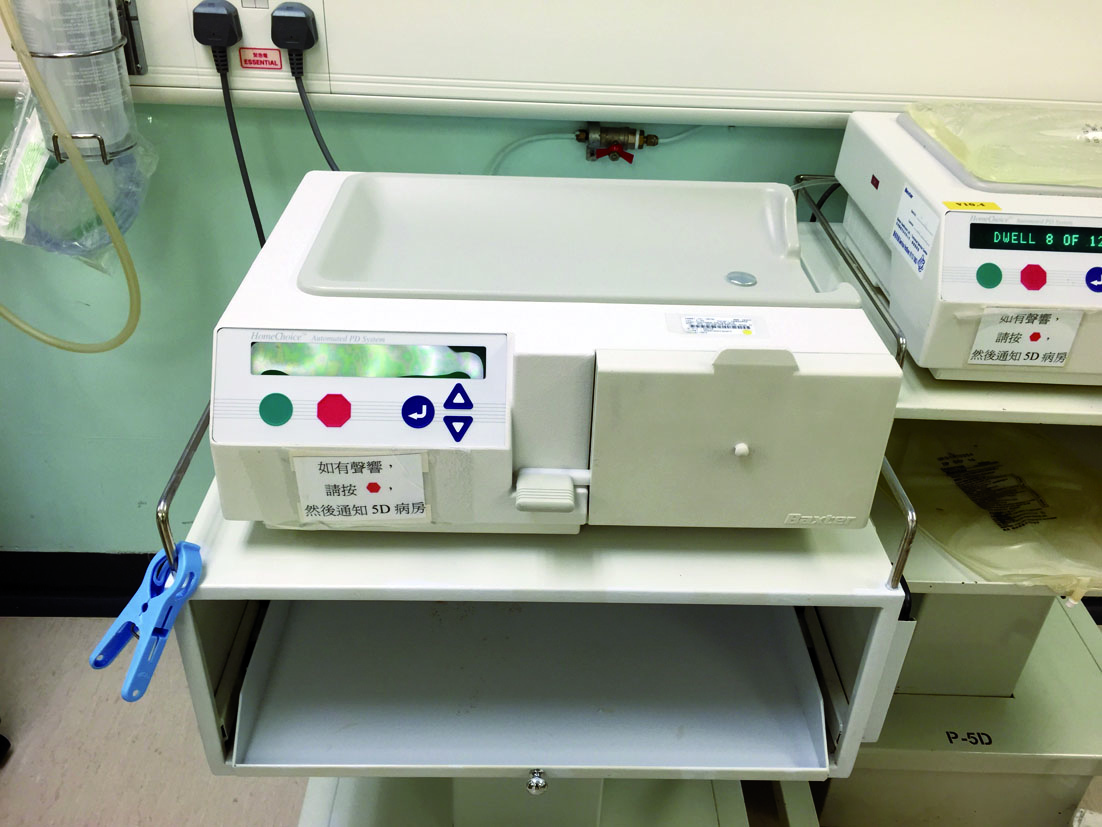 Chronic kidney disease patients in a bind on disability allowance
By Jayce Lai & Vivienne Tsang
Bonnie Ho Oi-ying releases around two litres of fluid from her abdomen from the end of the catheter inserted into her stomach. She then takes out a pack of fresh cleansing solution and the same volume of fluid flows into her abdomen. The process, called peritoneal dialysis takes 45 minutes to complete and the 60-year-old has to go through it three times a day just to stay alive. Ho, was diagnosed with end stage renal disease (ESRD) in 1987.
Patients are diagnosed as having ESRD when their kidneys can only function at below 10 per cent of their normal capacity. This means they are unable to effectively filter out metabolic waste such as urea. Unless they are able to receive a successful kidney transplant, such patients have to rely on dialysis to remove the excessive and harmful build-up of metabolic waste.
More than 8,500 ESRD patients were under the care of public hospitals in Hong Kong in December 2014. Around 5,000 of them need dialysis treatment and, around 80 per cent of them perform peritoneal dialysis.
Some, like Ho perform the treatment at home. Before they can do so, they are required to undergo training with nurses so that they know how to minimise infection. There is no subsidy for the treatment and it costs around HK$1,500 a month.
A more sophisticated form of peritoneal dialysis relies on a machine to conduct the fluids exchange. Automated peritoneal dialysis (APD) saves a lot of time as it can be performed while the patient sleeps at night. However, APD costs HK$6,000 a month and is not a common treatment in Hong Kong.
Some patients are unable to undergo any form of peritoneal dialysis because of they have malfunctioning peritoneal cavities and they need to undergo hemodialysis in hospitals or dialysis centres. In these cases, a machine drains blood from the patients' arm and filters the waste, returning the clean blood to the body. The whole process takes around five hours, and patients need treatment every three days. However, each treatment costs at least HK$1,200.
With limited resources in public hospitals, the number of patients the government subsidises to undergo hemodialysis stood at just 156 in December 2014.
As Ho's peritoneal cavity still functions, she is not qualified to receive subsidised hemodialysis. She spends HK$2,000 every month on her treatment. Because of the time constraints this imposes, she can only look for part-time jobs. Even this is a challenge and when she injured her hand in 2009, she stopped working altogether. Ho applied for disability allowance, but her application was rejected.
Disability allowance is a benefit under the Social Security Allowance Scheme to help disabled people meet the special needs caused by their disabilities. Successful claimants are entitled to either HK$1,510 under the normal disability allowance or HK$3,020 under the higher disability allowance. Most ESRD patients who manage to claim the benefit receive the normal disability allowance.
In order to qualify, patients must have their applications approved by public doctors who have to fill in a medical assessment form saying they are satisfied the patient has lost "100 per cent of earning capacity" or has "any other conditions including visceral diseases resulting in total disablement".
Ho says some doctors do not accept that ESRD patients have lost 100 per cent of earning capacity. "The doctors think that we have arms hands and legs … we're invisibly disabled," she adds. However, as the chairperson of the Renal Companion Association, the patients' association of Queen Mary Hospital, she knows that some ESRD patients with similar symptoms do get the disability allowance. It all depends on the doctor's interpretation of the assessment criteria and Ho thinks this is unfair.
Leung Ka-lau, the legislator representing the doctors, is aware of this issue and says doctors should not regard being able to work as contradicting the "100 per cent loss of earning capacity" requirement.