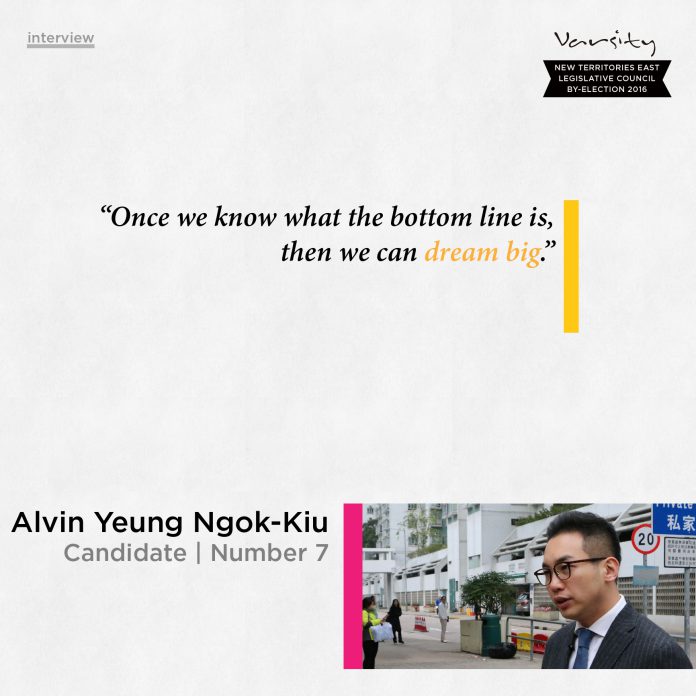 The pan-democrats 'great young hope' has to beat DAB and localist challenge to win race
By Lynette Zhang
Alvin Yeung Ngok-kiu, a 35-year-old barrister, was not a household name until former Civic Party veteran Ronny Tong Ka-wah resigned from the Legislative Council last June, triggering the by-election. Yeung, who will represent the Civic Party in the election this Sunday, was caught by surprise and some now regard him the de facto heir to his mentor Tong.
Yeung and his team have been busy campaigning ever since, but there were more surprises in store for them.
After violent protests in Mong Kok during Chinese New Year, Yeung offered voluntary legal assistance to arrested protestors, even though he doesnot approve of violence. Yeung never expected the flood of personal attacks and scrutinyonline.
"My decision was not well-received," Yeung says, explaining that moderate pro-democracy voters think he has crossed the line while pro-establishment supporters hate him even more.
"It is easy to pick an extreme," he adds.
Yeung says it's time for the pan-democrats to change their strategy, but he stresses that protests should be non-violent, peaceful and rational.
"Once we know what the bottom line is, then we can dream big."
The protests in Mongkok split the pan-democrats, and Yeung says that has challenged his campaign. For example, localist candidate Edward Leung Tin-kei has received a surge of support.
At the same time, Yeung has another powerful adversary at the other end of the political spectrum; he says Holden Chow Ho-ding is still the candidate to beat. Chow represents the pro-establishment Democratic Alliance for the Betterment and Progress of Hong Kong, which Yeung describes as "the most established and biggest party of Hong Kong (with) unlimited resources."
Yeung has certainly become famous after his campaign, but he says the fame only counts if he can channel it and achieve something.
The other candidates are Holden Chow Ho-ding, Lau Chi-shing, Wong Sing-chi, Christine Fong Kwok-shan, Leung Sze-ho, and Leung Tin-kei.
Edited by Benny Kung