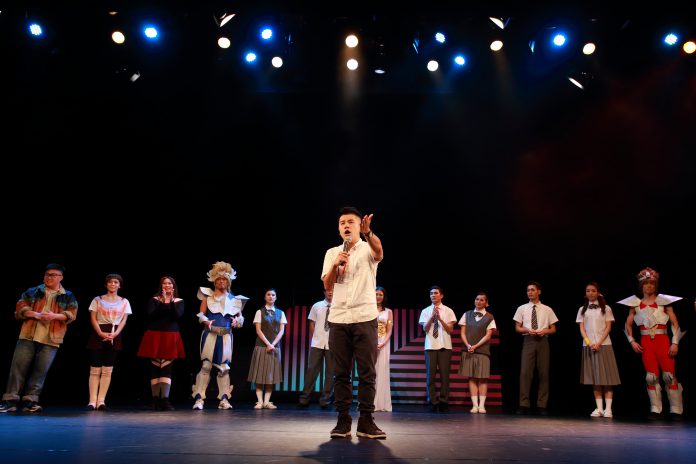 Actor and therapist Chan Cho-kin heals with drama
By Raven Hui
           
As the children, teenagers and their parents hold hands and laugh out loud, it seems like all the stresses of family, school and work fall away. The enthusiasm of the man leading the activities is infectious, everyone seems energised.
Chan Cho-kin is a 38-year-old actor with many other feathers in his cap – he is a dancer, director, voice artist, educator and psychodrama therapist. If he had to choose just one description though, he might choose to say he is an applied drama practitioner because using drama to help others is at the heart of nearly everything he does.
Drama has been a part of Chan's life since he was a junior in secondary school when he took part in a production of Farewell My Concubine. He only had a walk-on part as a soldier who delivered one line before promptly dying. But he was also involved in making the props and even now he can still remember painstakingly glueing pieces of mahjong-table liner paper onto cardboard to make pieces of armour. During the process he felt empowered by the opportunity to unleash his creativity and by the sense of teamwork with his schoolmates.
Not long afterwards, the young Cho-kin resolved to get into the Academy for Performing Arts (APA) to study drama. He managed to fulfil this ambition and spent five years at the APA training as an actor. After graduating, Chan became a jobbing actor, dancer and choreographer. Then in 2005, he landed a part in the opening team of the Lion King show at Hong Kong Disneyland.
Chan's eyes light up as he recounts his experience of sharing the stage with top overseas performers in the show. During this time, he also taught private acting and dancing lessons in his spare time. He remembers the period fondly as a time of positive changes. "Through drama I gained more self-knowledge and learnt how to relate myself to the others."
All seemed to be going well when Chan suffered a serious accident while performing. He slipped and broke one of his cruciate ligaments in a Lion King dance. After the accident he could not dance or perform for half a year. The enforced absence from the stage led Chan to think over what his real passions were.
"I like to perform, but at the same time, I like to teach because I like to be with different people," says Chan. "Working with people, seeing them learn something or change. It turns out I enjoy that process."
As he was already doing some teaching, he decided to sharpen the tools in his box, so he enrolled for a master's degree in drama education at Griffith University in Australia. The experience opened Chan's eyes to the multiple possibilities in drama.
"It can assist with personal growth, [help in the] debating of social issues, help create interpersonal and inter-group dialogue. It can open so many doors."
Chan began to use drama in different ways and contexts – what he describes as applied drama.  However, he realised there were some people he could not get through to in his activities. When his sessions did not work, he began to doubt, devalue and judge himself.
During this period of self-doubt, Chan got a taste of psychodrama therapy – a technique that uses guided drama and role play to identify problems and get to know oneself deeply. After studying and practising psychodrama, Chan's questions to himself became motivations for self-improvement.
Since 2011, Chan has been using psychodrama therapy to help a range of people, from children with learning difficulties to elderly people with depression. He tailors his approach for each different group and although he is a playful and easy-going person, he becomes serious and professional when talking about his therapy practice.
For instance, he recalls a child in his kindergarten class who suddenly behaved aggressively and kept on yelling at the others. Chan did a role-play activity with him and designed some scenes for him to experience. Because children usually act out what they encounter in their daily lives, Chan soon realised the child's parents had had a big quarrel and he was copying them.
Chan says the key to his relationship with his clients is trust. "I will do anything to give them a sense of togetherness and to let them know I am not going to judge them."
He explains that adults are harder to deal with than children because they hide under the many layers and different appearances they put on to survive. He thinks drama can be a more effective way of getting through the layers than traditional forms of therapy. This is because it can help people to gain new insights and resolve problems experientially through acting out roles and adopting different mindsets.
He cites the example of a project he took part in called Recovery Montage(康復者口述歷史戲劇計劃 —《心織.行》)in 2013. Collaborating with the New Life Psychiatric Rehabilitation Association, Chan directed a drama aimed at eliminating the stigma that attaches to people with mental illness. The script was based on oral histories of ex-psychiatric patients, to which Chan added creative elements. Chan says it was meaningful for the former patients to tell their own stories of their transformation. It was a process through which they helped themselves break free from stigma.
Being able to use drama to help others gives Chan great satisfaction and that is why he has increased his engagement in community work. For instance, he conducted a playback theatre session for To Kwa Wan residents during the district's redevelopment. Actors invited the residents to share their memories of To Kwa Wan, and in turn, through improvisation, they acted out their stories. His team emphasised the spirit of the neighbourhood and the close bonds between the residents as these were core messages presented by members of the audience. Many residents thanked Chan for the experience but he says it is he who should be thankful. "[They said] I led the team to perform as a gift for them. But actually, listening to their stories is a gift for me."
Chan believes that drama has the power to change more than individuals, it can also help bring about social change. During the Umbrella Movement in 2014, he joined some social worker friends to conduct a "process drama" to help social workers and teachers make sense of the events around them with their students. This was done through creating a dramatic world in which the teachers and students could work together to explore issues and work out solutions.
Chan and his collaborators created two roles called Fire and Water, representing those who stayed in the occupied areas during the movement and those who did not for various reasons. Chan hoped students could experience the struggles of the characters and make their own decisions. Chan says that even if such activities cannot bring about large-scale social change, it may lead to a tiny change in the way a participant considers an issue.
From an aspiring actor and dancer to a practitioner who uses drama as a tool, Chan admits he does miss the old days but he does not feel the need to go back. He says he has discovered the infinite possibilities of the thing he loves and that having seen how it can give people more space to explore different things, his aspirations have changed.
"I think I did not leave the drama I love," he says. 'Instead I think it is my great fortune to be able to gain entry into the stage people have in their hearts."
Edited by Jade Li