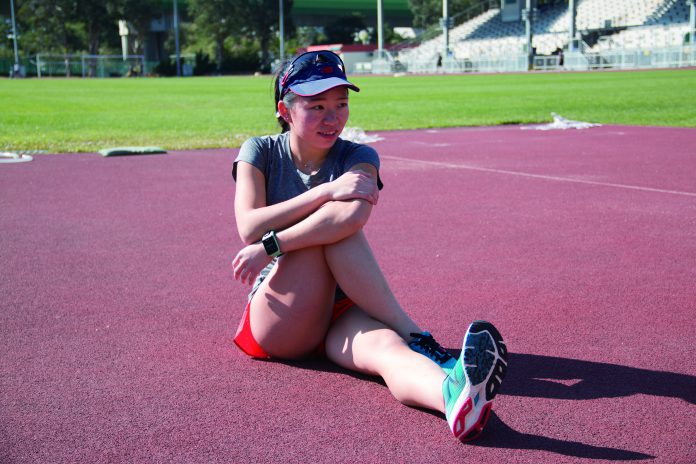 Doctor and athlete Heidi Yu strives for excellence in medicine and running
By Sarah Poon
Most days, after an intense 10-hour shift as an anaesthetist at the Pamela Youde Nethersole Eastern Hospital, 27-year-old Heidi Yu Wing-hay puts the drama of the operating theatre behind her and stretches her limbs and muscles. Showing no signs of exhaustion, she is ready to start her daily training – usually along the coastline of Repulse Bay – as a long-distance runner.
Yu's multiple identities means she has a tightly packed schedule, but also a richer life. Her irregular hospital shifts make it hard to train with a dedicated coach but it also means her training time is flexible. In 2016, when she came third in the Standard Chartered Hong Kong Marathon, Yu forced herself to put in two training sessions a day.
Her ambitions and interests in running can be traced back to her junior secondary years when she was selected for the school athletic team in Form One. After that, she spent most of her secondary school days practising for track and field events with external sports clubs. Even after she was admitted to an academically demanding major – the Bachelor of Medicine and Bachelor of Surgery Programme at the University of Hong Kong, her enthusiasm for sport did not fade. She started to specialise in 10km running and going orienteering.
"I am always obsessed with how I can do better," says the perfectionist Yu.
Yu's natural competitive streak drives her to excel at everything she does, which means she has to find a balance between running and work, and previously, between running and studying. This has not always been easy. When she was at school, in the lead up to taking her public exams, she almost slipped up. At one point she almost ranked last in her class of 28. This made her feel she had let down her parents and her physical education teacher, who had always believed Yu had the ability to keep up with her academic work and her athletics training.
Time management and setting priorities are always at the forefront of Yu's mind. Another difficult time came in her houseman year. Her hospital residency made it very difficult to keep up with her training routine. She remembers that some really average racers, who she would always beat in the past, were all running ahead of her. At that point, she says, she was ready to consider not competing any more.
It took an even more difficult moment in her life for her realise there was nothing that could not be faced up to or overcome. "Probably… it was when my cousin passed away," Yu says. Even now, she shakes when recalling her cousin's death from bone cancer in 2012. He was just a year older than her. "Nothing else in the world can be more difficult than facing death," she says.
Yu thinks her commitment to her interests in running and more recently orienteering, have helped her to develop an ability to deal with adversities. She feels especially bad about the students who die by suicide due to academic pressure. Yu thinks no one actually enjoys studying and everyone suffers from stress. In her case, exercise helps to alleviate work and study burdens. Her training has made her tougher physically and mentally, while dealing with frustrations in competitions and finding her bearings when she loses her way in orienteering are processes that have helped her learn to deal with adversities.
Over the years, Yu has learnt to balance her double role and to set priorities. Being an athlete and being a doctor are both highly demanding but she is unwilling to let go of either role. "If you are really passionate about that thing, you would find time for it anyway," she continues. "I love running, I really love it."
Perhaps at the root of her competitive nature is her race against her toughest opponent of all.  "Running is a competition with myself because there are always people faster than you," she says. Yet, even in this most independent of sports, Yu says, she is not a lonely long-distance runner and that the support from friends and family has contributed greatly to her achievements. When she is tired or tempted to slack, her training partners push and motivate her.
Meanwhile, Yu's proud parents save every news item about their daughter and their encouragement both reassures her and gives her the confidence to pursue both medicine and sport. She cannot help breaking into a smile when she says her parents always grant her a lot of freedom to follow her own path.
When she set off on her double career, Yu may not have foreseen quite how the two roles would complement each other. The more time she spends working as a doctor, the more she has come to like her job. Being an anaesthetist is challenging because she can never predict how a case will turn out. She compares her work in the operating theatre to orienteering, which requires a combination of navigation, route planning techniques and fitness. You can never know the outcome or your ranking until you reach the finishing line. Likewise, an anesthesia doctor has to constantly monitor her patient throughout the surgery, and cannot declare she is safe until the very end.
"Both [orienteering and anaesthesia] requires us to stay calm in urgent situations, to sort out problems and to find out the resolutions," she says. No matter how tired Yu is from work, running a few laps before or after work refreshes her; it can brace her for the day ahead or wash away the exhaustion at the end of the day.
Blessed with success and fulfilment in two fields, Yu knows she is privileged, so she decided to spend some time volunteering in less-developed regions. Towards the end of 2014, she travelled to Mnazi Mmoja Hospital in Tanzania to work for nearly two months. Yu recounts how a few patients shared the same bed, manpower was in short supply and the hygiene conditions were so bad there were flies in the operating rooms.
"I think it is very fortunate to possess the ability to help the others," she says, adding that the experience has made her a more compassionate and tolerant doctor.
Living and working in Hong Kong, she is thankful to have much better medical facilities and trained personnel. However, she is also aware of the shortage of medical experts in public hospitals and notes that many of her colleagues complain about the lack of manpower and the corresponding increasing workload.
"If we don't solve the manpower shortage, which makes the same group of people work for longer, with heavier workloads, these [medical incidents] will happen more often, making the frontline doctors more stressed," she says with a frown.
Although more of her colleagues are leaving to work in private hospitals, she is staying in the public system so she can serve a broader group of patients and gain more experience. She wants to continue to develop and learn in both the medical field and in athletics, which are rewarding in very different ways.
Yu feels an immense sense of professional achievement at the end of a successful surgery and she derives more personal gratification from achieving any new personal bests and winning awards.
"I don't think they are mutually exclusive, because I have my own time after work," she says.
"I will continue running till one day I can no longer run," she says.
Edited by Jade Li