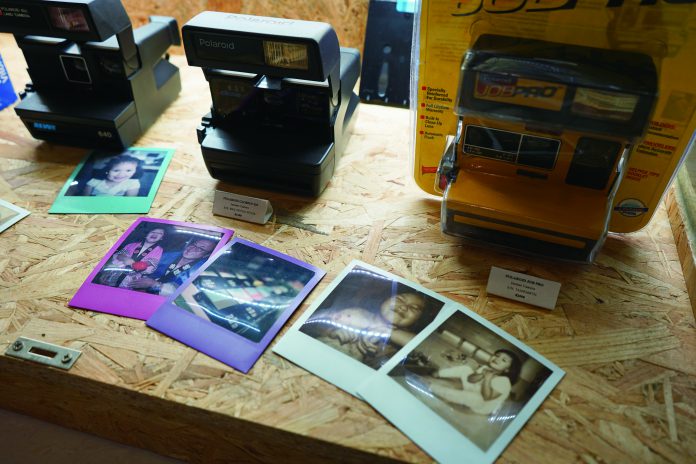 Analogue photography makes a comeback in the digital age

By Scarlet Shiu
Pull up the film-rewind knob, open the back of the camera, insert a roll of film, drag it all the way through the film take-up spool, tug on the lever and close the door. This sequence of actions was a familiar one for photographers in the past. Today, despite the domination of digital cameras and smartphone cameras, more and more photographers are performing the same rather laborious ritual as analogue photography becomes fashionable once again.
Analogue photography, as the name implies, refers to photographs taken with an analogue camera and film rather than a camera with digital image sensors. The first camera using flexible roll film was made in 1881, but the popularity of analogue photography really took off when the mass production of cheap cameras in the 1960s meant more people could afford to own one. Although the first digital cameras were produced in the late 1980s, it was not until 2003 that they outsold analogue cameras for the first time.
Now, film is making a comeback, at least among enthusiasts like Lui Pak-yu. The 28-year-old opened her first film and film camera retail store, Showa, in Mong Kok in 2015 as a venue where she could gather "film photophile" friends. She opened another branch in Causeway Bay in 2017. She says film photography is increasingly being seen as a lifestyle choice.
"You can say it [analogue photography] is living on in another form," says Lui. "Now it's really for living a way of life, randomly taking pictures, less emphasis is put on the functionality."
Lui's first customers were mostly young people. As her business has grown, her customer base has expanded to other age groups, including experienced photographers. She says peer influence and interest from the media has encouraged more young people to experiment with film cameras.
For 22-year-old photography fan Cherie Tsoi Tsz-tung, using film encourages her to concentrate on the scene before her rather than the image on a monitor screen.
"When you are shooting on digital, you often view the scene through the monitor. But when I shoot on film, I mostly look directly at the scene before taking the picture. This reminds me to look at it carefully with my eyes and heart," she says.
Tsoi started shooting on Lomography film in 2013. She recalls she once accidentally dropped her camera on the floor. "It [the back of the camera] was broken open. The film inside was exposed. I closed it immediately and continued to use that roll of film. When I took the film to print out [the photos], the light leak effect was unexpectedly beautiful," she says.
You cannot always predict how a photo will turn out until it is developed and printed and it is this element of surprise that brings joy to Raymond Chin Wai-yin, a freelance photographer who has been shooting with film since 2011.
"The most appealing thing [about analogue photography] is anticipation … I think shooting on film enables you to cherish every frame, you will observe carefully before you press the shutter. Unlike digital, you can't use a continuous shooting mode and delete it if you don't like it," says Chin.
For Chin, the colour and texture of film is something that cannot be achieved in a digitally captured image and the digital format will never "replace" film. "Would you say painting will be replaced by an electrical drawing board?" says Chin.
For her wedding photos, Phoebe Chan Wing-hei hired a digital photographer to shoot a series of shots and used a studio photographer for some film shots. The 29-year-old says she enjoyed her studio film shooting experience more.
Hong Kong still has a few film photography studios and despite the higher cost of her film photos, Chan appreciates the human touch as well as what she believes is a superior result.
"When you look at the colours as reflected in the outline, you will see that film is slightly better," says Chan. "You only press the shutter once after thinking it through, but with digital you can shoot continuously; I will treasure it less this way… Film gives you a feeling that it is delicate, you have to be really careful to take one good photo, every photo is precious."
Vishal Soniji, the founder of Camera Film Photo, is a film distributor and online film retailer in Hong Kong. He has noticed an increasing use of film in secondary schools and universities. He says some schools have started to invest in film paper, chemicals and equipment to set up darkrooms for photography classes. "There are a lot of good things happening with film photography," he says.
Soniji says it is the element of surprise and the aesthetics and authenticity of film that makes analogue photography attractive to people living in a digital era.
"With digital, it's so easy to manipulate. But with film … what you see is what you have," he says.
Soniji says the sensors of digital cameras are designed to be flat so it is impossible for them to produce images with the kind of depth of field that film cameras have. He thinks images shot on film are livelier.
Rather than thinking of whether one format is superior to the other, or whether one should be replaced with the other, it is perhaps more useful to think of analogue and digital as being suitable for different uses. On the one hand, digital images are useful for commercial work as pixels can be easily manipulated, creating many possibilities for the easy post-editing of photos. On the other, according to Soniji, the grain that appears on film photos is important and adds a sense of liveliness.
He believes that analogue media will continue to have fans in the digital age. He draws an analogy between film and vinyl, saying audiophiles and people who are genuinely passionate about music still prefer listening to recordings on vinyl because there is less data loss in the analogue medium. "When you listen to digital music, you don't realise there is a lot of sound that you are missing but you listen [to] the same music on vinyl, a lot of details then sort of appear," he says.
At the end of the day, while Soniji concedes "film will not be as big as digital", he believes it definitely has a future.
"Film will always have a good community that will keep everything sustainable and it's growing sustainabley, but nicely because there [are] a lot of people who are interested in it," he says.
Edited by Nannerl Yau