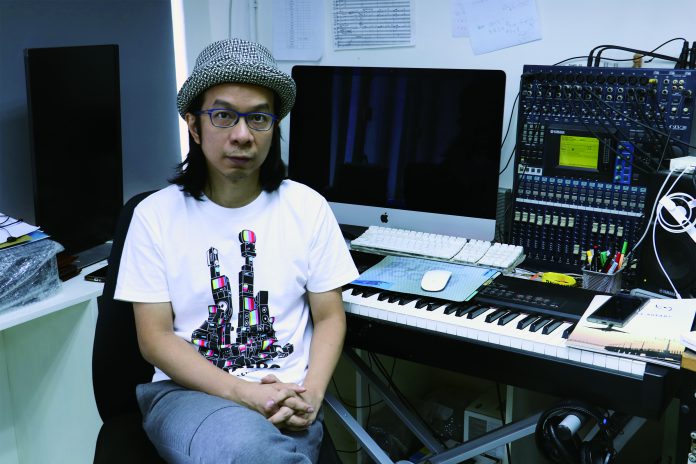 Musician Ng Cheuk-yin blends different genres to bring freshness to the local music scene
By Johanna Chan
In a cramped room, a man sits in front of a desk covered by handwritten musical scores, composing with his electronic keyboard and typing musical notes into his computer. The blinds are pulled halfway down, allowing sunlight to pour into the room, revealing a shelf full of CDs and the mountains of drafts that are piled up beneath. The room is silent except for the sound of the tapping.
This is a typical work day for 41-year-old Ng Cheuk-yin, a renowned local musician. He owns a number of titles – composer, producer and performer. He also delves into a variety of music genres, including pop music, chamber music, Chinese music, a cappella, to name but a few.
"To me, [music] is something natural. It's just like my hand," Ng says.
"To me, [music] is something natural. It's just like my hand."
Music is deeply rooted in Ng's life. His first exposure to music came at the age of six when his parents first signed him up for piano lessons. Two years later, he began to learn the sheng, a Chinese reed instrument consisting of vertical pipes, at the government's music office. At school, he was also a member of the choir and orchestra. He gradually developed a passion for music.
Looking back, Ng is grateful for these childhood experiences. "Adults may have a better grasp of music, but they lack time and patience. That's the privilege of kids," he says.
Growing up with the dream of becoming a musician, Ng chose to major in music at the Chinese University of Hong Kong. He knew that connection is the key to entering the music industry, so during college days he seized every opportunity to attend workshops and music events in order to build connections.
Success never comes easy. After graduation, Ng became a freelancer for eight years, teaching different kinds of music, such as the piano, the sheng, music theory and composition. But he knew that teaching was never his ultimate goal, so he constantly reached out for opportunities, pitching his pieces to different orchestras and sending tons of demos to record companies.
"In this industry, you have to take the initiative. The companies won't come to you right from the start because they wouldn't know who you are," Ng says.
Eventually, Ng's hard work paid off. He became a renowned artist, working with the Hong Kong Chinese Orchestra, Hong Kong Dance Company and soprano Alison Lau. He also composed for famous pop singers such as Andy Lau, Eason Chan and Hins Cheung, producing hit songs like Under the Sakura Tree.
Speaking of his success, Ng says although building connections is crucial, the quality of works also matters. He believes that every piece of work contributes to his reputation, therefore he always puts full effort into his work. "It's not easy to create something new. Deadline is the biggest pressure," he says. "But I can't tolerate producing below-standard work. It will leave people with a bad impression and they would think I'm a poor composer."
Ng believes that another crucial aspect in composing is communication with performers. He says the performers sometimes may not understand his work or come up with different interpretations. Therefore, he needs to discuss it with them multiple times and occasionally may even have to alter and reinterpret his music.
Moreover, Ng's success does not stop him from pursuing new goals. With his diverse background of music, he strives to break the boundaries between different genres of music. "In this era, the distinctions between genres are no longer clear," he says. "Working on different genres always brings me new inspiration, because there are often materials that can be shared between different genres."
In 2004, Ng and some of his friends founded SIU, which stands for Sheng It Up, a fusion band which performs with both Chinese and Western instruments. Later on, Ng established the second generation of the band, SIU2, which mainly plays original music written by him. He also plays the sheng and electric organ in the band. Other instruments include the zheng, sanxian, the piano, bass guitar, and drums. The band has been invited to perform in China, Taiwan, France, the Netherlands and many other countries.
In 2008, Ng started his own record label, Flower Music, not just to manage his music businesses, but also with the aim of bringing new culture to the local music scene. He says apart from fusion music, a cappella is another main focus of the company.
Ng's first experience with a cappella dates back to 1990s, when he formed a cappella group Gay Singers with several fellow music major classmates in college. "Very few people were doing a cappella at that time; there were maybe only two active groups," he recalls. "Now there are much more people joining, with nearly 20 active groups."
Ng thinks the local a cappella scene is still developing. He devotes himself to further promoting it. He is now a co-artistic director of Yat Po Singers, the first professional a cappella choral theatre company in Hong Kong. In 2011, he released a one-man a cappella album, Single Singers, in which he imitates instrumental sounds and vocal percussion.
Being in the industry for more than 10 years, Ng never gets tired of composing and performing. For him, music brings energy and spirit which has helped him to stay young at heart and allowed him to appreciate the simple events and people in his life.
One of Ng's most cherished memories is touring with his band SIU2 in France in 2012. They performed at a wine festival, which took place at a riverside, packed with stalls serving different kinds of gourmet food and wine. After performing, he and the band members casually strolled along the river, holding glasses of wine while watching fireworks blossoming in the night sky, and indulging themselves in music. For him, it was a moment of pure joy and happiness.
Ng is currently writing for several productions, including musicals featuring dance music such as, I Wish I Could Make A Wish, which is adapted from the work of the famous Taiwan illustrator and picture book writer, Jimmy Liao. He hopes to continue to write large-scale compositions and further refine his music in the near future. "For me, the most difficult thing is that every piece of work needs to be up to standard, but I will take it as a challenge," he says.
"For me, the most difficult thing is that every piece of work needs to be up to standard, but I will take it as a challenge."
Edited by Grace Liyang