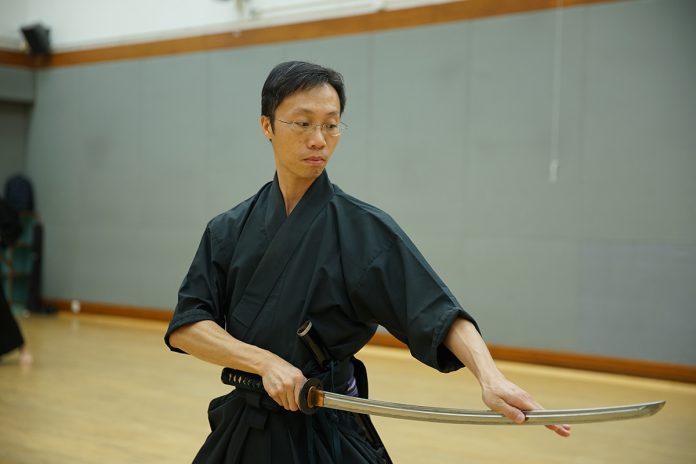 Jones Chan Kowk-chung's lifelong love affair with swordsmanship
By Jasper Cao
If he hadn't dipped into that Japanese comic book, Jones Chan Kwok-chung might have been a fashion designer with stable income. But Chan is a man who is guided by his instincts which led him to turn his childhood dream of becoming a master of Japanese swordsmanship into his career.
The 45-year-old kenjutsu trainer started learning the 400-year-old Japanese martial art when he was a secondary school student. After years of struggling to balance his family and job commitments and intensive training in Japan, Chan became a professional coach. Now he spends most of his evenings teaching over 100 disciples kenjutsu in Pei Ho Street Sports Centre.
Chan's love affair with kenjutsu began in a summer vacation when he was just a teenager. He randomly picked and read a Japanese comic book, Musashi no Ken, named after a legendary samurai, Miyamoto Musashi, who was regarded as one of the best swordsmen in Japanese history. The story is about an elementary school boy who determines to master kendo, a Japanese sword sport that was once used to train samurai. He practices so diligently that, eventually, he wins the national competition.
"It is a comic book filled with positive energy and encouragement," Chan recalls. As he finished the comic book with excitement, Chan quickly identified himself with the character and dreamed of becoming a kendo expert one day.
He found an advertisement for the Hong Kong Kendo Association on the final page of the book. Without hesitation, the young Chan made a call to the association. His lifelong journey with Japanese swordsmanship started after that phone call. He attended the kendo class twice a week after school and stood out as the youngest learner in class for all other learners were adults. "I didn't compare myself with them though, we all just learned for fun," Chan recalls.
In 1994, Chan crossed paths with his first kenjutsu master. Knowing Chan's affection for kendo, a friend of his invited him to visit a sword shop in Sheung Wan, where he met the shop owner, Chan Chun-fu, a kenjutsu master. Touched by the young man's strong passion for Japanese martial art, Chan Chun-fu made the young boy his disciple.
"Chan Chun-fu was the first man who introduced kenjutsu to me and showed me the difference between kenjutsu and kendo, he was my very first master," Chan says.
Young Chan studied with the master for four years and learned Toyama-ryu, a branch of kenjutsu. This experience laid a solid foundation for him to master kenjutsu techniques in his later days.
Chan fell into a period of confusion four years later. Like many other young college graduates, he was not sure about his career choice. Although he tried different kinds of jobs, he still could not settle with a career goal and even stopped taking kenjutsu classes for some time.
After four years of twists and turns, in 2003, Chan finally settled down as a designer of female fashion. Once he was accustomed to the new working environment, he quickly reunited with his old hobby again by learning another classic kenjutsu style, Suio-ryu.
Chan overcame the language barrier with the help of a friend who was fluent in Japanese and called the sōke (the head family) of Suio-ryu in Japan. Chan obtained approval from the sōke to visit them in Shizuoka, a Japanese town where the sōke lives.
"When I first met the master, he asked me to demonstrate the kenjutsu techniques that I had learned," Chan says. With his determination and experience gained in years of learning, Chan successfully convinced the master to accept him as disciple. Chan's Japanese master, Katsuse Yoshimitsu Kagehiro, is the 15th generation headmaster of Suio-ryu.
Given his family commitments and his job in Hong Kong, Chan could not stay in Japan for too long, so he reserved all of his annual leave from work to train in Japan.
Unlike Tokyo, life in Shizuoka is peaceful, but it can also be quite dull for a foreigner, as there are not many entertainment options, Chan says.  During training days, Chan had two hours of training in the morning, and another two hours after dinner. As his time in Japan is limited, he often practiced for an extra hour in the afternoon. "I was alone, but not lonely, because I had a very clear goal that is to master kenjutsu ," he says.
Chan has fond memories of his training days in Japan. He has developed strong bonding with other disciples and especially with the master. "We had tea and chats after we had finished training every evening," Chan recalls.
"The master is a kind and amusing old man," he adds.  "My master even offered to teach me for free after we have known each other better." In recognition of the master's kindness, Chan gives his master a present every time he goes to Japan. "I usually bring antiques because he likes antiques very much," Chan smiles. "Every year I carefully select a piece of antique for my master."
Chan has been travelling to Japan for regular training for the past 15 years. Having forged a loving friendship and trust with his master, Chan received his master's blessing to be the head of a Suio-ryu Hong Kong branch in 2017 and the head of the mainland China branch in 2018. He now also offers free lessons in three affiliates founded by his friends in Xiamen, Shenzhen and Guangzhou to promote the Japanese martial art.
Although he has a prestigious title bestowed by his master, Chan does not want to profit from it. "Money is important. But I don't want to make money in the name of Suio-ryu," Chan says.  "I just want to share my passion for kenjutsu by becoming a coach, but not to make money out of it. I have my own philosophy of screening students."
When choosing disciples, Chan always considers candidates' character flaws. Chan explains he will not let those who have aggressive character and enjoy fighting to become his disciple, because he thinks kenjutsu is a dangerous martial art. "Figuratively speaking, I will not train someone with personality like a tiger," he says. "If I train a tiger and equip it with skills, it might attack people. That is extremely dangerous."
And those who learn kenjutsu with the sole purpose of getting a certificate are not qualified for him either.  "Only those who are really passionate and keen to learn kenjutsu can be my disciples."
"

Only those who sincerely love this martial art and share my passion to learn kenjutsu can be my disciples."
Chan says teaching kenjutsu is just a hobby and he makes a living mainly by investing in the stock market. He wants to take on the responsibility of introducing kenjutsu to more people. He is also planning to set up more affiliates in other cities so he can share his interest with more people.
When asked what kind of role he wants to play in the story of kenjutsu, Chan says  he has no interest in chasing fame. He admires the life of swordsman Linghu Chong (令狐冲), a fictional character in one of Louis Cha Leung-yung (Jin Yong)'s novels. "To wander around the world with my sword and wine, that is good enough for me."
Edited by Grace Liyang