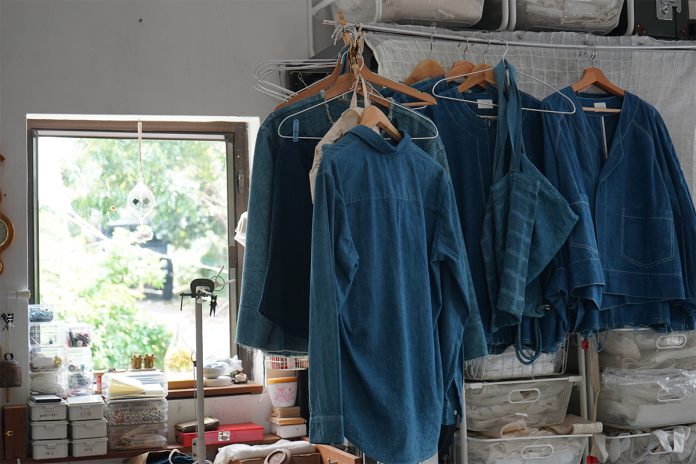 Private and public sectors bring organic craftsmanship to local communities
By Edith Chung
It is the perfect approach to a business that relies on natural products. Follow the trail through the Lantau woods filled with the smell of a sea breeze until the white houses in Tai Long Wan Tsuen are in sight. Then continue on to a hut surrounded by large pieces of indigo cloth and the sounds of water splashing.
Max To Hok-chi, the owner of the cloth, is the founder of Indigo 11.50, the first indigo dyeing workshop in Hong Kong. To was introduced to the craft on a visit to Taiwan and it was love at first sight. He decided immediately to bring the handcraft to Hong Kong and pursue a new career as an indigo dyeing craftsman. After five years of running his own business, he is satisfied with his current position. "Back then, I felt lost about what I was doing," says To. "Then I met indigo dyeing, which brings me happiness and is a learning experience."
To, with his organic and healthy craft, is attempting to swim against the tide in this era of fast and vast manufacturing. Every day, people come into contact with different kinds of garments. Some buy cloth or clothes simply out of necessity and some because of current fashion or a style they like. But very few care to find out how cloths are dyed.
In 2012, Green Peace published an investigation report highlighting the use of chemicals in daily commodities. They tested 141 samples of cloths from 29 countries and found 89 samples have nonylphenol ethoxylates (NPE). Used as detergents to enhance the dyeing process, NPE is a toxic hormone that might lead to breast cancer and miscarriage. Despite the harm it may cause, it is still being used. Clothing companies use NPE to shorten the manufacturing process and maintain competitiveness within the market.
As for To, he only wants to produce chemical-free cloth with skilled craftsmanship. Indigo dyeing requires soaking a garment repeatedly into indigo dye between the washing and drying process until the cloth turns blue. The dye is naturally derived and extracted from indigo plants. To explains there are seven different kinds of plants that can be used as ingredients in indigo dyeing and they can be condensed into indigo cakes. "A block of indigo cake is around one kilogram, and we can dye 80 tee shirts with one block," To says.
Although the preparation is time-consuming and sophisticated, the handmade process is what distinguishes indigo dyed material from that produced through mass production. To believes one cannot learn it simply by surfing online. "Your experience is enhanced and enriched with every second you are in touch with them [indigo plants]," says To. Armed with the knowledge gained from the dyeing experience, he enjoys sharing his thoughts and everything about dyeing with others. "This is the meaning of life to me," he says.
As a pioneer of indigo-dyeing in Hong Kong, To believes there is still a long way for him to go before his business can take off. In Taiwan, he says, the support from the Taiwanese government is the key reason for the industry's development. But at the same time, he thinks government support is a double-edged sword, as some companies in Taiwan close down once the financial support ends. "Wild trees are always better than the farmed ones, that is the game of survival of the fittest," says To. "Maybe that is the future of Hong Kong's craft art industry."
While the indigo dyeing industry in the private sector is only in its infancy in Hong Kong, some non-governmental organisations (NGOs) are providing free workshops introducing the craft to local communities and preaching the importance of leading a sustainable lifestyle. The Hong Kong Federation of Women Centres (HKFWC) is among the groups and it holds dyeing workshops in schools and neighbourhoods.
Green Fong, the project coordinator of HKFWC, started teaching people creative dyeing with help from subsidy under the Sustainable Development Fund (SDF) of the Environment Bureau. The bureau encourages NGOs and other organisations to arouse public awareness about environmental sustainability. The centre received about HK$1.5 million to promote dyeing culture and sustainable use of biological resources. "Plants are one kind of biological resource, so we start from there," says Fong.
Apart from indigo dyeing, the HKFWC promotes plant dyeing – a simple method of dyeing without the use of water. Fong demonstrates the process by simply placing a piece of leaf onto a white cloth and hammering it until it is imprinted onto the cloth. "This kind of dyeing is relatively easy and convenient," says Fong. It is also safer as the whole process does not require boiling and drying, she adds.
A volunteer who identifies herself as Miss Lo adds that all the materials used for dyeing are environmental friendly and upcycled. The HKFWC collects used bed sheets from hotels and leaves from farms and turns them into products such as napkins, tote bags, and even pencil cases. And they give out these products during workshops and talks. "We want the public to learn the message with the bags they bring home," she says.
Staff members involved in the project are still conducting experiments with various kinds of plants for different dyeing effects. Pointing at one of the leaves that Lo identifies as leaves of Mikania micrantha, Lo says: "They are known as the plant killer. We collect them and hammer them onto our cloths." She continuously makes experiment with various kinds of plants to find out the beauty of each pattern and colour. "This is how we capture students' attention [during workshops]," she adds.
Their work brings them a warm welcome whenever they do school visits. When asked about how she feels about the future generation, Fong says that they usually call this a sowing process, and they cannot predict when the seeds will germinate. "But at least we plant them," says Fong. "And when the right time comes, they will blossom."

Edited by Brian Yu