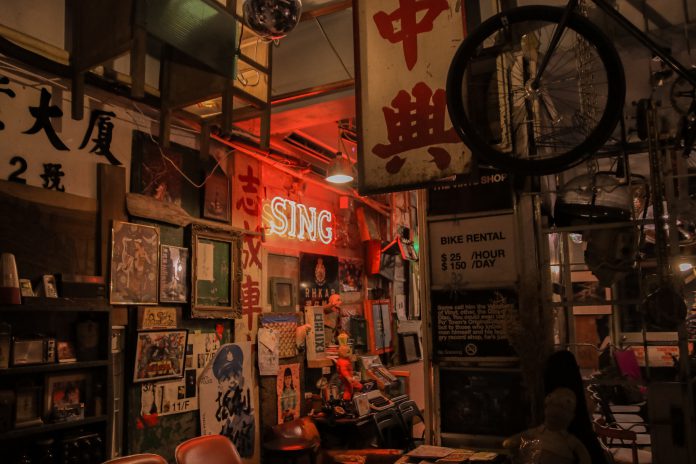 The hostel is not just for travellers, but also locals in the neighbourhood.  
By Lambert Siu
Hong Kong is a wondrous city with all sorts of fascination taking you by surprise. One is hidden in a corner of Sham Shui Po, a secret garden where hostel and music live house come together in a tenement building as a creative residence named Wontonmeen.
"Wontonmeen" means "wonton noodle" in Cantonese, which is an iconic food of Hong Kong. Patricia Choi Pui-yee, founder of this creative residence chose this name as she thinks it is a vivid representation of the local trait of this district and an embodiment of her love for the city.
Wandering inside Wontonmeen brings you back to the old Hong Kong. The interior design is filled with a sense of nostalgia. Collectables and antiques found from flea markets stacking up on the shelf, vintage movie theatre seats from the 1960s in the common area and an eye-catching neon sign remind us of Hong Kong's dazzling nightlife in the past.
The appealing retro aesthetic has shaped the tiny common area into an intimate venue perfect for chic music. Kent Leung For-wah, Choi's husband and co-manager, first thought of turning the common area into a mini live house accommodating approximately 40 audience members when he observed that the common area was often left idle. As a professional musician and fond jazz music lover, Leung intuitively came up with the plan to fully utilize the space by inviting his friends to play jazz music at first and extend the line-up further to local indie artists.
Jazz music is often perceived a bit high-end or out of reach to resident living in the neighbourhood, the poorest district in Hong Kong. Yet, Leung has been offering gigs for free, hoping to promote jazz and indie music regardless of their economic background.
"The agenda behind free entry is to encourage more people to give themselves a try even though they may not have heard of jazz music before. After they learn about what we are trying to achieve here and appreciate [our effort], they will then support us," he says.
Above the music area, the first and second floors belong to the hostel area, offering both private and shared accommodation for tourists. The design of hostel rooms is inspired by caged homes or cubicle apartments commonly found in densely-populated districts, where rental rooms are divided into numerous small units, owing to the skyrocketing property price and high land rent in Hong Kong.
Such idea can be traced back to a final year project conducted by one of Choi's students in her environmental design class, who wants to improve the living condition of the caged home.
Wong Ka-po, a part-time staff member from Wontonmeen, points out the design theme of the hostel is borrowed from caged homes and subdivided units, but instead of using the theme as a gimmick to lure tourists, storage space and level of privacy of the hostel were refined.
"First, the bed is made larger and wider. Second, the cages are wrapped with iron net, and that makes the design very practical as you can hang all your personal items with hooks. When you leave, you can simply pull the curtain down to create your own private space," she explains.
What distinguishes Wontonmeen from other hostels is the homey feeling it gives to every visitor and the authentic local experience that travellers yearn for.
"Although we call ourselves a hostel, the hosts are always here," Wong says. Running on a "family-styled" basis, the hosts and guests maintain a very close bonding, going beyond a mere landlord-and-tenant relationship. Besides customising their own tourist maps to provide local recommendations of places to visit in English, they would explore local food in Dai Pai Dong, a unique form of open-air food stall in Hong Kong or even visit the anti-extradition bill protests scenes with the tenants.
Apart from serving as a cultural exchange hub for tourists, Wontonmeen also cooperates with other non-governmental organisations in Sham Shui Po to launch community activities, such as guided tours, screenings of local films and cooking workshops. It does not simply function as a hostel that attracts foreigners but it also acts as a focal point that gathers and connects nearby residents in the neighbourhood together.
Edited by Scarlet Shiu