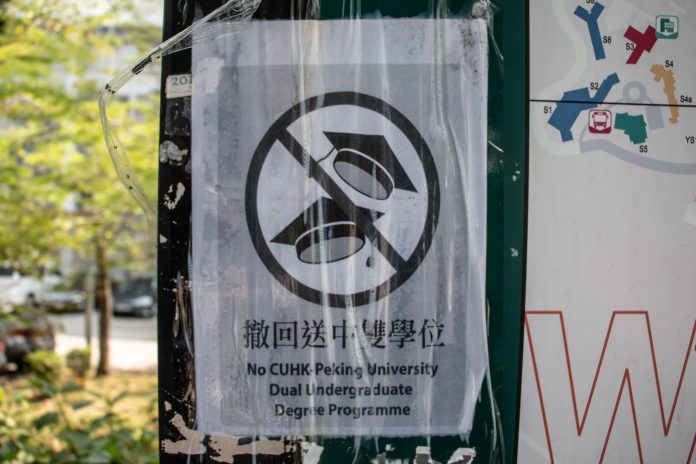 Students' fear of phone checks and interrogation by mainland officers amid the city's month-long anti-government movement has sparked debate about the need of having attachment programmes in China.
By Cynthia Sit and Emilie Lui
About five months into the anti-extradition bill saga, the protest has shown little sign of ebbing. Fears and worries triggered by the issue have spilt over to the education field as some university students revealed their experience of being stopped for scrutiny when crossing the border into the Mainland from Hong Kong.
A Facebook post sparks students' safety concerns
Janet, a final year medical student from the University of Hong Kong (HKU), reveals two of her fellow students were stopped by mainland officers at the border in August 2019. "They [the two students] were asked to log in to their Facebook accounts which they thought was unnecessary," she says.
The students involved published a bilingual post on the Facebook page named "Medic Secrets", hoping to alert other HKU medical students and raise awareness on the issue.
The Facebook post reads,"We were asked to show our Whatsapp conversations and photo albums, and other students were asked to quit groups or delete photos." It also mentions that the officers asked them to delete anything related to Hong Kong protest and jotted down their Hong Kong identity card information. Apart from checking their phones, the mainland immigration officers also flipped through their medical notes.
Under the current curriculum of the Bachelor of Medicine and Bachelor of Surgery (MBBS) programme of HKU, all year five and six students are required to attend obstetrics and gynaecology, orthopaedics, and emergency medicine clerkship sessions at the University of Hong Kong – Shenzhen Hospital (HKU-SZH), which is one of their teaching hospitals.
Soon after the Facebook post went viral, the LKS Faculty of Medicine (HKUMed) announced in an email to all students on August 19, 2019 that all speciality clerkship at the HKU-SZH in the first semester of 2019/20 school year will be rescheduled.
While all HKUMed classes in Shenzhen have been suspended to allay students' worries, similar arrangements are not applied to students studying Chinese medicine (see table 1). All Chinese medicine students are still required to complete the credit-bearing internships in the Mainland to fulfil their graduation requirements and be eligible to sit for the Chinese Medicine Practitioners Licensing Examination administered by the Chinese Medicine Council of Hong Kong (CMCHK).
Some students feel anxious about going to China these days after reading media reports about students having their phones and belongings checked as they crossed into the Mainland. The Anti-Extradition Bill Concern Group of the Chinese University of Hong Kong (CUHK) organised the "All Rise for the Liberation of CUHK" march on September 12, 2019, to raise concerns over programs that require students to go to China and urge the school to protect students.

The debate over the necessity of lessons and internship arrangements in China
Ka-wai, a fresh graduate of the Bachelor of Pharmacy (Hons) in Chinese Medicine Programme of Hong Kong Baptist University (HKBU) who declines to reveal her full name, describes her compulsory internship experience in summer 2018 as a short vacation with her classmates where she also met friendly mainland professors and students.
Ka-wai says contact with mainland China is inevitable for Chinese medicine pharmacy students."It is pretty normal and necessary for us to have an internship in mainland China as Chinese medicine is from mainland China after all," she says. She also points out it is more convenient for the school to educate on the operation of Chinese medicine hospitals, which cannot be found in Hong Kong.
However, it is questionable whether internships in mainland China are irreplaceable. Ka-wai says some content of the internship, such as the quality control of proprietary Chinese medicines and prescription dispensing, overlaps with lectures she had in Hong Kong.
In light of the current situation in Hong Kong, Ka-wai thinks it is risky for students to complete their internship in the Mainland. She thinks the idea of completing an internship in the Mainland may not be welcomed since many university students are involved in the social movement and they may have safety or political concerns.
"The Mainland internship arrangement is sustainable only with the harmonious relationship between Hong Kong and China, but now the animosity between Mainlanders and Hongkongers may deter students from visiting the Mainland," she says.
Ka-wai hopes the school can provide special arrangements regarding internships amid fears that students may be targeted by Mainland authorities because of the ongoing anti-government protests in Hong Kong. "The school may consider cancelling the internship arrangements as there could be replacements," she adds.
Universities' responses
So far, HKBU has not announced any special arrangements in response to students' concerns. Varsity has contacted the school for comment but has not received any reply.
School of Chinese Medicine, Chinese University of Hong Kong (CUHK) has arranged students to take internships in Hong Kong from November 2019 to March 2020 considering the current social situation. Rocky Tuan Sung-chi, Vice-Chancellor of CUHK, wrote an open letter to students in September, saying the school would approach the Chinese Medicine Council of Hong Kong (CMCHK) to explore the possibility of making changes to the internship arrangements. However, he stressed that any proposed changes to the program must have the approval from the CMCHK.
Knowledge over safety?
In the same letter, Tuan also responded to students' concerns regarding the newly-launched CUHK-Peking University Dual Undergraduate Degree Programmes (DDP) offered by the Faculty of Arts, including Linguistics and Chinese Language and Literature.
To participate in the dual degree programme, students can enrol voluntarily and will be selected based on interviews and their academic performances. According to Tuan's open letter, they can choose to opt-out at any time during the programme, and their undergraduate studies at CUHK will not be affected. Tuan also emphasises that students can always seek assistance from the school if they need any help. In fact, a task force has also been set up to review the dual degree programmes and respond to students' enquiries.
Students' fears and worries remain despite the school's effort to allay their concerns. Nicholas Ho Ho-kan and Wong Chi, chairperson and secretary respectively of the Representative Council, Chinese Language and Literature, CUHK, said students of their department are worried about being bullied or facing white terror when studying in Peking University.

Ho thinks that the school should re-examine how they can ensure the personal safety of students when they are not in the campus area. "The school has been passive in providing assistance to students. They claim that students can seek help from the school when in need, but can the students really do so when something actually happens to them?" he questions.
In a written reply, Professor Tang Sze-wing, the Chairman and Division Head of the Department of Chinese Language and Literature, CUHK, says, "Students in the CUHK-Peking University Dual Degree Programme are assigned to an academic advisor in the department who works closely with the students by paying adequate attention to their needs and giving them advice in their study and helps liaise between the students and the parties concerned when they encounter problems."
He adds, "The units that take care of the student affairs at CUHK and affiliated departments and relevant units at the host university may offer appropriate help with care and support on academic problems and daily life problems for students who join exchange programmes, short-term study programmes, and dual degree programmes."
Edited by Lily Yu