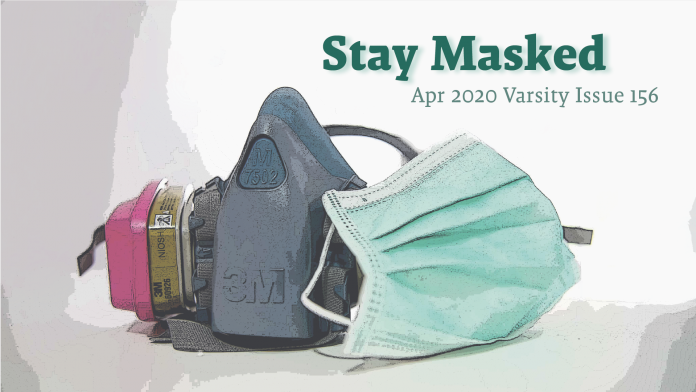 When Hong Kong people join the many anti-extradition bill protests, they wear masks. The habit of wearing masks continues, as Hong Kong is battling against COVID-19 outbreak which first started in Wuhan, China in winter 2019. The pandemic has so far affected more than 1.3 million people worldwide and killed over 70,000. The latest pandemic reminds Hong Kong people of the horrible SARS outbreak in 2003 during which mask played a crucial role in fighting against the deadly virus.
The Chinese government is criticised for not being open about the spread at its onset. The same accusation was made against the Mainland authorities back in 2003. The lack of transparency and information about the virus is blamed for causing the pandemic that plagues the globe.
On January 23, Hong Kong confirmed its first two COVID-19 cases. The number of cases reached 914 on April 7. Online teaching was introduced to all kindergartens, primary schools, secondary schools and universities in late January and early February. Ironically, the mask which was banned by the government with a new legislation months ago is now a daily necessity which helps combat the highly infectious virus.
As COVID-19 has been raised to the top of the global agenda, Varsity decided to launch a special section in this issue to cover stories about the pandemic. In this section, our reporters investigate how patients with chronic disease in Wuhan struggled to seek for medical treatments which are vital for their survival during the city lockdown. Our reporters also speak to university students to find out what they think about Zoom online classes when physical classes are suspended during the pandemic.
Periscope examines the impact of the anti-extradition bill movement. Varsity looks at how Hong Kong people are affected physically, mentally and socially.
The pandemic indeed has brought tough challenges to news reporting which heavily relies on face-to-face communication. Varsity members have to discuss work and even conduct interviews online. It is an unprecedented news production experience to all of us, but our pursuit of news quality remains unchanged. Reporters, editors and instructors who are thousands of miles apart, are all staying on the job, taking responsibilities, working hard for good content and producing meaningful stories.
Impacts of the pandemic to global economy and politics is beyond our imagination. This is a long and harsh winter for everyone in the world. Hopefully, spring will come soon.
Jasper Cao
Managerial Editor