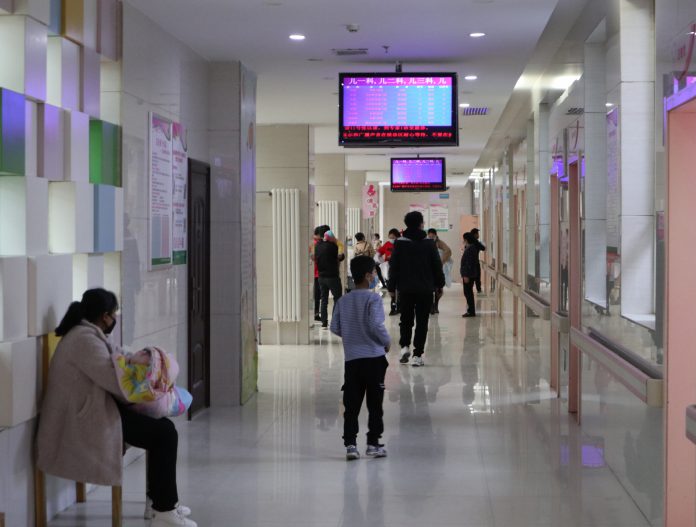 Patients with chronic diseases in Wuhan faced severe difficulty receiving treatment when the city was sealed off due to the coronavirus outbreak. Volunteers lent them a helping hand.  
By Savoki Zhang & Coco Zhang
"Without hemodialysis, death for her is only a matter of time," wrote Wang Gongbao in his post on Weibo, a Chinese social media platform, on February 1, 2020, pleading for help for his sick sister.
Wang's sister, who suffers from chronic renal failure, lives in Xiantao, a small city only 100km from Wuhan. She was among thousands of patients with chronic diseases who were in urgent need of life-sustaining treatment or medication, while nearly all medical resources were deployed to contain the coronavirus pandemic.
"My sister used to receive regular hemodialysis at the No.1 People's Hospital of Xiantao before she was tested positive for the novel coronavirus on January 28," says Wang. "The hospital then refused to offer her dialysis."
The 25-year-old and his sister had to transfer their files to another hospital which is designated to treat febrile patients. "We are under quarantine here, but so far no hemodialysis is arranged either," he says on February 2. "I called the health bureaus but to no avail."
Although Wang's sister was admitted to a hospital after being diagnosed with coronavirus, she was not given timely treatment for chronic kidney failure. Many other patients with chronic illnesses, however, could not even leave their neighborhood for hospitals to receive treatment vital for their survival.
The devastating coronavirus outbreak sickened over 82,000 and killed over 3,300 nationwide, mostly in Hubei Province and its capital, Wuhan, as of March 30. In the epicentre of the pandemic, collateral damage was also devastating. Apart from a dearth of essential medical treatment, strict lockdowns of cities as well as traffic bans cut many people off from supplies of drugs, leaving desperate patients with underlying conditions such as uremia, leukemia, and Aids in a deeper plight. 
Although the newly established Wuhan Novel Pneumonia Prevention and Control Headquarters issued an order to make arrangements for "chronic renal failure patients, the pregnant, surgical patients and other types of special patients" on February 5, there were still patients with other conditions who could not gain access to medical assistance.
In an extreme case, Liang Shutao, a 70-year-old patient with uremia, committed suicide on February 10. No hospital offered Liang either testing for COVID-19 or further dialysis since February 2 after he showed fever symptoms when receiving dialysis. The man was in great pain days before his death and begged staff of Luo Jiadun Community, Wuhan, to arrange him a car to a hospital for dialysis several times, but all requests were rejected.
A doctor working in the emergency ward of Wuhan Central Hospital, one of the designated hospitals with fever clinic, who declines to reveal her name, says there was indeed a large number of patients with underlying conditions who were facing difficulties when seeking medical treatment.
She says once these patients caught a fever, they could not go to non-designated or designated hospitals which only admit patients who are confirmed to be infected with novel coronavirus.
"Fever clinics of non-designated hospitals were all closed… (The authorities) need to make these hospitals as clean areas…where anyone can come without protective measures," she says. "If febrile and non-febrile patients are treated at the same hospital, it may cause cross infections."
In the face of the abrupt withdrawal of medical care for non-coronavirus patients, many of them and their families sought help from social media out of desperation.
By March 12, the hashtag #Non-coronavirus patients asking for help had 100,000 posts with over 120 million views on Weibo, since its approval of opening on February 6.
Under the topic, volunteer groups and non-government organisations have joined forces in establishing chains to open up avenues for people with chronic diseases. Most volunteer teams, cofounded by friends, alumni, or passionate and caring strangers active in cyberspace, are fostered by the pandemic and have played a vital role in saving those whose pressing needs are unmet by authorities.
No Red Pocket, a volunteer team founded on February 12, was initially dedicated to helping coronavirus patients. "But we soon found there were already numerous well-organized volunteer groups supporting coronavirus patients, which means efforts might be wasted if their work overlaps each other," says Hai Hai, leader of the team.
The team, with over 50 members so far, shifted their focus to bridge the gap between non-coronavirus patients, hospitals capable of providing corresponding treatment, and logistics chains of medical supplies to avoid overlapping work with other volunteer groups. "Apart from facilitating the flow of information between those in need of help and those offering help, we also closely follow every case to ensure their pressing needs are handled properly and efficiently at each stage," she explains.
The team collaborated with other volunteer groups to enhance efficiency. They collected information of patients with other diseases with the help of a volunteer group named Thunder Rescue. Another volunteer group, NCP Life Support, provides contacts of doctors who are willing to offer patients telemedicine support.
"My own voice is small, but our voice is loud," wrote Hai Hai in her work journal posted on Weibo on Feb 12. By March 1, No Red Pocket had managed to help 266 patients suffering from other diseases and in a quandary to receive timely care. Among them, 13 were in need of dialysis, 51 suffering from cancer or tumors, and 21 stricken with acute diseases such as heart attack and stroke.
Wuhan Homosexual Centre is a civic organization founded in 2011, aiming to provide help for the LGBT community in Wuhan. Amid the pandemic, volunteers of the organization have shifted their work to deliver drugs for HIV carriers in the locked-down provincial capital. Without multiple drugs essential to cocktail therapy, those living with HIV may die from any infection as their immune system is weak.
"There are over 20,000 people infected with HIV in Hubei Province and a large number of them cannot receive their medicine due to the pandemic, making them at high risk of drug resistance and morbidity," says Huang Haojie, a member of the organization. "Problem lies in medicine delivery but not its supply."
Although some residential communities in Wuhan arranged staff to pick up medicines for people infected with HIV as the city tightened its traffic control, most of them refused to seek help from community staff in the light of privacy concerns, and they were more likely to turn to civil groups. However, inside the paralyzed city, civic groups were also bogged down sometimes.
Huang's fellow member was stopped and questioned by police on a delivery run on February 25, because he did not have a pass permit. Huang says though health bureaus and hospitals had expressed their support in issuing special permits for civil organisations, volunteers were not informed of any channel to acquire the pass permit from authorities by then. "Civil organisations do need support from government to function better," Huang says.
"Civil organisations do need support from government to function better."
As collateral damage triggered by the pandemic escalated, anger spread on social media against the government's slow initial response to the coronavirus outbreak and their negligence of patients with chronic illness as the administration only focused on combating the coronavirus.
"I think the emergence of so many non-governmental channels was due to the lack of official channels at the early stage of the outbreak. If there wasany, the people did not have to resort to social media for help," says Fang Kecheng, assistant professor of the School of Journalism and Communication at the Chinese University of Hong Kong.
The Red Cross Society of China Hubei Branch also received a nationwide reproach for its inefficiency and misconduct in distributing donated materials during the early stage of the outbreak.
The Society, together with Hubei Charity Federation, had received an overall donation of ¥4.36 billion (US$610 million) and 5.29 million pieces of materials by January 29. However, according to a doctor in Wuhan Union Hospital, a hospital designated to treat febrile patients with more than 8,000 staff, was only given 3,000 surgical masks, while 16,000 were given to a hospital of Putian network specializing in gynecology and obstetrics.
Putian network, the largest private hospital system in China, has long been criticized for deceptive promotion and low-quality medical service.
Despite being suppressed instead of trusted by the authorities, civil society in China is striving to thrive. "Even if we do not have an official pass permit, we will still violate the traffic control to save people's lives… I hope even during 'wartime', people still pay attention to vulnerable groups," wrote Huang Haojie on his Weibo account on February 26. He received the pass permit on the same day.
As tension in Wuhan eases, operation at hospitals is gradually resuming normal. The National Health Commission declares that by March 31, 62 hospitals in Wuhan are providing medical services for all patients. According to Hai Hai, most patients No Red Pocket has helped can now receive routine treatment.
Edited by Jasper Cao
Subedited by Emilie Lui