More young people in South Korea develop a career in farming recently.
By Chaelim Kim
Kim Young-jin, 27, has been running a blueberry farm for four years after graduating from the Korea National College of Agriculture and Fisheries (KNCAF).
"My father saw possibilities in farming and suggested I study agriculture at university," he says.
More young people develop a career in farming in South Korea. The number of young farmers under 30 increased by 12.7 per cent over the past year, according to The National Statistical Office.
One of them is Kim who specialised in mushroom production in his study. "Mushrooms were sold at a very low price when I graduated in 2016, so I decided to grow something else," he says.
He plants blueberries in his 4600-square-metre land because the land is steep, and it can grow limited crops. Blueberry is also a popular fruit in Korea these days.
"The hardest part about starting my farm was securing starting fund. Being a newcomer in the rural area, without knowing anyone, was tough too," he says.
Kim applied for a government subsidy in 2016 under the 'Youth Farmer Fostering Policy,' a scheme that aims to help farmers aged between 20 and 40.
"The scheme subsidises a farmer for three years. A farmer can get a monthly support fund of 1,000,000 won (US $1,000) in the first year, 900,000 won (US $900) in the second year, and 800,000 won (US $800) in the third year," he says.
"You cannot survive just by growing crops unless you are rich enough to hire employees," he says. Kim starts his day at 5:30 a.m. and does everything from growing to harvesting by himself. He is also the marketing officer. "Farming is not as simple as it seems. You need to have different skills to make it happen," he says.
"Farming is not as simple as it seems. You need to have different skills to make it happen."
Kim reminds future farmers to make as many visits as possible to farming communities beforehand. "Learn from experienced farmers and make very specific plans," he says.
While there are young farmers like Kim who want to start their own farming business, there are also young farmers who just want to be self-sufficient.
Baik Ji-hyeon and Kim Chan-mi are young part-time farmers in their early 20s. Baik is a university student majoring in history. Kim is a stored-food shop owner who sells different kinds of pesto and pickled food. They are members of Pusil, a group of 10 young farmers practising sustainable farming.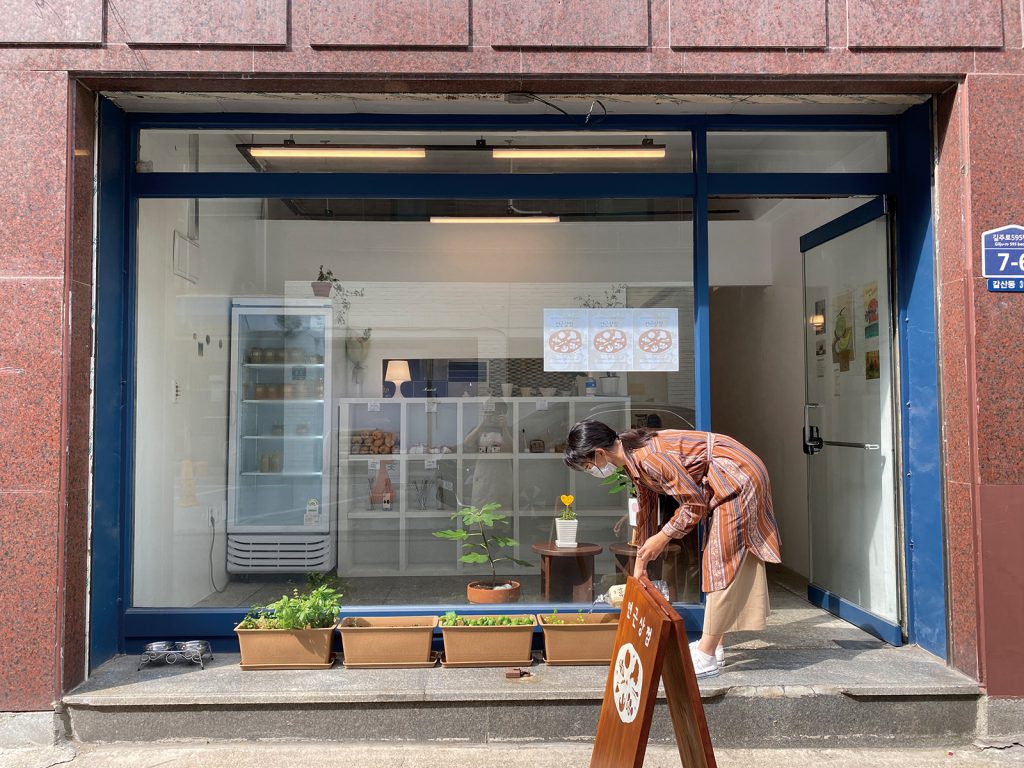 "I started farming in 2020 because I realised that my freedom is actually a product of exploiting others. I just want to grow enough food for myself," Baik says.
Baik's farming partner Kim Chan-mi learned about agriculture when she was a chef. "I love nature and cooking with my own produce. I wanted to farm since I was young," Kim Chan-mi says.
No chemical fertiliser nor machinery is used in Pusil farm. "My work follows my belief. But sometimes I think modern technology can make the work easier," Kim Chan-mi says.
"We have to clear weeds with our hands. It takes time and efforts to farm sustainably," Baik says.
"We have to clear weeds with our hands. It takes time and efforts to farm sustainably."
Their hardship pays off when people enjoy their produce. "When my friends smile eating my produce—that is the happiest moment of farming," Baik says.
Kim Chan-mi feels the same way when she cooks with her produce. "Being able to say 'This is made out of my crops' is a big joy," she says.
Han Ok-gyu, a professor in the Department of Food Crops at KNCAF, says government subsidy and keen competition in cities are the two main reasons why young people join farming.
"The government introduced various measures to encourage more young people to settle in the ageing rural communities," he says.
Han is optimistic about the future of agricultural industry. "There is potential because the industry is less developed than others. Farming can offer new opportunities to young people," he says
Professor Han advises young farmers to be well-prepared. "A new and young farmer should also harmonise with the local community in order to be a successful farmer," he says.
Edited by Eve Lee
Sub-edited by Soweon Park and Charile Yip