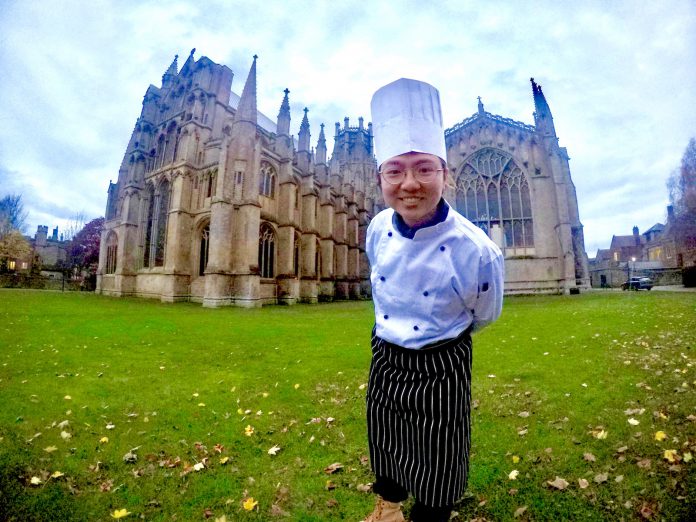 A young Hong Kong chef and YouTuber pursues her culinary career in the UK.
Carrie Lock
As the only Hong Kong chef working at a boarding school in Cambridge, Catharine Leung impresses students with her Hong Kong cuisine – stir-fried rice noodles with beef and fried squid with salt and pepper. These have become the most popular dishes among students.
"A six-year-old pupil from Hong Kong said to me, nearly in tears, that stir-fried rice noodles with beef and fried squid with salt and pepper are his favourites. The dishes reminded him of home," the chef in her 30s says.
"I am responsible for offering Asian cuisine such as sushi, spring rolls and custard buns," she adds.
Leung's work schedule starts at 7am. She joins her British and American colleagues to wash dishes, prepare ingredients and cook meals.
"Lunch time is the peak hour. Serving 800 people in two hours is as chaotic as being in a war. When it comes to dinner, we can relax a bit as we only provide meals for 200 students who live on campus," she says. She gets off work at 3pm, after finishing dinner preparation.
Other chefs sometimes ask Leung to teach them how to cook Hong Kong dishes. "My British colleagues can now cook rice, sweet and sour pork and fried squid with salt and pepper," she says.
She also learns how to cook Western cuisine like fish and chips and lasagna from her colleagues.
The chef thinks it is easy to cook Asian cuisine in the UK as more and more Asian food ingredients are available in supermarkets.
"If I cannot find a certain ingredient, I will seek for a substitute. I use my creativity when I have to cook classic Hong Kong dishes like turnip cake," she says.
Chinese sausage, a main ingredient in cooking turnip cake, is difficult to find abroad. In one of her YouTube videos, Leung suggests replacing it by Kabanos, a Polish dried sausage which is easier to find in supermarkets.
Her love for cooking started while she was studying for a Master programme in media management in the UK in 2014.
"I fell in love with cooking, as I had to cook for myself every day in order to save money," she says.
But she had never thought of turning her interest into a career. She returned to Hong Kong and continued to work as a documentary director after graduation. It was until 2017, a backpacking trip to Europe brought her back to cooking again.
"I served green curry for 100 guests at a wedding held in a resort in Black Forest, Germany. They loved it so much that they even came to the kitchen and told me how much they loved my food," she says.
"The joy of cooking is similar to filming. I feel motivated when people praise my cooking and I feel the same when the audience like my films," she says. Their positive feedback boosted her confidence to pursue her dream as a chef in Europe.
Leung flew to Britain in 2019 with a working holiday visa from Hong Kong and has been living in Cambridge ever since.
While working as a full-time chef at the boarding school, Leung opened her food stall "Ely Bubble Tea" in March 2020, selling Hong Kong street food – bubble tea and egg waffles in Cambridge town.
Though her stall only operated on weekends, her food still attracted some supporters. "Not many local residents knew what bubble tea and egg waffles were when I first opened my stall. After a year, I got customers visiting my stall regularly," Leung says.
"The happiest thing about opening a food stall is chatting with my customers about what is happening in Hong Kong. Many of them care about our city," she adds.
Leung's food stall was temporarily closed in September 2021 as she needed to take a rest. But she says she will reopen her stall in the future.
Now, she continues working as a full-time chef on weekdays. At the same time, she is also a YouTuber.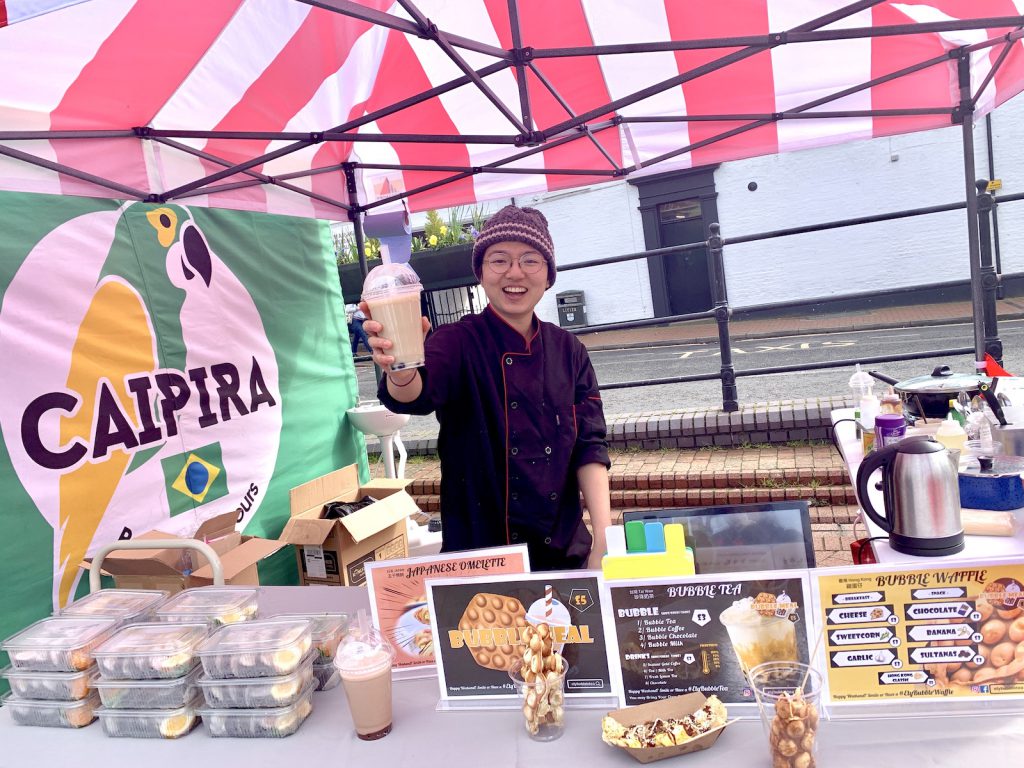 From Apple Daily to YouTube
Leung's channel BackpaCooking (廚職背遊 梁芷靈), which was launched a year ago, has about 121,000 subscribers of which many are new Hong Kong migrants in the UK. She usually films videos about cooking, grocery shopping and the life of Hong Kong migrants.
In 2021, Britain rolled out the BNO visa scheme for eligible Hongkongers, offering a pathway to citizenship in response to Beijing's imposition of national security law.
A total of 103,900 Hongkongers have applied for resettlement in Britain in the first year of the scheme, according to recent figures released by the UK's Home Office.
"Some followers in Hong Kong left comments saying they are very upset about what is happening in Hong Kong but they feel better after watching my videos. Their comments motivate me to post more videos about life in the UK on YouTube," Leung says.
"I inbox strangers such as political activist Finn Lau to ask for interviews. To build trust with them, I have to tell them my story angle and interview questions in detail," she says.
Her videos also cover topics like grocery shopping and starting a catering business in the UK. The chef also teaches people how to cook Asian cuisine, especially Hong Kong dishes such as steamed eggs and Cantonese poached chicken.
She spends most of her weekends and holidays doing interviews and filming. "Video editing is the most exhausting part. I spent countless nights after work doing editing," she says.
Before launching her own channel, she collaborated with Apple Daily to produce news videos about British people's attitude towards immigrants from Hong Kong and life of Hongkongers in the UK until the sudden closure of the media outlet in 2021.
"I was shocked. An important media outlet just disappeared in a day. Some voices could not be heard if there are fewer media outlets. So I decided to continue producing stories by setting up my own YouTube channel," Leung says.
"Some voices could not be heard if there are fewer media outlets. So I decided to continue producing stories by setting up my own YouTube channel," Leung says.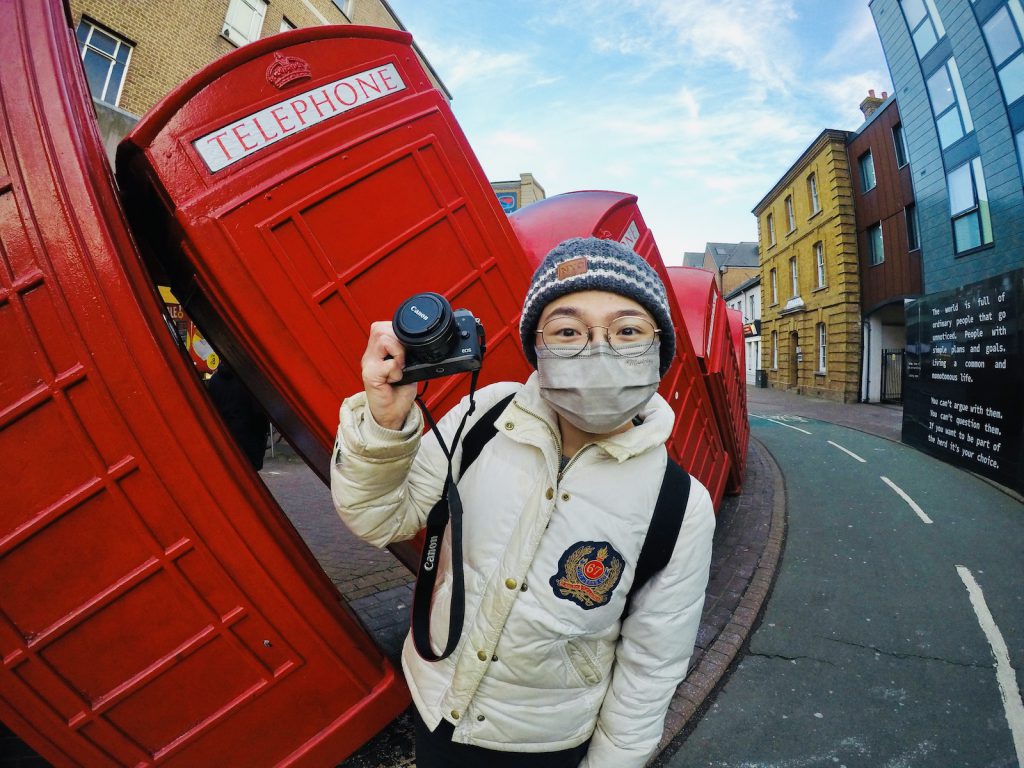 Tips for Hongkongers Who Want to Leave
Leung has already lived in Britain for two and a half years. The stressful environment in Hong Kong is what caused her to leave.
"Life in Britain is relatively simple and peaceful. I also feel free here. I enjoy the freedom of speech as I can freely voice out my opinion on things that I do not like, such as unfairness in the workplace," she says.
Still, moving to a foreign place is not easy. It was a big challenge for Leung to find herself a home when she first arrived in Britain in August 2019.
"It is difficult to rent a house when you are fresh off the boat. I had to provide an employment reference but I was jobless at that time. So I stayed at my friend's place for a month till I found my first job as a kitchen porter in Cambridge. I stayed there for three months," Leung says.
"Working as a kitchen porter was demanding for me. I had to clean dishes, dump the garbage and do labouring," she says, given that she had never worked as a blue-collar worker before.
Since the living pace and culture are very different between Hong Kong and the UK, she says having an open-minded heart is the key to adapting to a new life.
"Do not use the same mindset you have in Hong Kong when you are in the UK. Try to embrace their cultures and ways of life," she says.
Edited by Angel Woo
Sub-edited by Kajal Aidasani