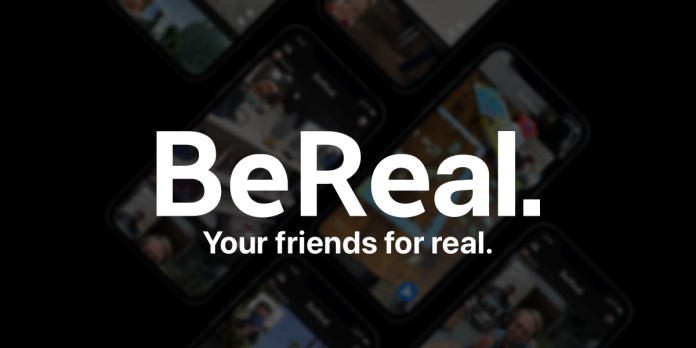 BeReal users show their real selves and regain authentic interpersonal relationships.
By Lesley Lam
University student Polly Ly Po-yi is using BeReal. She thinks the application captures her friends' life moments without filters, compared to other social media platforms.
"BeReal gives a sense of realness since photos there are unfiltered. I think people are fed up with all the beautiful photos on social media platforms and just want to connect with friends and regain the authenticity of interpersonal relationship," Ly says.
Through BeReal, Ly stays connected with her friends over little things in life, such as realising that they "are having lessons in the same place" based on the photos they take at the same time.
Unlike Instagram or Facebook on which users often only post their special moments in life, BeReal encourages users to live in the moment and be their authentic selves.
Launched in January 2020 by ex-GoPro employees Alexis Barreyat and Kévin Perreau, BeReal has become popular since early 2022 with 67.2 million downloads worldwide until October 2022. It topped the free app ranking of the iOS store of Apple in July 2022.
The photo-sharing social media app sends a notification each day at a random time to users in the same time zone. It asks them to take a selfie and a frontal photo within two minutes, without any filters available. When users do not make it on time, the app tells you that they "posted late."
The BeReal team declined the Varsity's request for an interview. A fact sheet about the social media app was shared, however.
It states one of BeReal's features: "You can only see friends' posts if you share a photo. No lurking."
Ly finds this element of reciprocity attractive. When she posts stories or posts on Instagram, she has no idea how her followers react.
"I feel like exposing myself to my followers without knowing what they think of me and what they are doing when they see my posts or stories on Instagram. But when I use BeReal, I can be like, okay, they are having dinner when they see a picture of me having a lesson. I feel more secured this way knowing their reaction," she says.
Ly also points out that since BeReal is a relatively new platform with not many of her acquaintances using, she does not feel burdened to maintain a favourable image like when using other apps.
The main goal of BeReal founders is that they "want an alternative to addictive social networks fueling social comparison and portraying life with the goal of amassing influence," according to the fact sheet.
The app's absence of filters and synchronicity of notifications supports this goal. It also helps to persuade people to present their "real" lives since there is no sense of social comparison holding them back.
Ly thinks social comparison can still happen among BeReal users, but it does help users focus on the present moment.
"BeReal is really simple. There is very limited space for captions, no filters, location tags, or stickers," she says.
"The simplicity makes users focus only on what others are doing at the moment when photos are taken."
Another university student Queenie Yu Kwan-yi agrees that the sense of social comparison still lingers because users can still see what others are doing in their lives through the app.
She also thinks this may undermine the realness that BeReal is trying to achieve.
Yu sometimes does not open the app immediately to post when she receives a notification. Instead, she waits until something special happens to take and post her photos.
"I think to some degree people still want to post something that they think worth posting," she says.
Yu is an active user who posts on the app every day, and she always clicks on the app when she receives notifications.
She thinks BeReal provides a sense of realness to some extent since only two raw photos can be taken and posted every day, whilst other social media platforms encourage multiple formats of sharing with a lot of room for editing.
"BeReal's design of sending notifications every day allows us to peep into our friends' real everyday life and it is quite interesting," she adds.
The 21-year-old also likes the function Realmojis.
"Realmojis are real photos and that makes the exchange more like real face-to-face interactions," Yu says. 
Enjoying the platform so far, Yu points out that if BeReal is to adapt in-app advertisements extensively, she would have less incentive to use it.
"Unlike other social media platforms, there is no marketing information on BeReal right now and it makes the app more simple," she says.
She adds that BeReal cannot replace other major social platforms but acts as an add-on.
Donna Chu Shun-chi, director and associate professor at the School of Journalism and Communication of the Chinese University of Hong Kong, points out that being real on social media platforms can be awkward and undesirable to some.
Others might also find the app demanding. One of her students downloaded BeReal but deleted it on the same day.
"BeReal can become like Snapchat. One of Snapchat's features is Snapstreak which encourages users to maintain daily interaction with their friends. But it becomes a daily duty and that can be tiring to users when the practice lasts for a long period of time," Chu explains. 
She adds that there is a question of whether users' participation can sustain. "For Instagram and Facebook, once you have an account, you don't really have to interact or participate. You don't have to click "Likes" or post anything. But it is different in BeReal, you need to participate to see what others are posting," she says.  
Chu believes the app is clever in letting users take photos at a random time of the day within limited time. It adds a sense of excitement and fun to the authenticity it tries to create.
She also sees the app as a reflection of what society wants now. "From a broader perspective, the launching of different social media platforms is a series of dialogues. And the conversation we reached today is 'What about more "real"?'," she says.
Chu thinks BeReal is answering to a trend.
"We are already in a connected world, but how to create meaningful connections is an open question that is currently concerned," she says.
"The invention of apps like BeReal and people's response to it is like handing in answers to this question," Chu adds.
Sub-edited by Chaelim Kim