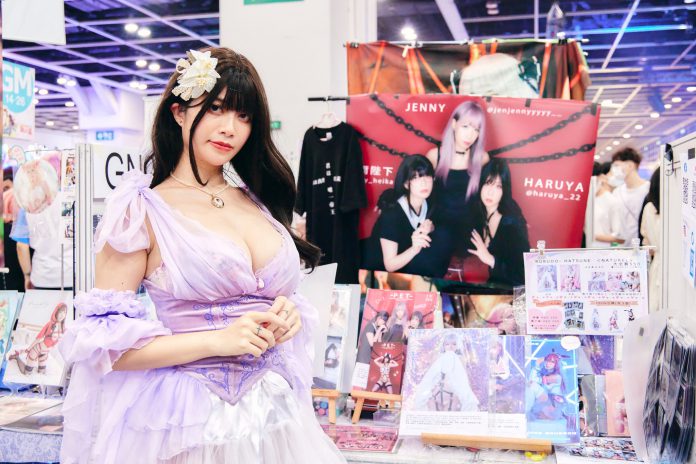 Wong Yuet-hei, or Hieey, provides sexual fantasy by selling her photographs.
By Phoebe Chu
Often called "Online Prostitute", "Lewd" and "Flirtatious" online, Wong Yuet-hei, never shy away from flaunting her curvy body online.
"I love my body, I look good with the sexy costumes and I wanted to share them with others," the 27-years-old woman says.
Dreaming to be a queen, she named herself Hieey Heika on social media. "Heika" is a Japanese word for "your majesty".
Nearly 900 photos of her in sexual costumes with most of her body exposed are shown to her 450,000 followers on Instagram. Many of the costumes, including the maidservant uniform and bunny girl bodysuit are designed by her.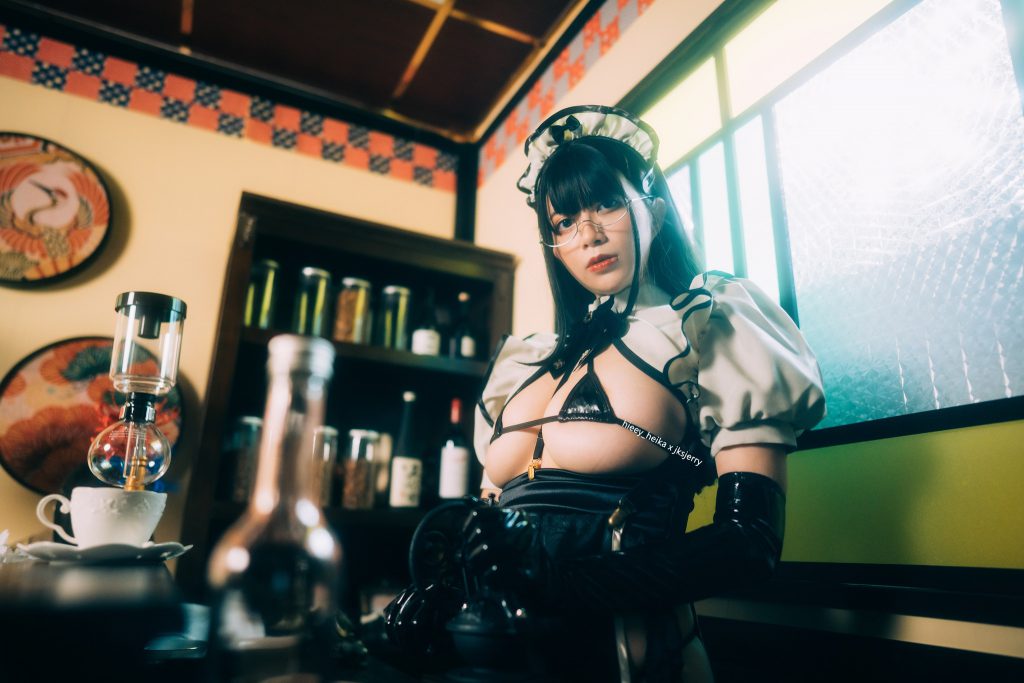 "I find my ideal self when shooting photos as Hieey Heika, seeing the sexy photos of myself gives me a sense of satisfaction," Wong says.
In real life, Wong is an introvert but once she puts on her "battle suits", her confidence is boosted and she becomes a chatterbox.
Limited to providing sexual dreams instead of physical contact to fans, she sees herself as a "sexual fantasies provider".
"I always knew I was perverted. I have visited lots of pornography websites since my secondary school days," Wong says.
She is a Japanese animation fan who loves cosplay. Super Sonico, a sexy fictional character with pink hair and a large bust is her favourite.
"I found myself very attractive when cosplaying Super Sonico," Wong says.
At first, she only took and kept her sexual photos for self-appreciation, and she started posting them to her Facebook account and gradually sharing them in 2013.
"I like my photos and there are people who appreciate them on the internet," she adds.
Wong started selling her photos in 2018 on Patreon, a crowdfunded subscription platform with various membership levels ranging from HK $10 (US $1.27) to HK $1,180 (US $151) per month.
Members paying a fee of HK $10 (US $1.27) can get a limited number of her selfies every week. They can pay more for access to more videos and photos. Naked photos are only available for those who pay HK $1180 (US $151).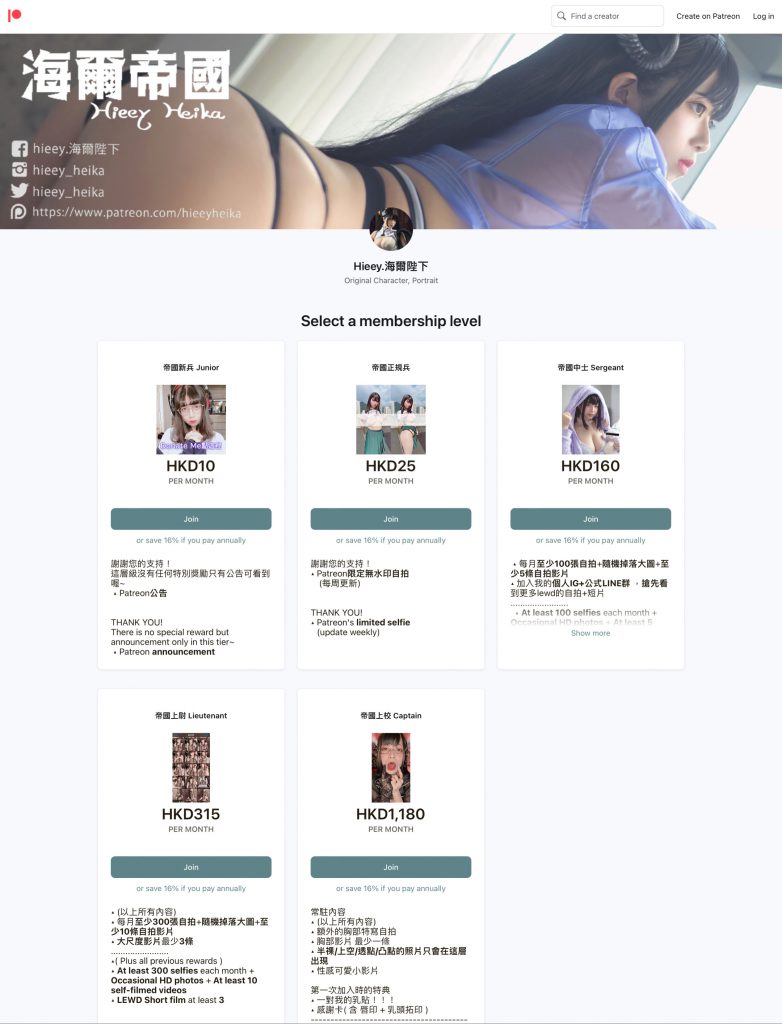 "A lot of people see my photos but it is hard to get them to pay for the photos, no matter how hard I try. It is difficult to prevent my photos from being copied and posted on social media platforms," she says.
As a protest to these moochers, she posted fully naked photos of herself on Twitter a year after creating her Patreon account in 2019.
"Just send my photos around if you want, you can look at my full body naked for free on Twitter. It is not just about the money. I decided to make them because I appreciate my body," Wong says.
"The moment I decided to make my sexual photos public, I knew there is no turning back. Things posted online will be kept forever," Wong says.
Earning around HK $20,000 (US $2,548) a month through Patreon and by selling photo books, polaroids and 4R-size photos of herself in different events such as Ani-com, Wong says it is hard-earned money.
"People may think selling photos online is easy money, but it is not", Wong adds.
From finding places for shootings, doing studio set-up, preparing her costumes, and doing photoshops and layouts, she has to do everything herself.
"The costumes and accessories are expensive. My income could not cover them until I make more money after three months of starting the page," Wong says.
"Hong Kong people are not familiar with what I am doing, and they often criticize girls like me as an online prostitute on a discussion forum called LIHKG," she says.
"Now, I am lucky enough to do something I am passionate about and I can make a living out of it," Wong says.
Wong believes some people might not accept and hire people posting sexy photos like her so she is now studying hypnotherapy and learning to be a massage therapist and florist since these jobs can allow her to work on her own.
"At the age of 30, I will look at my body shape and consider if I should be continuing the occupation as a provider of sexual dreams," Wong says.
Sub-edited by Jack Deng