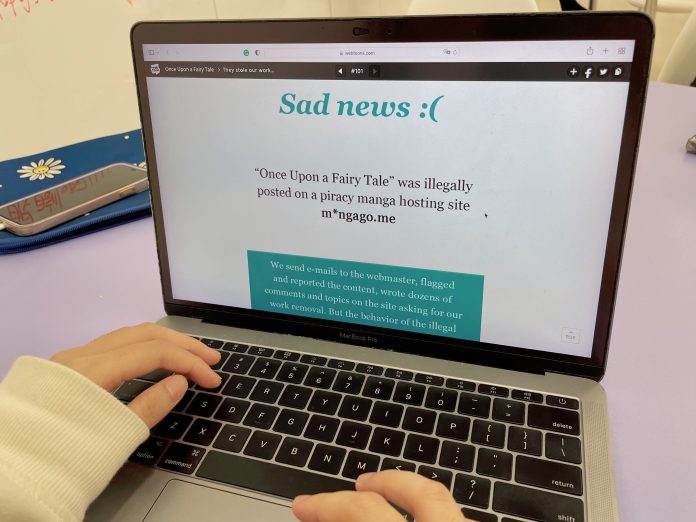 Webtoon creators insist on pursuing their career despite content being stolen.
By Charlie Chun
Ivanna Choi* reads webtoons from pirate sites to catch up with the content published weekly.
"Most webtoons are in their original language such as Korean. I am not able to understand without any official translation, so I have to search for translated versions online," the university student who declines to reveal her full identity due to legal concerns says.
She is annoyed by the quality of illegal translations, but still turns to pirate sites for quicker access to comics.
"I only want to get to the latest chapters. Official translations can lag behind for 80 episodes, so illegal sites are my only choice," she says.
Creators' Sufferings
Taiwanese webtoon creator Jennifer Chuu feels frustrated when she spots pirated versions of her work circulating on social media platforms and websites featuring counterfeit work.
"Some people have pirated my webtoon and posted them on Instagram, YouTube and pirate sites," says Chuu, whose webtoon account has over 890k subscribers.
Cases of webtoons shutting down due to content pirating have been reported. Pirated work can affect up to 70% of their complete earnings according to other media outlets.
"I make about US $4,000 a month. I receive a fixed amount from webtoon and another source of my income depends on how many fast passes are sold," the 33-year-old says.
Webtoon is a South Korean digital comic application launched in 2004 by Naver Corporation. The comic series are free to read and episodes are updated on a weekly basis.
The fast pass allows readers to read the latest episodes of certain series so they can read before the regular release day. Readers can purchase one fast pass with seven coins, with ten coins priced at US $0.99.
"The pirated version of my series discourages people from buying a fast pass and that hurts my income."
Chuu has to pitch her story ideas to the webtoon company to seek approval and sign a new contract with the company for every project.
"Webtoon series are actually free to read, as long as readers are willing to wait. I do not understand why some people would rather go on pirated sites," she says.
Webtoon counterfeit work appears in forms of screenshots and screen recordings.
"My fans inform me whenever they see pirated versions of my work online. Then I have to email Webtoon and ask the legal team to take action," she says.
"The legal team is so busy that sometimes nothing is done even if a case was reported a year ago. We (webtoon creators) have to keep on emailing the team to check if any actions have been taken," she says.
Another webtoon creator Coco Ouwerkerk from the Netherlands also shares Chuu's frustration.
"Some people are not even aware that content pirating is illegal. They translate my content from Dutch to English without informing me, and post them on social media platforms such as Instagram and Facebook," Ouwerkerk, who started working as a webtoon creator in 2018, says.
A report from the Korean Foundation for International Cultural Exchange states that over 1,300 scanlation aggregate websites are active in over 30 countries.
Her webtoon series, Acception, which targets teenagers in the Netherlands and covers topics such as sexuality and LGBTQ+, has been pirated and circulated on Instagram.
"Whenever I see my work being pirated I alert Webtoon, then it will be gone in a few days," she says.
"If I were alone, I would have to spend all my time dealing with pirated content. I have a team of interns and friends to back me up, I do not have to worry too much," she adds.
Blurred Line of Responsibility
Paul Joel Schmidt, professional consultant at the law faculty of the Chinese University of Hong Kong says it is difficult to eliminate content piracy.
"Creators have to look out for pirated content and inform the content provider, then issue a notice of copyright infringing to ask the pirate to take down the content," Schmidt says.
"The never-ending issue is, content pirates can change their username online and post the same material again. Creators are tired of going through the same legal process, therefore many pirated content just go unnoticed," he adds.
He points out that both content creators and providers are displacing the responsibility of policing each other
"The industry has to figure out who is responsible to pay for the costs and burdens of policing. Until then, there will be no satisfactory system to solve the problem," he says.
The International Criminal Police Organisation, Korean and Moroccan governments collaborated to combat digital piracy in 2022, they shut down an illegal webtoon site and detained a suspect.
*Name changed at interviewees' request
Edited by Chaelim Kim
Sub-edited by Gloria Chan