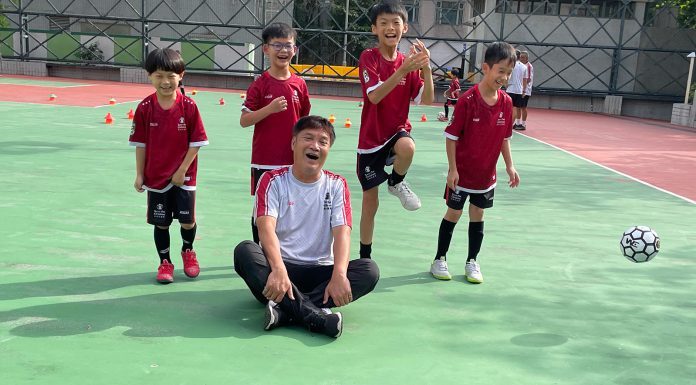 Football helps a boy with special needs with his physical and mental development.
By Chloe Tam
Primary school pupil Kevin Chan*, who suffers from attention deficit, used to keep everything to himself instead of sharing with others. But now he is willing to tell his parents and teammates about his everyday life after joining a football programme.
"Kevin is not good at communicating with others. He never responded even when I asked him. He just kept crying, shouting and having tantrums to seek our attention. But after joining football class a few times, he started to tell me what he wants," says Peggy Lee*, mom of Kevin.
Chan joins 'Play to Thrive', a three-year football programme, organised by Save the Children Hong Kong, a non-governmental organisation dedicated to the protection and development of children.
Launched in June 2023, the programme aims to improve the wellbeing of children impacted by the COVID-19 pandemic.
It is expected to serve 224 children this year and bring the total number of participants to 1,100 children by 2025.
"He proactively shares everything about his classes. I am very happy about the change. When I ask him a question, he now responds with a few sentences instead of just saying one word," the mother says.
"My son now prepares his football, uniform, socks and puts them on the table one day before every football class. His smile on his sweaty face tells me he loves playing football very much,"  she adds.
During the COVID-19 pandemic, the 7-year-old did not have any team activities.
"He did not seem to like it when he was three or four years old. But after attending more classes now, he starts talking and finding coaches and teammates for help to solve problems," Lee says.
"Football is a sport that requires teamwork. The course provides a golden chance for Kevin to spend time with other kids. Competition helps him understand team spirit which he had no concept at all before. Playing football is a good way to force him to express himself more and have better anger management. Otherwise, he can't even touch the ball and play the games," she adds.
Carol Szeto Yan, Chief Executive Officer of Save the Children Hong Kong, says underprivileged families or children with special education needs are their service target. They hope that an environment of cohesion can be built.
"During the past few years, many Hong Kong children's mental and physical health was badly affected due to the pandemic. They could not spend time with their peers and teachers. We hope the programme can improve their social emotional competence," she says.
Savio Wong Wai-ho, an associate professor of the Department of Educational Psychology at the Chinese University of Hong Kong, points out that teamsport is beneficial to children both physically and mentally.
He elaborates on it by breaking down the word "teamsport" into "team" and "sport". 
"It is commonly known that sports can improve our physical fitness and well-being. Healthy body causes a healthy mind. For "team", there are rules required to follow and a well-organised way to train players' social skills," he says.
"As a team, every player shares a common goal such as winning. There is no way but to cooperate with other teammates in order to achieve the goal. It means they have to socialise among themselves," Wong adds. 
*Name changed at request of the interviewee
Sub-edited by Eve Qiao