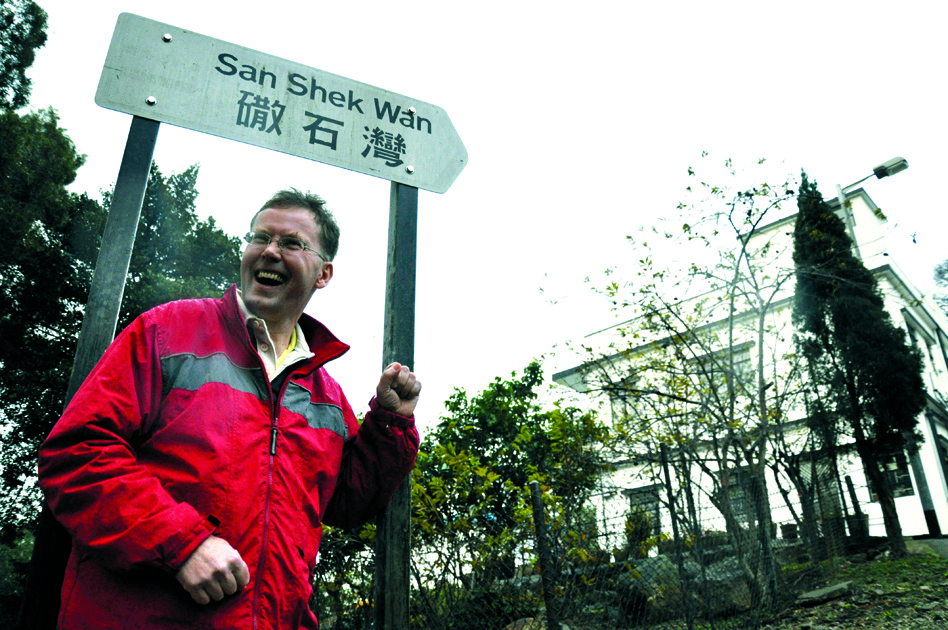 San Shek Wan representative Andrew Brown shares his enthusiasm for village life
Reporter: Lotus Lau
On a cold, rainy Saturday afternoon in San Shek Wan village, Englishman Andrew Brown shows off a drainage ditch in a footpath that has been properly covered with concrete. It is one of his proudest achievements since being elected as a resident representative of the south Lantau village in 2003.
It is also just one of the many works Brown has done for his village in his three consecutive terms. He says the village was "dead and dying" before he moved in. The young people had left and only the old remained. Many houses were unoccupied and construction waste and junk littered the area. Brown cleared the junk, fixed the telephone lines, and replaced the old rusty pipes.
Brown, a civil engineer who helped construct the Tseung Kwan O Rail and other lines for the MTR Corporation, used his professional knowledge to improve the village infrastructure and revitalize the community of around 50 residents. More families with kids loved the new environment and decided to stay. During his eight years in office, life has become easier and more comfortable for the villagers.
"People began to take a pride in the village. They could see that things were improving," says Brown.
Apart from infrastructure projects, Brown has also sought to build stronger bonds between the residents in the village. He has organised Christmas parties for the whole village in the car park and holds regular meetings to discuss village matters. When he talks about the meetings, he takes out a list of members from his large but well-organized piles of documents. He knows everyone on the list well.
"This lady is Japanese. Diana is Filipino. Mimi is Chinese, indigenous. Grace is from England. Popo is an old lady. She comes to all the meetings. She does not even speak Cantonese. She speaks Hakka," he says.
Brown loves the multiracial character of the community. Though he is an expatriate, he enjoys interacting with villagers of different backgrounds.
The 48-year-old Briton came to Hong Kong 15 years ago to work as an engineer. His first home in Hong Kong was in Discovery Bay, where his neighbours were mainly expatriates. But he was dissatisfied with living in an expat community with weak relationships.
"Why would I come and live in Hong Kong if I just wanted to live in an expat community?" Brown says. He eventually discovered his dream place and moved into San Shek Wan two years later.
"I know all people in this village and most people you can just knock on their doors and drink a cup of tea," he says. Brown thinks the media tends to mislead people into thinking there must be a battle between the indigenous locals and the "gweilos" in his village.
He says this has no basis in reality. He cites the cordial relations he enjoys with his neighbours, saying the manager of the supermarket knows him and their daughters are playmates. The owner of the electrical shop always gives him a discount.
"It is great to get involved with these people who treat you as one of them," he says with a smile. "It is a mindset thing. As long as I think that I am a part of this community, I am."