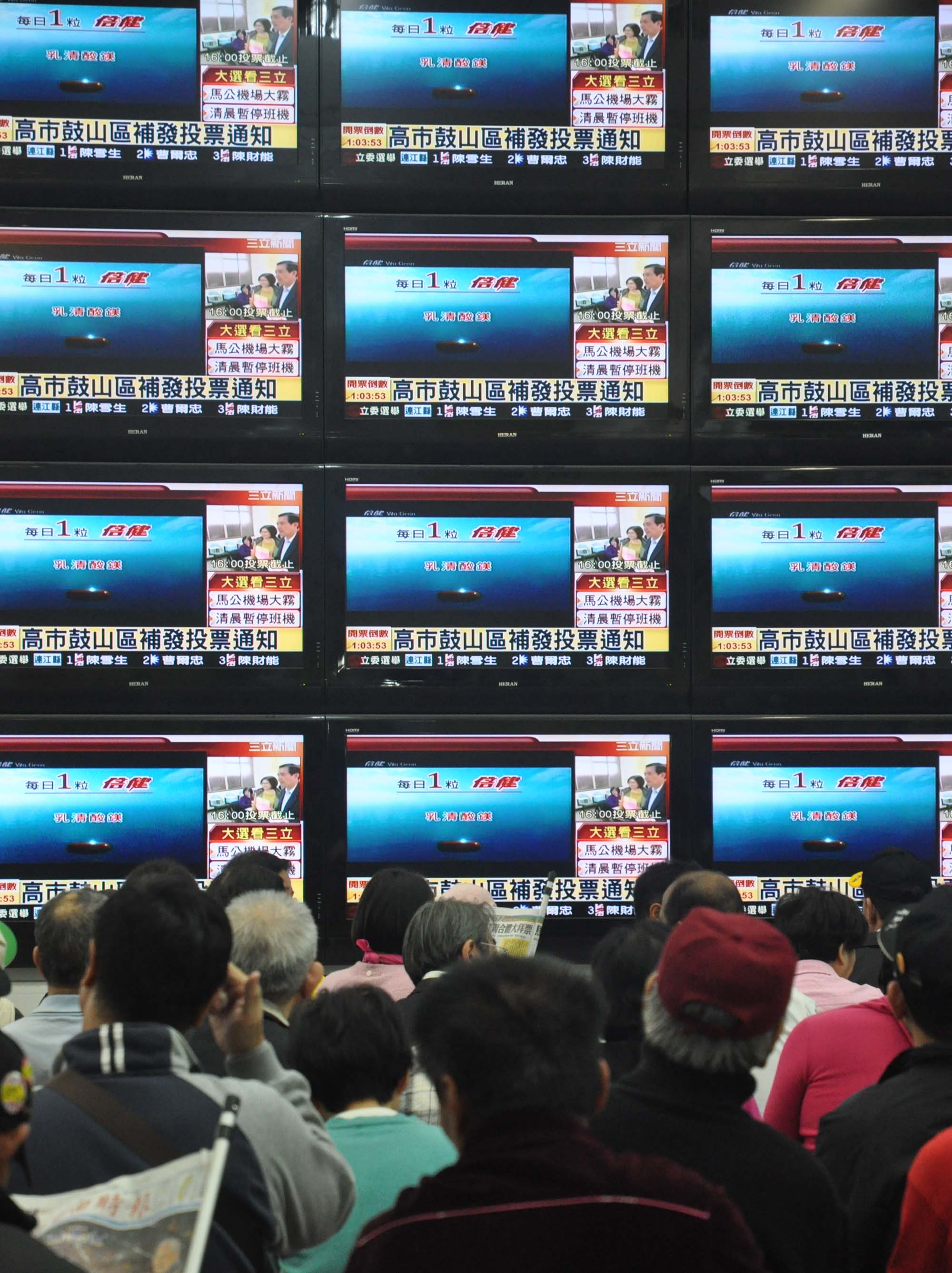 By Samuel Chan, Elizabeth Cheung, Lam Cho-wai
Partisan and Proud
There was nothing showy about the star. But the atmosphere was as much rock concert as it was political rally,"Ing-wen! Ing-wen! I love you!" shouted members of the crowd –supporters of Tsai Ing-wen, the Democratic Progressive Party (DPP) candidate in January's presidential election.
The DPP and its allies form what is known as the Pan-Green camp in Taiwan politics. And among those wearing their political colours literally at the rally were some green-clad reporters and news photographers.
These journalists are very proud of their political stance but insist it would not affect how they report the news as that would be determined by their media organisation's editorial stance.
It is not just individual reporters, Taiwan's media organizations are not shy to run unabashedly partisan headlines. On the day after the election in which Tsai lost out to her Kuomintang (KMT) rival, Ma Ying-jeou, the dailies ran headlines such as "MA YING-JEOU HAS WON! THE 1992 CONSENSUS HAS WON!" and "THE FUTURE OF TAIWAN CANNOT BE SOLD".
Such headlines suggest the news stories in the papers are unlikely to be free of bias. While completely impartial and objective reporting is an ideal that often remains just that, having a highly partisan media is almost accepted as a fact of life in Taiwan.
The island's media organisations are usually aligned with either the Pan-Blues which consist of the Kuomintang (KMT) and its allies and the Pan-Greens.
The KMT-led Pan-Blue coalition favours closer economic links with the Chinese mainland while the DPP-led Pan-Green coalition favours eventual Taiwan independence. A newspaper betrays its allegiance easily through its headlines, layouts and photo arrangements.
A Fact of Life
Some Taiwanese are so used to partisan politics in the media that they do not feel the need for change. Ms Guo, a KMT supporter, says a political stance is merely a selling point for newspapers or television channels.
What really matters to her is the accuracy of news, which she believes is not affected by the political stance of a media organisation. "That's why I would still opt for Pan-Blue newspapers for neutral news," she says. Guo only reads the traditionally Pan-Blue China Times and United Daily News.
.Members of the  younger generation may read more than one newspaper and browse news feeds provided by search engines to gather the information to form their own thoughts.
Taiwan's journalists are themselves only too aware that news organizationsare rarely politically neutral. "When covering election news, media are advocates, not neutral bodies," says the deputy editor of the Pan-Green Liberty Times, Tzou Jing-wen.
Tzou says there are reasons why a newspaper reports stories the way it does.  The length of a story and where it is positioned implies which candidate the newspaper prefers.
Having said that, Tzou does not believe this is a problem. She says American newspapers such as the Washington Post and New York Times are known for their clear political standpoints. "It is acceptable to have your own standpoint as long as it is limited to the editorial only," Tzou says.
She does, however, agree that news stories should not carry any personal viewpoints, while avoiding commenting on the reporting style of her own newspaper.
Ho Jung-shin is a China Times editor but he used to work at a Pan-Green newspaper. He says many newspapers show their stance in both news stories and editorials. However, he points out that even among the partisan press,, some offer a more diverse range of voices than others. "Some newspapers have one voice only. They support either the KMT or DPP unconditionally, with little room to accommodate other opinions," he says.