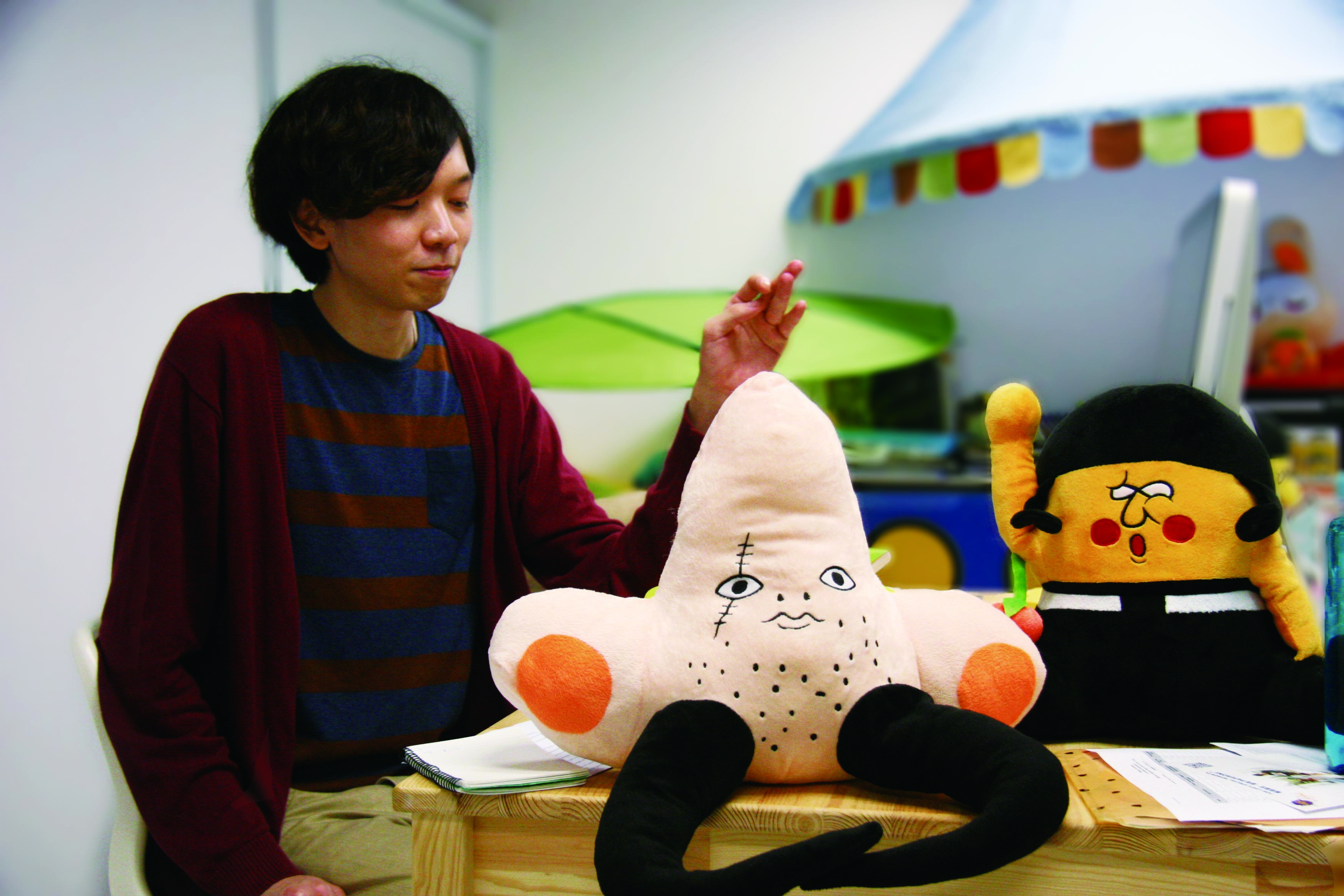 Animator Johnee Lau Kwun-yiu finds human spirit in the ugly, unloved and discarded.
By Louie Cheng
He is the most unlikely of superheroes – a man with a sprout growing out of his armpit that turns into a caped crusader when he lifts his arm. But then, his creator is an unlikely cartoon talent.
Galaman, the name is a play on the Cantonese word for armpit, stormed into public consciousness during the 17th Incubator for Film and Visual Media (ifva) Festival last year. Galaman's brave deeds and outstanding looks earned his creator, 25-year-old Johnee Lau Kwun-yiu a Silver Award in the ifva Animation Category.
In a city where people like their cartoons cutesy, Lau's drawings are unconventional. Galaman is a crude outline of a human figure although his transformation into the muscular square-jawed superhero is preceded with that most classic of superhero gestures, the lifting of an arm.
The Galaman episodes are characterised by outlandish, even absurd storylines, with heavy doses of toilet humour and wordplay-laden conversations; the cosmetics brand Max Factor, for instance, is sent up as "Gas Factor", and one episode features a sex-changing robot called "Transgender"(變性金剛), a parody of the "Transformers" (變形金剛).
All these ideas originate from the talkative young animator who is keen to share even his unused jokes and one-liners. Thin, with long limbs and a pale complexion, Lau has as much an air of a 19th-century writer as he does of a 21st-century animator.  "Actually, I planned to study Chinese language [at university] and be a writer or reporter," he says.
As a secondary school student, Lau was into Chinese literature rather than art and so he studied the subject at A-level. He was expected to do well in the exam, but a piece of writing he submitted for his assessment probably changed the course of his life.
The essay, titled "Mourning a Pimple", told the story of an acne pimple growing on the nose of a sleeping youth. In the story, the pimple is a martyr, doomed to die only to be replaced by another pimple – the reason for its existence to remind people they must wash. The tale would seem to be an allegory on futile sacrifice but the examiners were not impressed. Lau got a D for the subject, which crushed his confidence in his writing abilities and killed his dreams of being a writer.
"I had been studying for so many years, still, the exam result wasn't good. And all the things I had learnt might not even be useful for work," he stops and sighs. "I felt I had wasted my time."
But Lau did not remain depressed for long. Soon he realised he actually liked creation, so he chose the two-year Higher Diploma in Multimedia Design and Technology at the Hong Kong Polytechnic University. His aim was to "start something fresh or regain my confidence in creation," he says.
Although he was now interested in drawing and determined to learn animation, Lau did not manage to register on any relevant course. But this only drove him to teach himself. He managed to produce animated videos for his final year project for the Higher Diploma. "I bought reference books to learn how to use Flash on my own," he recalls.