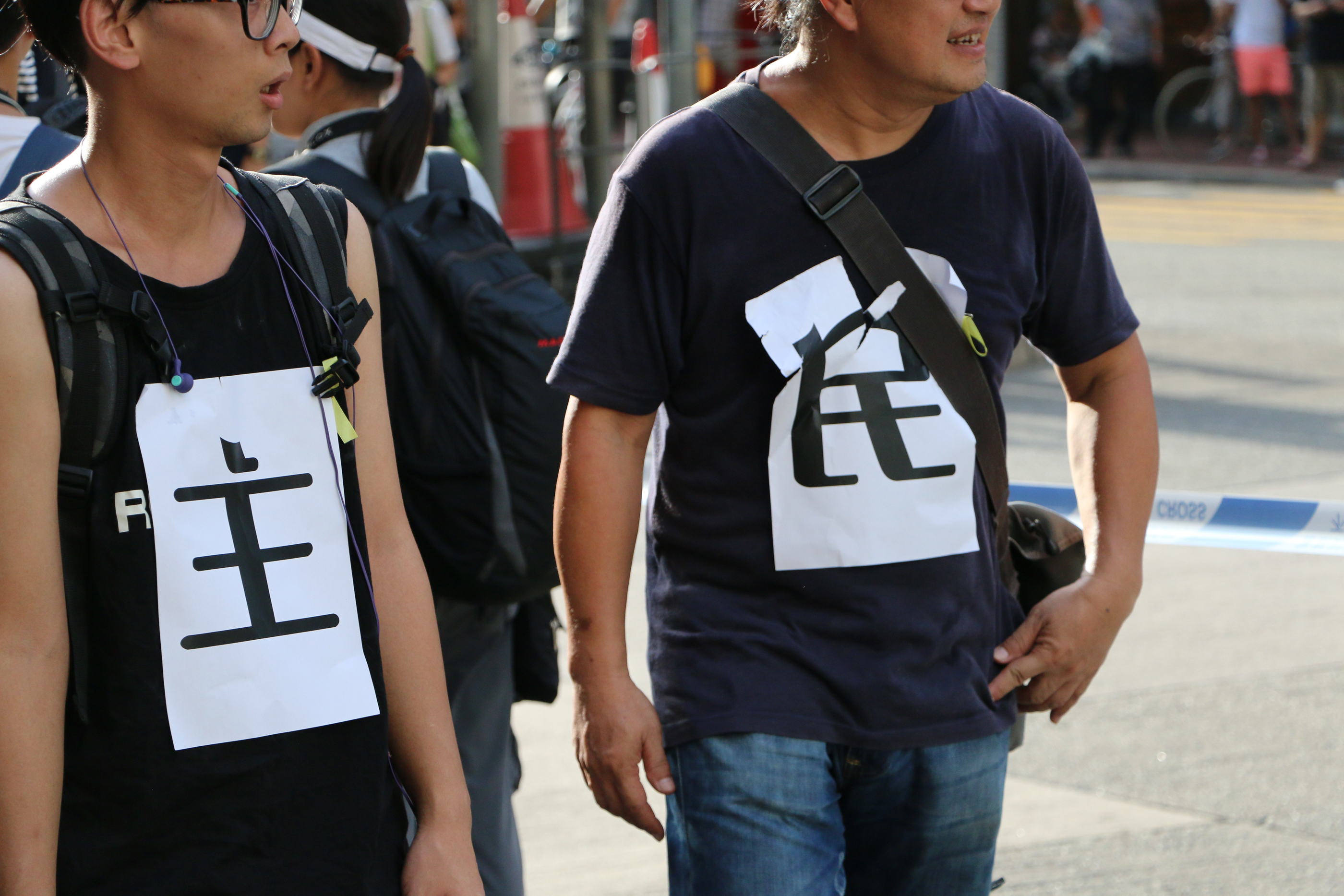 Performance Artists use the body and mind to express the soul
by Benny Kung

On the last day of August this year, those who had been hoping for a more open nomination process for choosing candidates in the 2017 Chief Executive election were dealt a severe blow. The National People's Congress Standing Committee announced a framework that would limit the number of candidates and make it almost impossible for a pan-democrat to get on the ballot paper. Two weeks later, thousands of supporters of the Occupy Central movement took to the streets on a "black cloth" march. The mood was sombre when participants joined together to carry a 500-metre long black cloth but the event did not seem to differ too much from the many protests that take place year-round in the city.
However, at the tail-end of the march, four protesters were walking backwards with Chinese characters stuck on their black clothing to suggest that democracy is regressing. An old man pulled a plastic tube attached to a piece of rope. On the tube were words attributed to Zhang Xiaoming, the head of China's Liaison Office in Hong Kong, which suggested the central government was already very tolerant of the opposition in Hong Kong.
Other protesters and passersby took notice.  "Oh, that tube is actually a used sewage pipe!" a woman yelled after staring at the tube for a while. Others, showed their appreciation more quietly.
The "happening" was actually a performance art piece.
While some may perceive performance art as a new art form, it has in fact been around since the 1950s. But it was not until the 1970s that it began to be regarded as an independent subject for study.
In 1975, renowned artist "Frog King" Kwok Mang-ho first introduced performance art to Hong Kong as an experimental art form. He splashed the contents of a big black bag of burnt ox bones next to his own award-winning sculpture at an exhibition, then sat down and discussed the ideals of art with his audience. Kwok's work shocked local artists.
After almost four decades, Hong Kong now has 30 performance artists and the diversity of artwork has expanded accordingly.
Sammu Chen, is a 51-year-old construction foreman who has been practising performance art since 1986. He was one of the five artists at the black cloth march. For him, the crucial element behind performance art is the thought behind the action, the thought which makes the artwork unique. "If someone is eating dog excrement on the street, it is not an artwork but abnormal behaviour. Actions without thoughts cannot be regarded as performance art," Sammu explains.
He describes himself as "a supporter of humanitarianism" and his work is closely related to this theme.