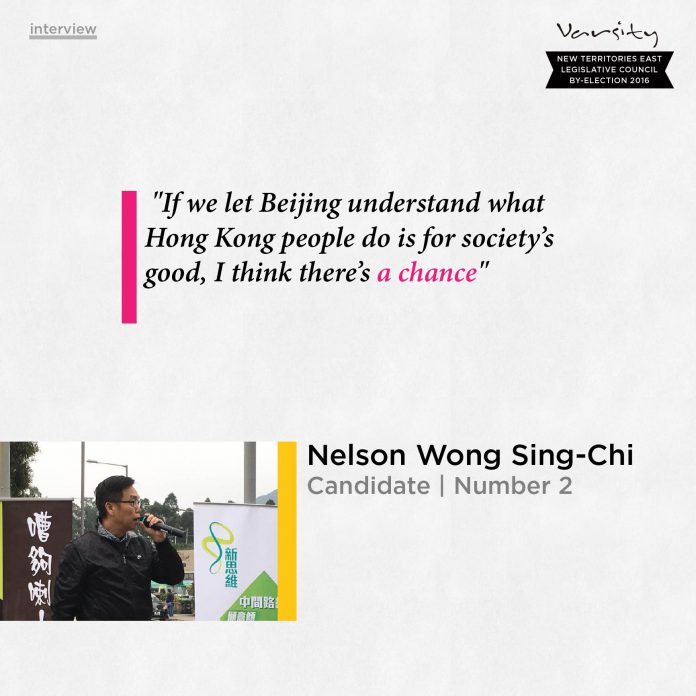 Nelson Wong wants to claim the political ground between the pro-establishment and pan-democratic sides
By Stanley Lam
Nelson Wong Sing-Chi's name that might not ring a bell with many young voters, but when they hear he is the New Territories East by-election candidate who donned an Ultraman suit in his campaign video, there may be a flicker of recognition.
Wong explains he dressed in up in superhero garb because he was afraid the by-election was too boring and wanted to lighten things up.  There is also a message, "Monsters are sinful, we have to eliminate them," he says, alluding to Ultraman's superhero feats.
Whereas Ultraman fights crime with physical force, Wong says he has been fighting for the democratic force through politics for more than 30 years. He was one of the founding members of Democratic Party and served as a Legislative Councillor for New Territories East between 2008 and 2012. But he was expelled in 2015 after urging pan-democrats to "pocket it first", that is support the government's proposal for political reform. He then set up "Third Side", a centrist political party, in January 2015.
He is still smarting from the episode, "It was a political struggle. The most veteran members in the party did not think I had to be expelled, just some young members proposed it in favour of their political interest as they were afraid my words would influence how young voters see the party," Wong says.
Before Wong entered politics, he has been a social worker, involved mostly in youth work and services. He believes the biggest problem in today's society is the distrust between Beijing and Hong Kong citizens. Wong insists that if Hongkongers want Beijing to respect human rights and the rule of law in Hong Kong, they have to get Beijing to trust them.
"If we use violence, they won't develop trust in us, unless we sit down and argue with reason," he asserts.
For Wong communication seems to be the silver bullet for many problems, from distrust between Beijing and Hong Kong people to gaining support from young people. Wong believes most youngsters would agree that communication is the way forward for the democratic movement, but not all of them.
"When I was a student I was radical like them. I slept on the street in protest. Without using violence, we did strive for something. If we use violence today, it will end up in sacrifice, not success," he says.
Despite the current stalemate in political reform, Wong has hopes for universal suffrage. "If we let Beijing understand what Hong Kong people do is for society's good, I think there's a chance," he says.
The other candidates are Christine Fong Kwok-shan, Holden Chow Ho-ding, Edward Leung Tin-kei, Alvin Yeung Ngok-kiu, Wilson Lau Chi-shing and Leung Sze-ho.
Edited by Kelly Wong