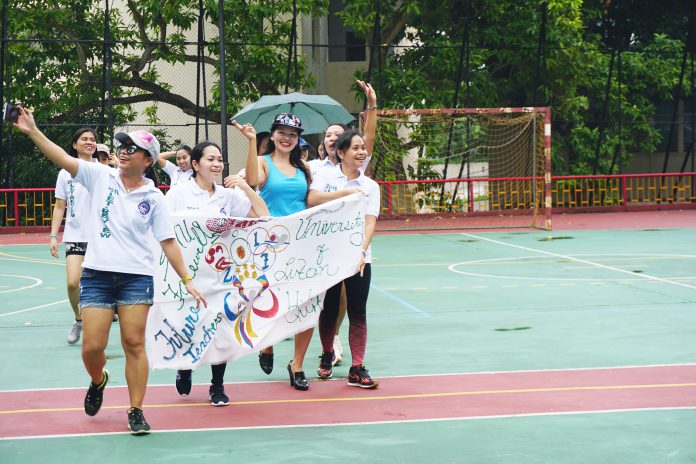 Foreign domestic workers study the basics of starting their own businesses back home
By Nannerl Yau
It is a familiar sight – groups of foreign domestic workers relaxing, sharing food and conversation in the parks and public spaces along Chater Road in Central on a Sunday afternoon. But instead of chatting with friends, some women are setting up booths and handing out leaflets. They are volunteers for Enrich, a local group that organises workshops and courses on financial planning and entrepreneurship for Hong Kong's foreign domestic workers.
One of the volunteers, Ma. Jofel Javier, greets all who pass by with smiles, explaining what the organisation does in great detail. The 31-year-old Filipina finished college before coming to Hong Kong to work as domestic helper four years ago. She joined Enrich three years ago and studied in a programme to help her prepare for starting her own business.
For Javier, developing proper saving habits is a big step towards realising her business dream. Through the programme, she has corrected her spending habits and learnt how to save money by counting her daily expenses.
"Before I came to Enrich, I always buy. When I get my salary, I always buy new things. But when I get to … Enrich, I know how to save now," she says.
Javier's family runs a garments business back home, but she plans to work for another two years in Hong Kong in order to save enough to set up her own business. In this endeavor, she is teaming up with her long-time friend and fellow Filipina domestic helper Marivic Castillo.
Making a monthly salary of HK$4,410, some domestic helpers find it hard to put aside savings every month – and some may even end up spending all their wages on unnecessary entertainment and shopping.
Marivic Castillo explains how a small envelope she was given by Enrich has helped her to save money.
"Inside the envelope there are different coloured pockets," explains the 31-year-old, as she goes through them. "We insert there an amount. We mark [it]. For example, sending money to the Philippines, and this for, like daily expenses, phone parts, for transportation."
Castillo is also a graduate from the programme and has very clear and specific plans for her future. She is returning to the Philippines next year after finishing her contract and will finish her university studies and start a business with Javier.
Enrich has helped her to set a concrete goal for the future, so she does not have to stay and work here as a domestic helper for long. She can barely contain her excitement when she shares how she is striving to reach her saving target.
"Once I['ve] reach[ed] the one goal, I need one more, and getting more and more," says Castillo. "Now I want to save like one thousand, in the next month, I want to save two thousand, then three thousand, four thousand!"
Without skills in financial planning, domestic helpers may find it difficult to start a new life after they return home.  "That's why, when they go back to the Philippines, and then [they have] no money and they come back [to work in Hong Kong] again," says Javier.
According to the Immigration Department, there were 351,513 foreign domestic helpers in Hong Kong in 2016, 54 per cent of them from the Philippines and 44 per cent from Indonesia. These are countries where the living standard is significantly lower than that of Hong Kong, prompting many women to work as domestic helpers in this city. One study of foreign domestic workers found that back in their home country the average monthly salary of helpers from Indonesia was US$120 a month, while for workers from the Philippines it was US$157. Many of these helpers are the breadwinners for their families.
Given they are making around three or even as much as four times what they might earn back home, many may assume they would have saved enough to start their own businesses by the time they return. However, according to a 2016 study published by the international social enterprise Farsight, only six per cent of migrant domestic workers felt they had saved enough money when returning home. Ten per cent said they returned with no money at all and among them 50 per cent said they returned with only material possessions. Financial difficulties are often the reason for returned workers to go abroad to work again.
Mindful of the poor financial management and planning among domestic workers, the founders of Enrich set up the charity 10 years ago to empower domestic workers by equipping them with knowledge on how to save, budget and plan for their own financial security. They offer 27-hour programmes and workshops in financial planning, investment and entrepreneurship.
In a unit called "Setting Up My Business", participants learn basic business concepts, marketing, business finance and planning. Senior Programme Manager Tynna Mendoza has seen the changes in the students in both knowledge and confidence.
"[What they have gained is] actually more confidence to say, I'm capable of doing this. And they became more aware of the risks, they [also] become aware of the possibilities of, if this fails, this is the backup," says Mendoza.
The learning does not stop after they complete the 27-hour workshop. Participants need to save money and prepare themselves for the setting up of a business. They can discuss any difficulties and setbacks they encounter at a three-month post-workshop, while the connections and bonding they make through the programme are long-lasting. Some students stay on as volunteers like Javier and Castillo.
In the past two years, Enrich has also reached out to the community of Indonesian domestic workers. Whereas previous training was in English, the organisation has now invited native Indonesian speakers to join its operation.
Dwi Nyoman Wihasti, an Indonesian domestic helper who came to Hong Kong in 2006, is returning home next February. Dwi has some limited experience of running a small-scale laundry with her mother. But after gaining more knowledge from the workshops, she feels she is ready to try starting something on a bigger scale.  She has long held a dream to set up a catering business, making lunchboxes and distributing them in and around industrial areas. Dwi is planning on a workforce of around 250 people.
Although she is excited at the prospect of returning home to realise her dream, she also knows there are risks and challenges.
"There [are] a lot of difficulties, of course, because it is in big scale. I have to take care of the license in Indonesia which is not easy. I have to recruit own employees. I have to build the kitchen which is suitable and hygienic. There are a lot of other difficulties but I believe I can do it," she says.
Enrich is not the only organisation helping migrant helpers to gain the skills they need to keep and grow their money. The Saint Mary's University of the Philippines has a Hong Kong campus that offers a bachelor's degree course in entrepreneurial management that is registered with Hong Kong's Education Bureau. Students at the university are domestic workers from both the Philippines and Indonesia. Once admitted, they have to fulfill requirements for a three- to four-year degree programme in order to graduate. This includes taking classes at the Hong Kong campus and home study of lecture modules.
Angel T. Ramos, the Principal of Saint Mary's University of Hong Kong says: "Education is very important to many Filipinos. Most of them did not complete [in the Philippines] because of poverty…Education is something people cannot steal from you."
Completing a university degree in Saint Mary's in Hong Kong is equivalent to completing one in the Philippines. Filipinos who have not finished their university degree in the Philippines can continue their study while they are working in Hong Kong and having a university education gives them more choices for their future. Those who already have a degree can earn extra credits and take a national exam that will allow them to qualify as teachers in the Philippines under a returning residents' scheme. They can also enroll for a master's degree in education. Some St Mary's graduates may pursue further study when they return home but many choose to set up businesses instead.
Like many local universities in Hong Kong, Saint Mary's University also organises student activities. On a Sunday afternoon when there were no lessons, students and teachers all gathered at a school playground in Causeway Bay for the annual Sportsfest. Students dressed up in team shirts, formed teams to compete in different events and cheered loudly at the venue.
One of them was Jocelyn Telsio, a Filipino domestic helper who will graduate next year and is planning to return home in five years and start a restaurant.
Working and studying at the same time is hard. It is no easy task to pay the school fee which costs her more than a third of her salary each semester plus she has to both send money back to her family and save money for her future business. However, Telsio says studying in Saint Mary's has changed her life and vision.
"Before, my mind is very closed. I think things are impossible. But when I come, I realise there are many things that I need to learn," she says.
Edited by Rubie Fan