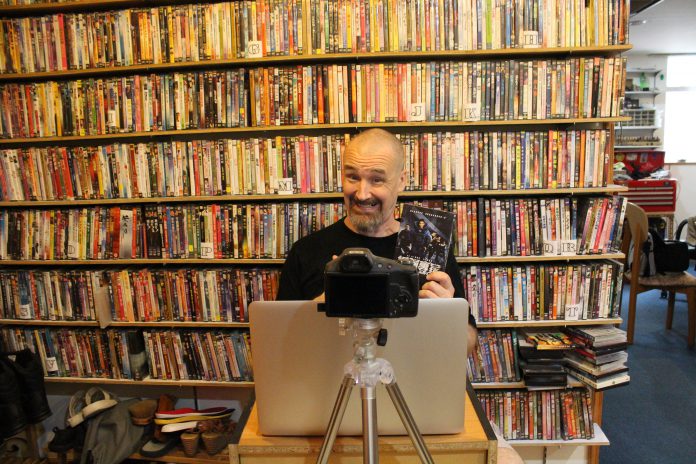 Hong Kong movie critic and fan Sean Tierney appears in films and on the lecture podium
By Eric Park
After giving a three-hour lecture on film to undergraduate students at the Chinese University of Hong Kong, Sean Tierney heads to his office in the nearby industrial area, Fo Tan. The American cuts a striking figure with a close shaved head, standing at almost two metres and weighing 112 kg, he could easily be mistaken for a military man.
Indeed, unusually for a film professor, Tierney has been a Navy SEAL, a mercenary and a bodyguard – but only in the movies. Tierney has acted in a number of Hong Kong films including 2015's From Vegas to Macau II, which starred Chow Yun-fat, Andy Lau Tak-wah and Carina Lau Kar-ling, and this summer's Andy Lau blockbuster Shockwave. The screen appearances mean he sometimes gets recognised by random strangers.
"People will ask me 'Are you an actor?' and I'll say 'No, actually I'm a lecturer'," he says, standing in front of a wall of shelves stacked full of DVDs in his office. Other walls are adorned with movie posters, including one of his boyhood heroes, kung fu legend Bruce Lee. It is a fitting space for a Hong Kong movie fan whose identities as film scholar, teacher, critic and actor are intertwined.
"[It] goes all the way back to Bruce Lee," says Tierney, recalling a childhood during which he was fascinated by the martial arts movies shown on Kung Fu Theater, a television show that was broadcast every Saturday afternoon in the 1970s and '80s.
Describing himself as a person with a very short attention span, Tierney says one of the few things that captivated him for hours on end was watching people doing things that he knew he could not do himself. Even today, whenever he watches his favourite Bruce Lee films, he asks himself, "How does anybody move so fast?"
As his respect for Bruce Lee evolved into a passion for Hong Kong movies in general, Tierney began to feel there must be a lot more to Hong Kong film culture than he was aware of, that he was missing out on: "I knew that something was there; I didn't know what it was but I knew I wasn't quite getting it," he says.
Apart from always being fascinated by the stories, movies and cinematic style that he saw on the screen, Tierney was also curious about their cultural context. It was this curiosity that eventually led him to pursue post-graduate studies in intercultural communications and film at Howard University in Washington DC in the late 1990s.
After watching Hong Kong on the screen for so many years, Tierney came to Hong Kong for the first time in 2001 to present a paper at an academic conference.
"I literally saw the Peninsula Hotel and my initial response wasn't 'Oh, what a wonderfully historic building' it was 'Oh, there was a scene in a Jackie Chan movie that took place in this driveway' and I thought that really cool," he recalls.
He realised that if he really wanted to understand the movies, he would have to live in Hong Kong. "And that sort of became a goal for me in 2001," he says.
A year later, in 2002, Tierney was conducting research comparing the movie industry in Hong Kong with that of Hollywood. He found director Andrew Lau Wai-keung's email and sent a message, saying that he would "really appreciate a chance to speak to Mr. Lau". Lau became one of the hottest names in Hong Kong cinema after his film Infernal Affairs took HK$30 million at the box office within two weeks of opening in December that year, so Tierney was pleasantly surprised that he could find the time to meet him in person.
He says it was one of the most memorable experiences of his life. He sat and talked to the director for 90 minutes in Lau's office. "I was still basically a graduate student; I was almost done but I wasn't a doctor yet," says Tierney. "I kept saying 'Mr. Lau, don't you have something better to do than talk to me?' and he said 'No! You've come a long way and why wouldn't I talk to you?'"
Tierney says his experience tells him that Hong Kong's film industry is far more accessible than Hollywood. He tells another story of how he received a call from the office of Yuen Woo-Ping, one of the most successful and influential figures in Hong Kong action cinema, who was action choreographer on the Oscar-winning film Crouching Tiger, Hidden Dragon. "I'll never forget standing in HMV in Tsim Tsa Tsui and my phone rings, and it says, 'Hello this is Yuen Woo-Ping's office and we're really sorry, Mr Yuen is in America and won't be able to meet you but he hopes next time he can.' and I'm staring at the phone! You never get that in America." He adds that if he wanted to interview Steven Spielberg, for example, he would have to get through "15 layers of assistants" whose job it is to ward him off and make him give up.
Apart from researching and teaching film, Tierney also expresses his passion for Hong Kong movies through reviewing them. He started a YouTube channel, The Silver Spleen, four years ago and regularly makes frank video reviews of local Hong Kong films. All genres are covered, from commercial films to cult films, many of which are not even popular among local people.
Tierney says his YouTube videos are an outgrowth of his blog posts. He describes them as being there to entertain people. "If people use my reviews to decide whether or not to watch a movie, I guess that's nice," he says. However, the videos always have a critical dimension and Tierney certainly pulls no punches. He says he is able and willing to criticise films in a way that others cannot for "professional reasons", that is fear of offending people in the industry and possibly affecting their careers.
Like everyone who makes videos and posts them online, Tierney has haters too.
"I've had people literally say things: I hope Donny Yen beats you up," recounts Tierney. But he is undeterred and is not afraid of what people will think. "No. Ideally, people might make better movies. That would be awfully nice," he says.
In fact, Tierney got his first role in a commercial Hong Kong movie after a director who saw his reviews met him and decided he looked like a bodyguard and cast him as one.
But before the Silver Spleen and the roles on the silver screen, Tierney came to Hong Kong in 2005 to take up a post as assistant professor at the Chinese University of Hong Kong. He discovered that while he enjoyed teaching immensely, he was not necessarily cut out for the conventional academic career path of today. "Publish or perish, as they call it. It's a tough thing and I didn't publish enough research," he says.
For one thing, he says, the kind of critical social science research he conducted usually takes a long time and for another, he never had any administrative aspirations. "I've never wanted to be the chair of a department, or a dean or any of that sort of thing," says Tierney.
Tierney now teaches three classes a semester at two universities and that occupies plenty of his time, not to mention his video-making projects. He loves the mix of teaching film and, at the same time, being involved in the actual movie industry. It certainly helps that he can illustrate his teaching with anecdotes about working with Andy Lau.
"It makes it easier because, the other day, I was teaching about character development and I could talk about something from a movie that I was in," says Tierney. "I contribute that experience so that when I teach the students about it, it's not just to make myself look cool; it's about giving them an example that I know would hold their attention."
Edited by Howard Yang